Edinburgh renewable energy company Aquamarine Power Limited has been short-listed for the 2010 Observer Ethical Awards, organised by The Observer and Ecover.
The awards seek to recognise those who are busy thinking up practical solutions to ethical issues. The awards do not target environmental or energy issues alone, but have a wide scope for recognition of work in all significant areas where an issue of some importance is at stake. The awards themselves are viewed as a high accolade.
Previous winners include David Attenborough. Hugh Fearnley-Whittingstall is short-listed as campaigner of the year for his work with landshare.net where he marries up people seeking to grown food with those who have land to share, as is Joanna Lumley who campaigned successfully for Gurkha justice.
Aquamarine Power which has its head office in Edinburgh is the owner and developer of the Oyster device which seeks to generate electricity from wave power. Its first-generation Oyster device is already installed at the Emec centre in Orkney. It is a near-shore device which creates zero-emission electricity. You can see it in operation on Youtube.
If you live in the Marchmont area then you can win a gardening award for your green-fingered efforts.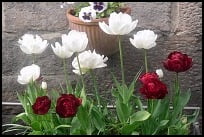 The Community Council is reintroducing the prizes for best front gardens, hanging baskets and containers, wildlife friendly gardens and new gardens.
So if you are already in full swing then so long as your garden is visible from the street when the judges stage their walkabout in July you may be in with a chance!
There are more details on their website which you can access here.
Here is a list of the candidates for each of the main parties in all constituencies in Edinburgh, with a note of which candidate won the seat when the result was announced.
For a list of all candidates including minority parties you may click here
Edinburgh North & Leith – MARK LAZAROWICZ WON THE SEAT FOR THE SCOTTISH LABOUR PARTY WITH A MAJORITY OF 1724
Kevin Lang is the LibDem Candidate
Mark Lazarowicz is the Labour Candidate.
Iain McGill is the Conservative candidate.
Calum Cashley is the SNP candidate
Edinburgh South – IAN MURRAY WON THE SEAT FOR THE SCOTTISH LABOUR PARTY WITH A MAJORITY OF 316
Fred Mackintosh is standing for the LibDems.
Ian Murray is standing for the Labour party.
Neil Hudson is standing for the Conservative party.
Sandy Howat is the SNP candidate
Edinburgh East – SHEILA GILMORE WON THE SEAT FOR THE SCOTTISH LABOUR PARTY WITH A MAJORITY OF 9181
Beverley Hope is the LibDem candidate.
Sheila Gilmore is contesting the seat for Labour.
Martin Donald is the Conservative candidate.
George Kerevan is standing for SNP
Edinburgh West – MIKE CROCKART WON THE SEAT FOR THE SCOTTISH LIBERAL DEMOCRATS WITH A MAJORITY OF 3803
Mike Crockart is the LibDem candidate
Cameron Day is the Labour candidate
Stewart Geddes is the candidate for the Conservative party.
Sheena Cleland is standing for the SNP party
Edinburgh South West – ALISTAIR DARLING WON THE SEAT FOR THE SCOTTISH LABOUR PARTY WITH A MAJORITY OF 8447
Tim McKay is the LibDem candidate although it is reported in The Scotsman that he has gone to Australia on a holiday during the campaign period.
Alastair Darling is the Labour candidate and the current Chancellor of the Exchequer.
Jason Rust is standing for the Conservative party.
Kaukab Stewart is the SNP candidate
Midlothian – DAVID HAMILTON HAS RETAINED THE SEAT FOR SCOTTISH LABOUR PARTY WITH 47.01% OF THE TOTAL VOTE
Ross Laird is the LibDem candidate.
David Hamilton is the Labour candidate.
James Callander is the Conservative candidate.
Colin Beattie is the SNP candidate
These bodies made up of volunteers from all walks of life seek to influence any decisions made in relation to their particular geographical area.
They are formally constituted and are funded by The City of Edinburgh Council. There are 41 in the city area and they all meet regularly. There are details of some of the next meetings on our Events page. The newest will be in the Wester Hailes and Juniper Green areas. You can read more on the leaflet produced by The City of Edinburgh Council.
Neighbourhood Partnerships are a bit different! And we will be telling you all the stories we can find out about these very soon!
But in a week when The Times and The Sunday Times are about to go behind the paywall (i.e make surfers pay for the content they can see on the web) it is perhaps no better time to highlight the benefits of local journalism. The Guardian already have their local beatblogger Tom Allan on the ground in Edinburgh providing local news. The newspaper has seen that the way forward is to bring more useful news to the local people.



Mashable have a very interesting article listing five websites which they believe could reshape the future of news. One of those that they highlight is Wikileaks which proves that no information can be kept secret for ever, and which, for example, broke the news about procedures at Guantanamo Bay.
Radio 4 have also aired an illuminating discussion with Alan Rusbridger of The Guardian and his counterpart at The Sunday Times, John Witherow, debating the pay model against the subsidised model for newspaper websites. The pay model is as yet unproven but, with falling advertising revenues, it is difficult for newspapers to rely wholly on the subsidised alternative….
You can listen again on BBC Iplayer and you can access that here.
It has just been announced that The Guardian is introducing what it calls Premium content for £25 a year….perhaps suggesting that Alan Rusbridger has finally been tempted to dip a toe in the water of paid content…..?

Meanwhile the freelance news site Associated Content has announced its own exciting news:-
Yahoo! Inc. (NASDAQ: YHOO) announced it has signed a definitive agreement to acquire Associated Content Inc. This strategic move extends Yahoo's ability to provide high quality, personally relevant content for the benefit of more than 600 million users as well as tens of thousands of advertisers. As Yahoo! enhances its social, mobile, local, and media offerings, the acquisition of Associated Content reinforces the company's longstanding promise to offer the best of the Web, by combining Associated Content's approximately 380,000 contributors who provide rich and varied content on a broad array of passion points, with Yahoo's leadership in partnering with established content brands and the award-winning team of editors and experts from Yahoo!.
"Combining our world-class editorial team with Associated Content's makes this a game-changer," said Carol Bartz, CEO, Yahoo! Inc. "Together, we'll create more content around what we know our users care about, and open up new and creative avenues for advertisers to engage with consumers across our network. These are important aspects of building engaging consumer experiences on Yahoo!, and one of the reasons why we're one of the most visited destinations online."



"The Associated Content team and our 380,000 contributors are looking forward to joining Yahoo!, and to the opportunities that being part of a global Internet brand presents," said Luke Beatty, Associated Content founder and president. "Combining our crowd sourced content with Yahoo!'s distribution, world class editorial team and online marketing leadership will accelerate our growth as we continue to leverage our best-of-breed platform to deliver high quality compelling content on more than 60,000 topics."
For advertisers, this deal will expand Yahoo! into more topic areas and real-time content generation. The combination promises to offer advertisers even more opportunities to engage groups of passionate consumers in ways they will find uniquely appealing to their interests and tastes. Having insight into user intent through its leading search products enables Yahoo! to identify topics important to advertisers and users. Yahoo! plans to use Associated Content to create content around those topics and leverage Associated Content to contribute content to existing media properties. Associated Content also provides more opportunities for Yahoo! to partner and collaborate with publishers who can help the company shape the tremendous variety of content coming in, into something bespoke and even more engaging.
While current Associated Content content is U.S.-centric, Yahoo! expects to scale the platform globally.
Associated Content was founded by Luke Beatty in Denver, Colorado, in 2004. Associated Content receives more than 16 million unique users per month (comScore) and the editorial staff reviews more than 50,000 pieces of content per month, including articles, images, audio and video. Yahoo! expects to complete this acquisition in the third quarter of 2010. Financial terms were not disclosed.
What do you think? Do you like accessing your news online? Or are you part of the population which likes the touchy-feelyness of a newspaper each morning? Give us your comments via the Editors Blog.
Even the venerable Jon Snow has something to say about newspapers and the power of interactive journalism on his Snowblog. His view is that all media – TV newspapers and radio "are no longer God…."
There are now elephants all over the city. The purpose is to raise money for charity.
OK time for another photo of an elephant…..just because they are very cute and cuddly. Could we have something like this in Edinburgh again……what animal would you like to see here?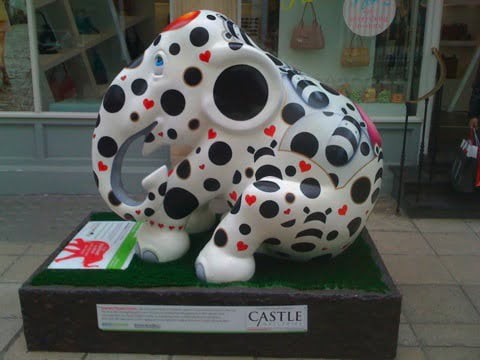 It is thought that the fire was started by an electric blanket in the property. A female in her seventies escaped the fire, but sadly her cat died.
A spokeswoman for the Service said: "The resident was very lucky to escape from the property, the consequences could have been much worse. Sadly, the lady's cat died in the fire, however people should never put themselves in danger to rescue their pets. At the first sign of fire you should get out, stay out and call the fire service.
"We'd like to take this opportunity to remind people to ensure they have a smoke alarm correctly installed in their home, and that the Service offers to install a free smoke alarm with batteries as part of our Home Safety Visit scheme, which is open to all residents in the area."
To find out more about the Service's Home Safety Visits or to arrange a visit call free on 0800 169 0320 begin_of_the_skype_highlighting 0800 169 0320 end_of_the_skype_highlighting. For advice on fire safety in the home visit www.lbfire.org.uk
In a separate incident, a female in her fifties was taken to hospital in the early hours of Tuesday morning after being rescued by the Fire Service from the hallway of her first floor flat on Academy Street in Edinburgh.
Three fire engines and a height appliance attended the fire which, it is suspected, started in a pan of food in the kitchen. Two firefighters wearing breathing apparatus rescued the woman and extinguished the fire using one hose reel. The occupant suffered slight smoke inhalation.

Home reports were introduced by The Scottish Government after a very short pilot study and in the background of considerable opposition among property solicitors who could not see the need for them, particularly in a time when the property market was suffering a downturn in demand.
Whether or not the reports have worked out since their introduction in 2008, there was considerable opposition to them at the start. Our system of home-buying in Scotland, which works on a sealed bid, did not always have to mean wasted survey fees on the part of purchasers, one of the reasons for the Home Reports scheme.
Another Scottish Solicitor, David Borrowman of Caesar & Howie has also called for their abolition.
What do you think? Have you been affected by the Home Report – required by a seller before marketing their house for sale?
There will be children, parents, carers and parishioners among the climbers. A piper will herald their departure from Penicuik Leisure Centre at 8 o'clock on Thursday morning.
There they will meet Dr Gerry McPartlin who is nearing the end of his bid to climb all the Munros in Scotland in the shortest time possible.
He is currently raising funds for the David Gemmell Living Memorial Fund. The Fund is attempting to raise £200,000 towards L'Arche homes in Edinburgh and Kenya. Father Gemmell, who died suddenly aged 54 in 2008, was chaplain to the school for a short time.
They highlight in their new magazine that the whoopie pie has now landed. So what is a whoopie pie?
Well it is a cake which is slightly chewy and a bit soft with crispy bits round the edges. You sandwich the two halves together with a variety of fillings. Here is the basic recipe..
75g unsalted butter
1 large egg
150g castor sugar
125g sour cream
25ml cold milk
1 tsp vanilla extract
3/4tsp bicarbonate of soda
275g plain flour
200g icing sugar
sugar balls or sprinkles for decoration
Marshmallow cream
100g mini or regular marshmallows
50ml milk
125g very soft unsalted butter
1. Line baking tray with nonstick paper. Preheat oven to 180 degrees C (160 degress if fan oven) gas mark 4
2. Melt 75g butter and set aside. Whisk the egg until light and fluffy. Beat in sugar, one-third at a time, till thick and glossy.
3. Beat in melted butter, sour cream, milk and vanilla. Sift bicarbonate of soda and flour into bowl. Beat till smooth. Using wide piping nozzle or spoon, pipe or spoon onto tray in walnut-sized balls about 3cm apart.
4. Bake for 13-14 minutes till evenly golden on top. Leave to cool before transferring to cooling rack. (You may have to cook in batches)
5. Heat marshmallows and milk in saucepan over low heat. Stir till smooth. Cool. Beat butter till creamy and then beat into marshmallow mixture.
6. Sandwich two whoopie cakes together with marshmallow cream.
7. Mix icing sugar with 2-3 tbsps cold water. Spread on each whoopie. Decorate as desired.
Sainsbury's Magazine have other variations on the basic recipe! You will have to buy it in store.