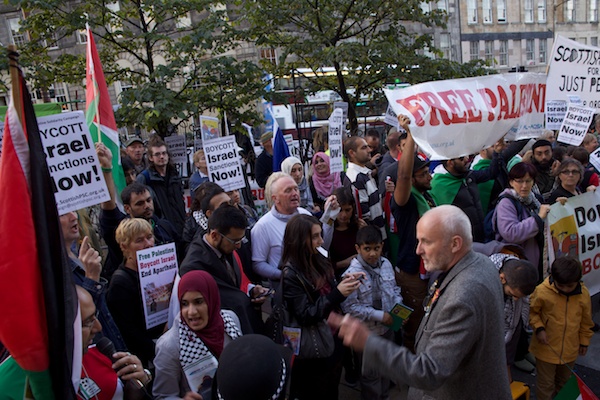 Protests at Edinburgh Festival – Colony of Artists – North Edinburgh Arts – Mela this weekend – Live Webchat about cycling Saturday morning!
Protests about Edinburgh International Festival performances are not really run of the mill, so we were interested in the group of more than 100 people who gathered outside the Playhouse last night. Read our article and hear our interviews here. The BBC reported later that the performance had been disrupted three times.
***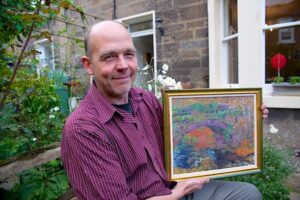 In Abbeyhill Colonies this weekend there is an exhibition which can truly be described as unique. The artists who live in thirteen of the houses there are opening their doors on both days to allow you to see what they have been painting or making each afternoon between 1 & 5 p.m. You can see a couple of examples of what is on offer in our article here.
***
North Edinburgh Arts has a full programme of classes and groups throughout the autumn and winter which mainly start on 5 September. You can find out the full list of what is on here.
***
The Edinburgh Mela Festival starts today at Leith Links. We saw a taste of what you might enjoy at the launch in June. It runs till Sunday and you are promised food, dance, music and fun!
***
Tomorrow morning at 10 ish you can join us for a Live Webchat with the people who organised Pedal on Parliament for a talk about all things cycling. What do you think needs to be done to make our roads safer for cyclists? We will have a cyclist tweeting from his ride around the city too. Join us under TER Live tomorrow or join in on Twitter with the hashtag #TERcycling. See you tomorrow!
This weekend sees the return of the Edinburgh Mela.  For those who don't know, Edinburgh Mela is a festival of world music, dance, fashion, food and fun, embracing the city's diverse communities and cultures.  The idea is that by providing the population with music, dance and other arts from around the world, the festival can help in "promoting understanding between people and advancing the cause of community coherence."  Not only that, but you can enjoy some of the best food around.
Like most people in Edinburgh, I'm looking forward to the Mela's return.  The trouble is, there's a problem with how they are treating Leith Links, which has acted as host since 2010.  You would think that as part of advancing community coherence, the Mela would make sure they take care of the location where they pitch their tents and stalls.  After all, the Links are the principal open space within Leith, totalling 18.5 hectares and contain children's play areas, football pitches, an enclosed lawn bowls bowling green and a cricket pitch.  Most of these are in the Links' western section, while the eastern one is used for general use. Leith Athletic, a community football club, is one of the groups that makes use of the Links' pitches.  They have teams competing in the East of Scotland senior league plus youth teams from the under 6′s up to the under 21′s.  They've also recently launched a girls' team and are trying to find enough particpants to form Under 9 and 11 teams.
Sadly, though, the club has postponed games and training as the areas they use on a weekly basis are now fenced off in preparation for the Mela.  To make matters worse, there are now tyre tracks all the way to the main marquee, which is pitched right in the middle of the soccer 7s pitch.  These are pitches that Leith Athletic volunteers taking care of, including making sure the grass is cut to a suitable length and painting the lines.  When you combine the recent rainfall and the Mela's footfall – somewhere in the region of 27,000 people – that means this pitch will probably be unplayable for the next few months.  Another area of the Links, where the club have their main pitch, is currently covered in tyre marks despite claims that organisers would ensure boards were placed on the grass to allow vehicles to drive materials onto the Links.  This clearly has not happened, as you can see in these photographs.  In fairness though, the Mela are not the only culprits when it comes to taking care of the Links, the circus and the shows also cause damage when they visit.
According to the Mela's webiste, they are taking steps to manage the event in a more sustainable way and reducing its environmental impacts.  That all sounds well and good but they don't seem to care about the impacts, environmentally or otherwise, their actions are having on other members of the community, with whom they share the site.  If the Mela is about the community growing closer together than a good place to start is with mutual respect and consideration.  Sadly, that seems lacking in this case.
Leith Athletic accept that they do not have sole use of the Links as it is a park for all the community.  However, they do expect people to treat the area with respect, leaving it in the same condition they found it to ensure it's in a fit state for others that use it.  From what I have learnt this afternoon, the Mela and Edinburgh Council do not share these beliefs.  Now, the community club are faced with repairing the damaged areas and finding funds to pay for this cost.  Perhaps Steve Cardownie, deputy leader of City of Edinburgh Council and Chair of the Mela's Board of Directors, could help by spending some time helping to make the area good again.  Maybe the Mela will even undertake the repairs themselves.  Of course, if they had used boards to protect the Links or sited the festival on the park's eastern area, they wouldn't have to.
POST-SCRIPT
I did contact the Mela to see if they had any comment about complaints raised or the state of the Links.  So far they have not responded to my phone message.  However, since publishing this, the Mela's Twitter account has contacted me twice.  The first time was to ask where the complaints are so they can respond to them, the second time to say they will "have a full response tomorrow.  Please note the Mela have paid a bond to the council to cover any damage."  That's good to know but they could have avoided losing that bond and damaging the Links by using boards to protect the grass, as they were supposed to do.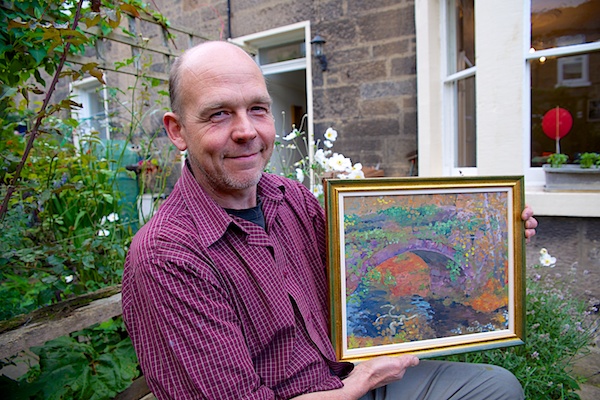 The colony houses found in several places in Edinburgh are, as most of us in the capital know, very special indeed, but down in Abbeyhill the occupants are also quite special too. This weekend the artists who live there (and we use that term very widely) are throwing open their doors to the public to allow you in to see some of their work.
The idea is to sell some of it of course, but we think you will have a great time just milling about among the lovely houses, perhaps taking tea and eating some home made cakes.
The Reporter went to visit the colonies ahead of this weekend to get a flavour of the diverse art being shown, and to talk to three of the people exhibiting there.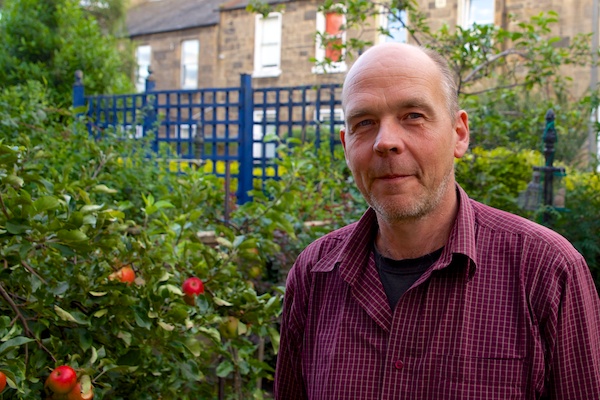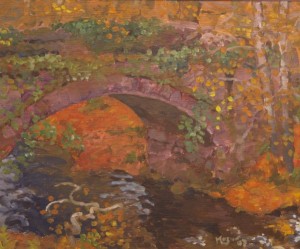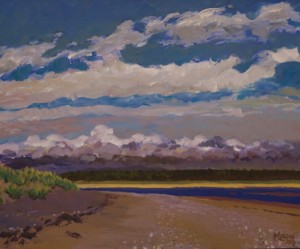 Bill Mazur is a plumber by trade, and is originally from Canada. Now based in Scotland, in his spare time he uses acrylics to produce landscapes. Sometimes he paints on site, but otherwise he uses his own studio space. He is wonderfully modest, and the paintings he has produced are on offer from £200 to around £400.
Here is what Bill had to say about the forthcoming show:-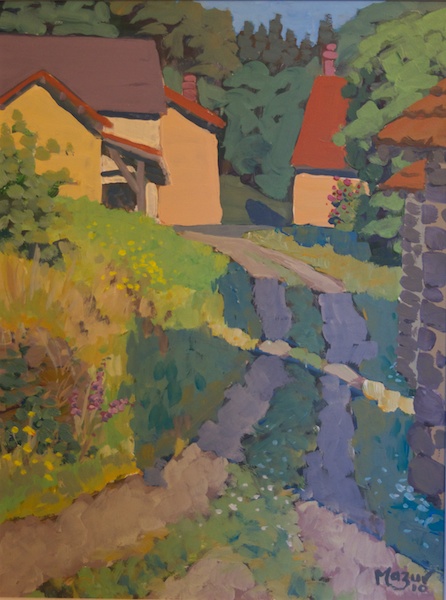 Denis Mallon and Lisa Graham are artists with a difference. This is the home of the new Nick Park (and partner!) who met at Art School and now spend their free time making films.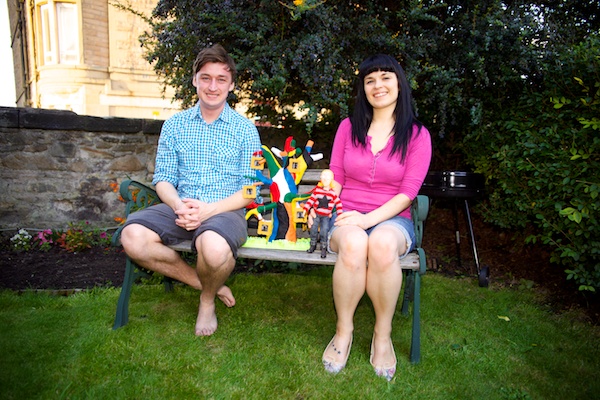 What you will see at their house in Regent Place is an animated film called Fashionably Late. The props including the principal character Claude have been made from scratch by Lisa,  and then Denis did the animation and the technical bits. Sounds simple but the whole film has taken about six months to complete. It is suitable for the whole family and you can watch a trailer here.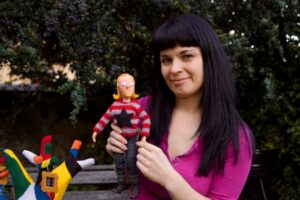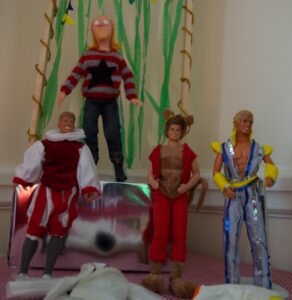 The Reporter talked to Denis and Lisa about how they created their magnum opus, which will premiere this weekend at the Colony of Artists, by combining their skills.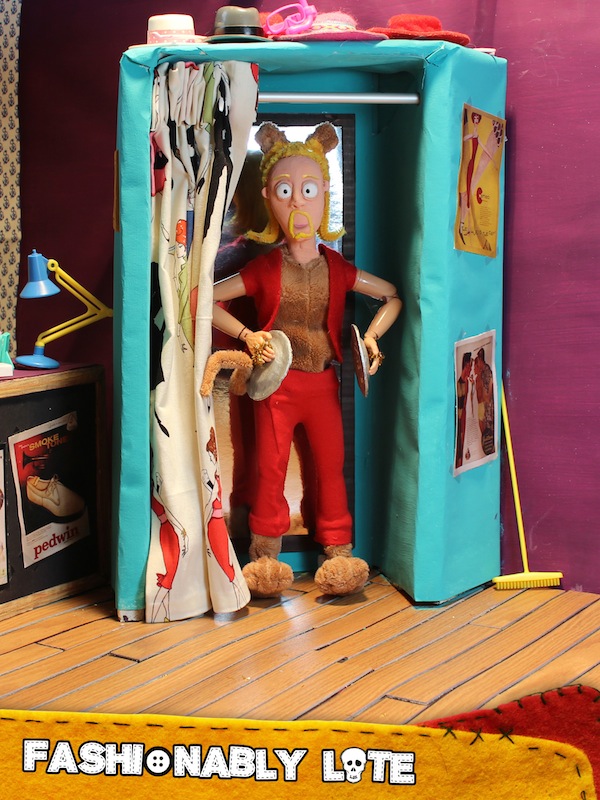 The other houses are showing a huge variety of art including jewellery, paintings and pencil drawings, children's artwork at Abbeyhill Primary School, photography, coffee cakes and music, sculpture and 2-D art in mixed media and Aileen Paterson the author of the wonderful Maisie books will do a book reading at 2.30 and show off some original Maisie drawings.
The show is on Saturday and Sunday from 1-5 p.m.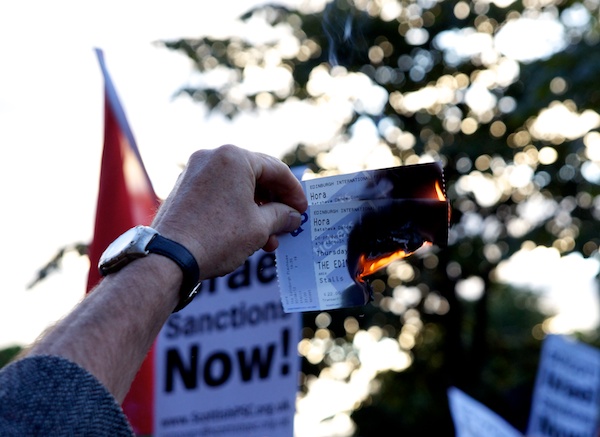 There was a protest around 7 o'clock this evening outside The Playhouse Theatre where approximately 30 police officers were engaged in ensuring that the assembled group of around 150 people remained peaceful.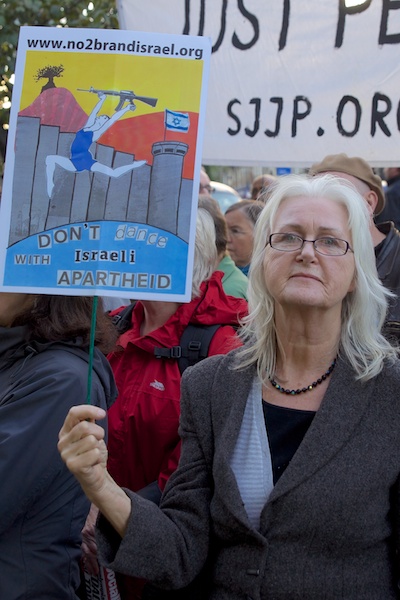 Tonight the Batsheva Dance Company is performing 'Hora' as part of Edinburgh International Festival. The protesters were opposed to the performance as they believe that this dance company participates in what they call 'Brand Israel' which in their view promotes Israeli culture through the arts.
They feel that this whitewashes Israel's many human rights abuses and violations of international law and they do not think that the dance company should  do so despite the Israeli Foreign Ministry apparently describing the dance company as 'the best global ambassadors' for Israel.
We spoke to one of their number who had a megaphone and was trying to dissuade people from going into the theatre:-
As well as the protesters, we also met a representative from an opposing group, Gary Sakol, who is the Deputy Director of the Zionist Federation of Great Britain, whose motto is "Bringing you closer to Israel". This group believes that 'Culture Unites and Boycotts Divide', and they would like to see a bridge of culture built so that both sides of the dialogue are heard.
We also met Councillor Stefan Tymkewycz who was happy to share his view on the protest with us:-
The Edinburgh International Festival programme says that "Hora is a thrilling spectacle of movement, an emotional rollercoaster that successfully highlights – in a company that deliberately works without soloists – the uniqueness of each one of the dancers. Set against a stark, luminous green background, the dancers' athleticism, technique and energy take centre stage."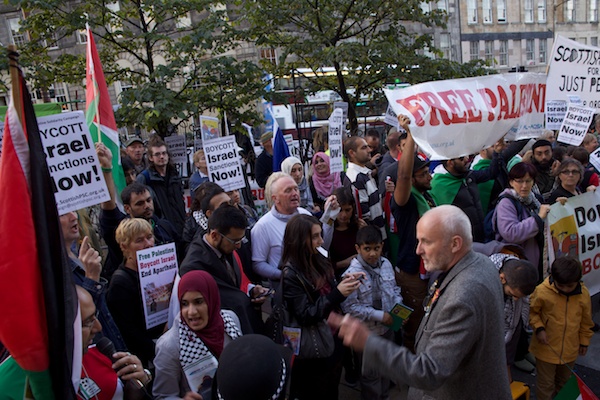 A man has today admitted being involved in an armed robbery at a store in Edinburgh in June.
Mohammed Jabran was one of a group involved in stealing a quantity of cash and cigarettes from a convenience store in Colinton Mains Drive on Saturday 2 June 2012.
Inquiries are ongoing to trace another two men in connection with the incident, and police continue to appeal for anyone with any information regarding this incident to contact them on 0131 311 3131.
Detective Inspector Gordon McCreadie said: ""We acknowledge the people involved have been spared the ordeal of going to trial as although no one was injured in this incident, this was a terrible experience for them.
"Fortunately this kind of incident involving a weapon is unusual in our area, but we would like to reassure the local community that Lothian and Borders Police will not tolerate any form of gun crime, and will robustly pursue anyone involved in this kind of criminal activity."
Mohammed Jabran will be sentenced at the High Court in Edinburgh on 4 October 2012.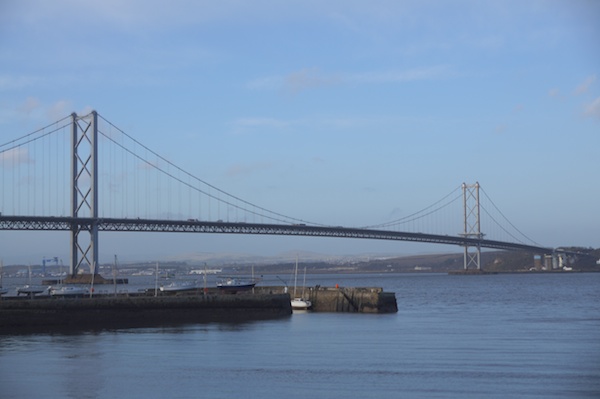 Weather – Musselburgh – Morningside – Wester Hailes – South Queensferry 
Although we are not directly affected by a hurricane or Tropical Storm Isaac, our weather seemed to take a turn for the worse yesterday when the skies opened in the afternoon, and around two weeks worth of rain fell in a couple of hours in some areas. The Usher Hall was hit by flooding in the basement, and Lothian and Borders Fire and Rescue Service were called upon to assist. According to The Daily Record the concert billed for yesterday evening went ahead as planned.  LBFRS have a whole section on flooding and what to do if you are caught in that situation.
The council have taken a decision to close Inverleith Park as a potential viewing area for the Fireworks Concert this Sunday due to flooding, although that flooding has been apparent all summer and not just this week. The Edinburgh Evening News have a photo of hail in Mid Calder following the storms yesterday afternoon. Today the Met Office predict high temperatures of 14 degrees for Edinburgh, but basically a dry day with sunny spells later, and the forecast for Sunday's fireworks display is a partly cloudy evening following a dry day. Not the best weather for taking photographs of fireworks then….
***
Holyrood reconvenes next week when there will be three business days rather than two from now on.
Alison Johnstone Lothians MSP has lodged a motion relating to Musselburgh and which reads as follows:-"Musselburgh Transition Toun—That the Parliament congratulates Musselburgh Transition Toun on establishing itself as a charitable organisation with the aim of reducing what it understands is the community's dependency on cheap oil and to help it prepare for climate change; believes that encouraging local trade and food production and sustainable transport such as cycling brings benefits to public health, the local economy and the environment; applauds Musselburgh Transition Toun projects such as Incredibly Edible Musselburgh, which is helping the community grow its own fruit and vegetables, and wishes it success with its future endeavours."
You can learn more about the work which Musselburgh Transition Toun is undertaking, including their gardening endeavours at Rennie Bridge by looking at their website.
***
Local MSP Jim Eadie who represents Edinburgh Southern has lodged the following motion:-"Congratulating Rev Dr Derek Browning on 25 Years of Service—That the Parliament congratulates the Reverend Dr Derek Browning, Minister of Morningside Parish Church, and pays tribute to him on his 25 years of service since his ordination; notes that his first charge was in Cupar Old and St Michael of Tarvit Parish Church; understands that, two years after his ordination as Minister for Cluny Parish Church in 2001, he oversaw the union of that church with Morningside Braid Church in a manner that was sensitive to the traditions enjoyed by both congregations and that the union has worked very well; thanks him for what it sees as his dedication to the development of worship, education and leadership in the congregation of the Church of Scotland; commends his work as Chairman of the Board of Directors of the Eric Liddell Centre; welcomes his commitment to outreach work, including his contributions to Pause for Thought on BBC Radio Two, and, in wishing him well, hopes that his ministry grows and develops over the coming years."
Rev Browning spoke to The Reporter about his career. He said:-"I have been immensely fortunate in my ministry to have had the support of a large number of kind and dedicated people. Ministry is not a solo effort but is very much about teamwork. I would not be the minister I am today without the kindness and encouragement of so many people in my first parish in Cupar, and my current parish in Morningside. 25 years seems a long time but in many ways the years have flown by. I am grateful for having had so many opportunities to serve the church and the wider community, and hope still to have quite a few years left to continue in what for me has been the calling of a life-time."
You can find out more about Rev Browning on the church website. 
***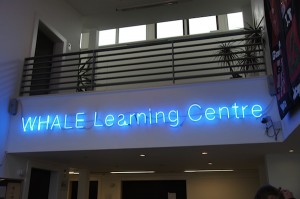 Gordon MacDonald MSP for Edinburgh Pentlands has lodged a motion recognising sterling work in the South West of the city:-"Whale Arts 20th Anniversary—That the Parliament congratulates Wester Hailes Arts for Leisure and Education on 20 years of aiming to deliver arts projects in south west Edinburgh and understands that, since August 1992, it has engaged tens of thousands of people in the community by encouraging them to be creative and positive about how arts can be used to make real changes in their lives and the lives of those around them."
***
Colin Keir MSP for Edinburgh Western has lodged this motion:-"South Queensferry's Ferry Fair Festival—That the Parliament commends the organisers and participants in South Queensferry's Ferry Fair; notes that the origins of this unique community event can be traced back to the 13th century, has been held over a period of eight days since the 16th century and that the current format was established in the 1930s; understands that, this year, the fair attracted vast crowds of locals and visitors and once again brought South Queensferry alive with concerts, music, stalls, sports and its infamous Burryman; notes that the tradition of the Burryman is shrouded in mystery, as is its costume of flannel bandages, flowers and ferns. which, this year, were adorned by South Queensferry man, Andrew Taylor; understands that the parade and crowning ceremony were truly memorable community events involving local children, including ten-year-old Lucy Mucklow, the newly crowned Ferry Fair Festival Queen, who began her twelve month reign by performing her first duty of laying a wreath for the fallen, and believes that the festival is a resounding success that brings together many facets of the local community and inspires and entertains all of those who attend the wealth of performances, events and concerts in the town."
We gave you a flavour of the kind of person Derek Howie is when we wrote about him before the May elections earlier this year.
Derek had a long career as a social worker here in Edinburgh until he retired last year. He also represented Scotland in speed walking races, competed in the Paralympics in 1976 and he is just about to travel to Orkney tomorrow to run a half marathon there this weekend.
Derek qualified to compete in the paralympics because of his impaired vision, and he explained to The Reporter how he manages to run with a guide – but without Lloyd his trusty guide dog!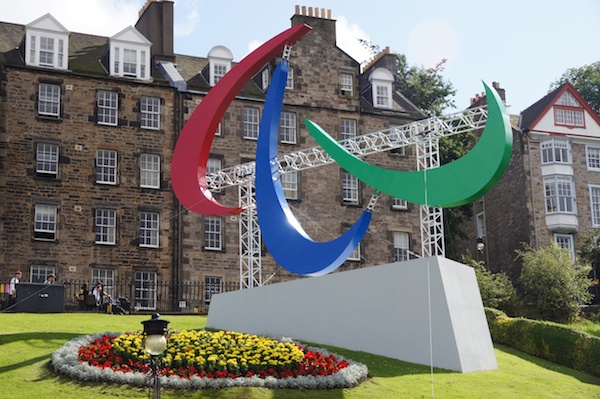 50 year old Whisky – Calders High Rise rent surgery – Holyrood Park to be closed – Honour for The Illusionist – Inverleith Park a no go area
A bottle of The Dalmore-50 year old, filled into barrels in 1926, is the star item in the whisky section of Bonhams Scottish Sale Part II today at 22 Queen Street.
The whisky, which has been described as having the complex aroma of old English marmalade, ripe bananas, treacle toffee and fruitcake, comes in a ceramic decanter with stopper and is estimated at £5,000-7,000.
Among other lots is a Black Bowmore 1964 bottled in 1993.  Number 1372 of 2000, it comes in a wooden presentation case and carries an estimate of £2,000-2,500.
Finally a bottle of Blair Athol Bicentenary-12 year old which commemorates 200 years of distilling (1798-1998), comes in its original carton and is estimated at £800-1,000
***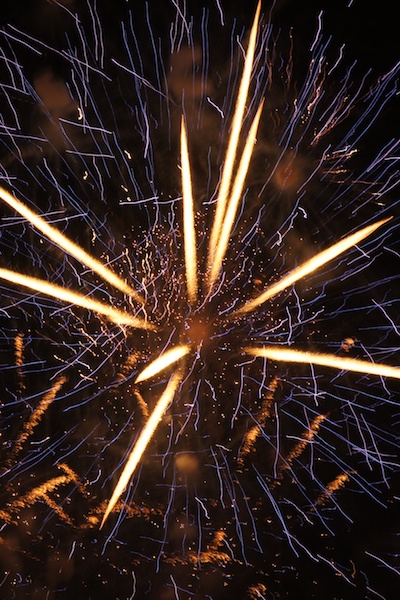 Inverleith Park will be unavailable as viewing area for Virgin Money Fireworks Concert
Organisers release additional tickets early to help Edinburgh residents plan their night
As a result of the recent wet weather, Inverleith Park is waterlogged, and on the advice of The City of Edinburgh Council, has been deemed unsuitable as an additional viewing area for the Virgin Money Fireworks Concert on Sunday 2 September.
The Council has identified Waverley Bridge as an alternative viewing area which it will close to traffic to provide more space for people gathering to watch the Virgin Money Fireworks Concert. To deliver the best experience in this new area, organisers of the Virgin Money Fireworks Concert are putting in speakers to bring the music played by the Scottish Chamber Orchestra to those gathered on Waverley Bridge.
There will be another viewing area on the north of Princes Street (between Castle Street and Frederick Street) for families and people with disabilities. As in previous years Princes Street audiences can enjoy the Scottish Chamber Orchestra's performance relayed through a massive speaker system.
To ensure that Edinburgh residents who had planned on viewing from Inverleith Park have an opportunity to adjust their plans in advance of the weekend, the Edinburgh International Festival will put a proportion of its allocation of Princes Street Garden tickets, usually held till the day before, on sale on Thursday 30 August at 10am.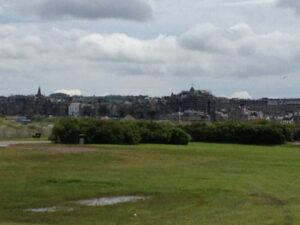 This allocation will be available through the website www.eif.co.uk/virginmoneyfireworks or by phoning +44 (0)131 473 2000 or buying the tickets in person at The Hub, Castlehill, Edinburgh EH1 2NE.
The last remaining tickets will go on sale only at The Hub from 10am on Saturday 1 September.
On Sunday 2 September at 9.00pm the Virgin Money Fireworks Concert begins in epic style with a volley of fireworks travelling at 200 miles per hour, rising 750 feet above Edinburgh Castle as the Scottish Chamber Orchestra launches into Walton's Orb and Sceptre.
Against the unique setting of Edinburgh Castle, over 100,000 fireworks choreographed to orchestral music performed live by the Scottish Chamber Orchestra and conducted by Garry Walker, will light up the sky over the Scottish capital for this hugely popular event, bringing Edinburgh International Festival 2012 to a spectacular conclusion.
Visit eif.co.uk/virginmoneyfireworks for up-to-the-minute news, features and advice on how to make the best of your evening at the Virgin Money Fireworks Concert.
Virgin Money Fireworks Concert
Scottish Chamber Orchestra
Garry Walker Conductor
Walton Orb and Sceptre
Vaughan Williams Fantasia on Greensleeves
Prokofiev Romeo and Juliet (excerpts)
Walton Suite from Henry V
eif.co.uk/virginmoneyfireworks

Three people have been arrested and charged under the Misuse of Drugs Act after Lothian and Borders Police recovered quantities of Class A and B drugs from two properties in Edinburgh's Pentlands area, all part of Operation Cipher.
Officers searched an address in Hailesland Park on Thursday 23 August 2012, and seized a number of items including a suitcase and over £1500 in cash.
Following analysis, the suitcase was searched at the beginning of this week and 800 grams of diamorphine was found inside.
The total value of the drugs recovered is around £80,000.
A 48-year-old man was scheduled to appear at Edinburgh Sheriff Court yesterday (Tuesday) in connection with alleged drug offences.
A search of a flat in Calder Gardens was then carried out around 5pm yesterday and dealer quantities of heroin and cannabis were seized from within.
The total value of these drugs was around £200.
A 28-year-old woman and a 29-year-old man are due in court today (Wednesday).
The searches were carried out as part of Operation Cipher, an ongoing initiative to tackle local crime and improve the quality of life in the Pentlands area through community engagement and partnership working.