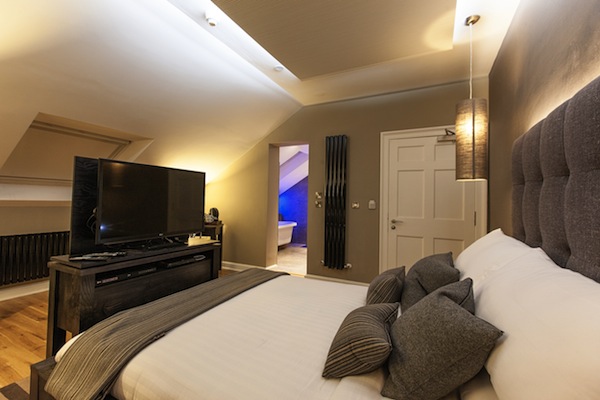 Restaurant Mark Greenaway at No.12 Picardy Place have just launched their brand new individually designed bedrooms and suites. The seven luxurious bedrooms and suites feature high tech technology and the highest standard of comfort with unrivalled views of Edinburgh.
Each individually styled room features a range of luxurious bed linen, soaking tubs, rainforest showers and 3D HD-LED televisions. Gourmet breakfast hampers are delivered every morning to each bedroom. All come with a selection of Sedbergh toiletries to ensure their guests are pampered and relaxed in the beautiful surrounding of the Georgian townhouse.
HK Surveying & Design were approached by No.12 Picardy Place to refurbish the unused upper floors of the townhouse in to design led individually styled bedrooms and suites. HK Surveying & Design describe the unutilised space deigned from shell as 'One of the most technically cutting edge and leading design boutique hotel accommodation in Scotland'.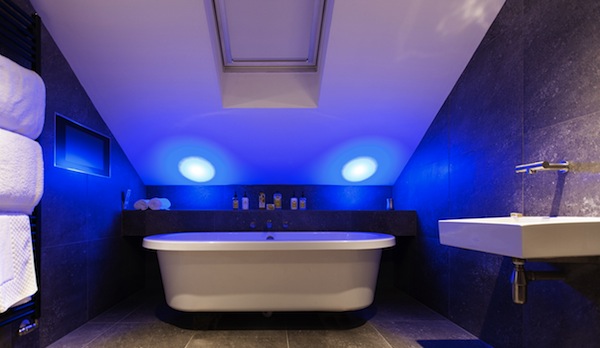 The interior throughout each room features LED energy efficient and mood lighting offering guests to create their own individual environment. The bathrooms are complete with high end Villeroy + Boch and Hansgrohe sanitary ware,  mounted rainfall showers, contemporary roll top baths, walk in wet areas, bathroom televisions with speaker systems throughout and contemporary natural stone tiling sourced from Spain.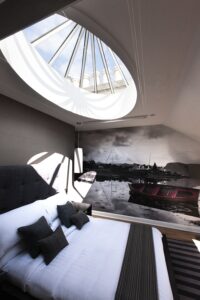 The bedrooms were designed to offer guests the 'ultimate' hotel experience – a contemporary twist on the traditional Edinburgh. Each bedroom and suite is named after Scottish lochs with the wall imagery from contemporary photographer Chris MacKenzie with individual photographs of landscapes throughout Scotland mounting the walls of each room. Each room has been designed to a '5 – star' standard and stands unique to any other in Edinburgh.
Centrally located in a Georgian townhouse on Picardy Place in the heart of Edinburgh, the bedrooms were designed to replicate the award-winning cuisine at Restaurant Mark Greenaway – one of the most exquisite dining experiences throughout Scotland.
Renowned Great British Menu Chef, Mark Greenaway launched his first ever signature restaurant at No.12 Picardy Place in February 2011, joining the fine dining restaurants of Scotland's culinary capital. Receiving acclamation nationwide since opening, in January 2012, Mark Greenaway received the coveted three AA Rosettes and was the only restaurant in Scotland to be awarded the accolade.
Mark continues to push the boundaries in modern cuisine, continually adding innovative and creative dishes to his menu.
Restaurant Mark Greenaway
12 Picardy Place • Edinburgh • EH1 3JT • 0131 557 0952
www.restaurantmarkgreenaway.com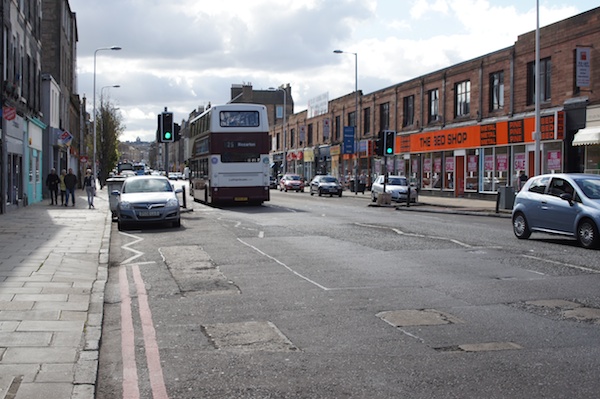 Demonstrations – Weekend road closures – Aly Bain and Phil Cunningham – Today at the Museum – Tomorrow at the House @42
Two demonstrations that took place within the Capital yesterday passed off peacefully and without incident according to the police.
Around 60 members of the Scottish Defence League gathered outside the Scottish Parliament and held a static protest for approximately 45 minutes.
At the same time, 250 members of the Unite Against Fascism group took part in a march from High Street, down St Mary's Street and along Holyrood Road before holding their own demonstration at the south side of Parliament.
A policing operation was launched to facilitate these events and an appropriate police response was deployed to allow both groups the opportunity to demonstrate while maintaining order and ensuring public safety.
No arrests were made during either demonstration and disruption to the public was kept to a minimum.
Chief Superintendent Malcolm Graham said:- "Lothian and Borders Police are well-versed in hosting demonstrations such as these and considerable planning was undertaken along with our various partner agencies to ensure today passed without any problems.
"We will continue to provide a high-visibility presence throughout the city centre today to offer reassurance to the public and deter criminal activity.
"I would like to thank the public for their assistance and co-operation during this operation."
Meawhile Edinburgh Eye has photos of what was a demonstration of very few people…
***
Broughton Street between Albany Street and London Street is closed this weekend. More details on the diversions here on the Broughton Spurtle.
***
Tonight at The Queen's Hall Scotland's best known fiddler and accordionist duo, Aly Bain and Phil Cunningham, take to the stage. Tickets and more information here.
***
Today at 1 o'clock there is a free themed tour round the museum in Chambers Street. Today's theme is Mary Queen of Scots. Even if you think you know everything there is to say about her, the museum staff are sure to be able to offer you even more of an insight. No booking required but details here. 
***
No concert tonight at the House @42 but there is something to take you out on a Monday evening. Here is what Douglas says about Picture the Ocean who are headlining tomorrow evening:-
It's not often I look at a band's website and discover that actually they're a bit, er, poppy, but that's Picture the Ocean. All the way from Canada, the band is made up of Jesse D (guitar, vocals), Jacquie B (vocals) and Matt Blackie (drums, vocals). They've got some well-meaning gobbledegook on their website about the band being "everything you want it to be and everything you never knew it could be", but the phrase that truly pays is, "Picture the Ocean is refreshing alt-pop delivered by a powerhouse trio that sounds twice its size." Well I've watched their clip now and say they're like The Bevvy Sisters with just one lassie, or maybe an alternative version of The Good Lovelies with guys and drums. Either way, I'd say they are definitely worth a punt on a Monday night.
Tickets are £10 with every penny going direct to the artists. To book PLEASE EMAIL info@douglasinscotland.co.uk
Lothian and Borders Police are appealing for information after a woman was grabbed by an unknown man in Edinburgh in the early hours of this morning.
The incident happened at around 12.45am on Cumberland Street.
A 29-year-old woman was walking home after a night out and was halfway along Cumberland Street from Dundas Street when she became aware of a man running up behind her.
He grabbed her around her mouth and dragged her backwards a short distance before the victim was able to shout for help and the male ran off in the direction of Dundas Street.
He is described as being male in his late 20′s to early 30s, around 5ft 8ins tall, of tanned complexion and with a medium build. He had medium length dark hair which was shorter at the sides and back and bushier and thicker on top, and at the time of the incident he was wearing a light coloured jumper.
A police spokesperson said:- "This was obviously a very traumatic incident for the victim, and we want to trace the suspect as a matter of urgency.
"We are keen to speak to anyone who may have been in the area at the time and who may have seen or heard the incident, or who recognises a description of the suspect.
"We believe the woman may have been followed from Dundas Street, and we are particularly keen to trace two men in their late 40′s with local accents who walked pass both the victim and the suspect on Dundas Street just prior to the attack taking place.
"Edinburgh is a safe city and thankfully incidents like this are rare, however a guide to getting home safely from nights out, with tips on how to keep yourself and your property secure, can be found at www.lbp.police.uk"
Anyone with information should contact Lothian and Borders Police on 0131 311 3131 or Crimestoppers in confidence and complete anonymity on 0800 555 111.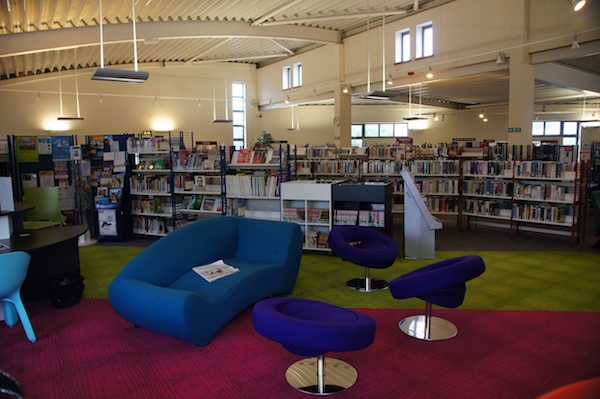 From next week library opening hours will be changing across Edinburgh as part of a move to transform the way the Council delivers libraries services following consultation with around 10,000 of the city's residents.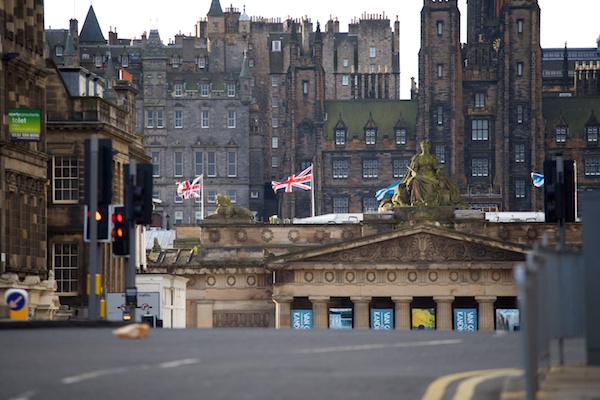 Best city – Marches – Pinterest – Mark Greenaway – Dieter Roth
Edinburgh has won the Best UK City award in The Guardian Travel Awards 2012, making it the 13th year in a row that the capital has retained top place in the competition. It would be nice if we could combine this next year with the travel company on the Guardian list with what is in our view,the best name, Saddle Skedaddle. They organise cycling holidays…..
***
Today the Scottish Defence League will hold a static rally outside The Scottish Parliament and the United Against Fascism group will hold a similar rally and have been granted permission to march from the High Street to Holyrood,as their application to the City of Edinburgh Council has been successful. Chief Superintendent Malcolm Graham, Divisional Commander for Edinburgh, has written some advice on these events here on the Lothian and Borders Police website. You might want to follow him on Twitter too. 
***
Interested in Pinterest? Well the University of Edinburgh definitely is. They have used Pinterest in a wonderfully innovative way showing up all the messages of Good Luck from their alumni to the new students just beginning their education here. We have an Edinburgh board on Pinterest and you may feel free to add items there or repin any of the photos…. some of which are of course our own…
***
Couple of things for you to put in your diary for next Thursday 4 October 2012:-
Edinburgh Chef Mark Greenaway has been chosen for the second year running to compete in Great British menu – 'Great British Menu does Comic Relief'  showing in early 2013 on  BBC 2.
Please come along to Restaurant Mark Greenaway at No.12 Picardy Place and taste samples of Mark Greenaway's competition dessert and raise money for Comic Relief at the same time on Thursday 4th October from 3pm –  all welcome.
All guests will pay £5 with all proceeds going to Comic Relief where you can sample Mark's competition dessert.
***
And up the road in the Fruitmarket Gallery, one of our favourite exhibitions of the summer:-
Dieter Roth Seminar
'
An awfully dreadfully fearful drain he fell down into, wriggling there, at the bottom, in his wet pants
'*: Dieter Roth and Art History
Thursday 4 October, 6–8pm. £10/£8 (conc.)Art historians 
Deborah Lewer 
(University of Glasgow), 
Luke Skrebowski
 (University of Cambridge), 
John-Paul Stonard
 (Courtauld Institute of Art, London), curator 
Daniel Herrmann
 (Whitechapel Gallery, London) and writer 
Sarah Lowndes
 (Glasgow School of Art) examine Roth's place in relation to art making in the twentieth century and his legacy for artists now.*The title of the seminar is extracted from an 'autobiography' that Dieter Roth included in the book he made with Richard Hamilton, COLLABORATIONS OF CH. ROTHAM in 1977.
Booking essential, to book your place call 0131 226 8181 or emailbookshop@fruitmarket.co.uk
Programme
18.00–18.10: Welcome and Introduction to Seminar (Stacy Boldrick, Fiona Bradleyand David Hopkins)
18.10–18.20: Daniel Herrmann Remake, Remodel, Repeat. Dieter Roth's work as palimpsest
18.20–18.30: Debbie Lewer Roth and Religion
18.30–18.40: John Paul Stonard Dieter Roth and Richard Hamilton
18.40–18.50: Sarah Lowndes The writing voice of Dieter Roth
18.50–19.00: Luke Skrebowski Dieter Roth as Dirty (Re)Materialist
19.00–19.15: Break for refreshments
19.15–20.00: Discussion with all speakers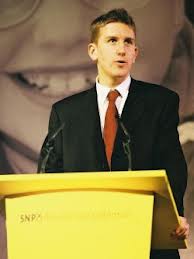 Yes Scotland today  announced the appointment of Colin Pyle as Head of Development to the campaign for a Yes vote in the 2014 independence referendum.
Mr Pyle will take up his new position on Monday following a successful year-long role as senior special adviser to First Minister Alex Salmond.
A major part of Mr Pyle's new role will be to develop and communicate the economic case for independence, working closely with the business community and other key stakeholders.
He said today:- 'I am delighted to be taking up this position with Yes Scotland as we enter an extremely exciting and vitally important period in Scotland's future. I have greatly enjoyed my time working for The Scottish Government and the First Minister and now I am looking forward with great enthusiasm to the challenge that lies ahead.'
Mr Pyle, who was responsible for economics, business strategy and operations while working for Mr Salmond, brings a wealth of experience to the Yes Scotland team.
The former Royal Bank of Scotland executive has developed a huge network of contacts throughout the UK during his career.
Yes Scotland Chief Executive, Blair Jenkins, said:- 'I am absolutely thrilled to welcome Colin to the team. To have been able to attract someone of his calibre, experience and know-how is a tremendous bo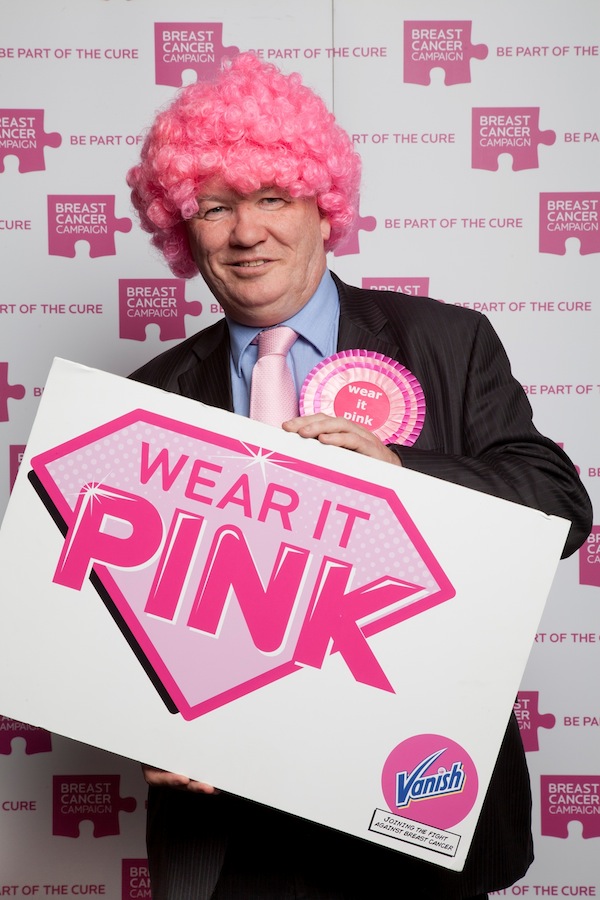 Gordon Macdonald, MSP for Edinburgh Pentlands, is backing the fight against breast cancer by taking part in Breast Cancer Campaign's award winning fundraiser, wear it pink day – and wants his constituents to join him.
Now in its 10th year, wear it pink, on Friday 26 October 2012 will have supporters from all over the country in schools, colleges and businesses who will embrace the event's new theme, Superheroes. The theme stems from the charity's belief that everybody who joins the fight – from people affected by breast cancer, to Breast Cancer Campaign scientists and all wear it pink participants – is a Superhero.
Breast Cancer Campaign is asking everyone to pull on something pink and donate £2.00, whether it's a superhero cape, pink socks or pink pants you wear over your tights, you can help the charity achieve its target of raising £2 million, so they can continue to fund ground-breaking research.
Join the hundreds of thousands of people who take part in wear it pink every year. With your help Breast Cancer Campaign can improve survival rates for the one in eight women who experience breast cancer during their lifetime.
Gordon Macdonald MSP said:- "Every year in Scotland, almost 4,500 women and 25 men are diagnosed with breast cancer and more than 1,000 will die from the disease. This is why we all need to support wear it pink day on 26 October, so that Breast Cancer Campaign can continue to fund research which will one day lead to a cure."
To take part in the UK's original and best pink day visit wearitpink.co.uk and register to receive your free fundraising pack now. Vanish is backing the fight against breast cancer for the third year running by raising an incredible £250,000 for wear it pink.

Edinburgh's student radio station FreshAir.org.uk are delighted to have been selected to represent the UK on this year's 'International Student Radio Day', and you are invited to be in the audience!
The event is essentially a 24hr radio relay, passing through stations based in America, Australia, Ghana, Singapore, Spain, France, Sweden, Ecuador and more. FreshAir.org.uk have been assigned the hour of 11am-12noon on Tuesday 2 October 2012, and they will be broadcasting live from Edinburgh to an estimated audience of 40 million, listening on over 500 different stations.
The Washington Post and the President of Italy are among those who have given public support to the event, with Time Magazine hailing it:- "A nationwide movement…illuminating the cultural significance of student-run radio."
FreshAir's hour will consist of a live band in session in front of a 300 strong audience in Edinburgh's Pleasance Theatre. The hour will feature live music and interview with the band, as well as other features including an 'Around the World in 80 seconds" quiz and the chance to be shouted out on radio to the entire world!
The station's Head of On-Air, Eve Livingston, will be organising and presenting FreshAir's part in the event and said:- "We've worked really hard in recent years to become a top station at the forefront of student media, so being selected is a real honour and a mark of progress made. We can't wait to represent all that we love so much about student radio!"
Anyone can listen from 1am UK time on Tuesday 2nd October until 1am the following day by clicking 'Listen Now' on FreshAir.org.uk's website. For the chance to be in our live audience entirely free, anyone can email onair@freshair.org.uk with their name to secure a space.

Two children have been hurt in two separate incidents on different sides of the city today.
In the first, Lothian and Borders Police are appealing for information after a child was injured, having been clipped by a car in the Gilmerton area of Edinburgh this afternoon.
The seven-year-old boy and his brother were standing on a traffic island in Gilmerton Road about 12.40pm when a silver or gold car clipped him and kept driving. He was taken to the Royal Hospital for Sick Children where it emerged he had suffered a broken leg.
There is no further description available of the car.
Chief Inspector Alwyn Bell said:- "It may well be the driver is not aware that anything happened so we would appeal for anyone who may have been driving in Gilmerton Road this lunchtime, and who may have seen the boys on the traffic island, to get in touch.
"We're also keen to hear from anyone else who was in the area, and who may have seen the vehicle involved, or have information about exactly what happened, to contact us on 0131 311 3131."
In the second incident a young girl was  injured during a road collision at 12.30pm today on Groathill Road North.
The five-year-old was involved in a collision with a Renault Clio, which stopped at the scene, and the driver is now assisting police with their enquiries.
Police and ambulance responded to the scene and the child was taken to the Royal Hospital for Sick Children after sustaining injuries to her abdomen.
She is currently undergoing medical examination and officers urge anyone who witnessed the collision to come forward.
Road Policing Sergeant Brian Smith said:- "We are still trying to piece together the full circumstances that resulted in this collision and are urging members of the public to assist with our investigation.
"The area is next to a primary school and there were likely a number of people around who may have seen what happened.
Anyone with any information on either of these incidents should contact Lothian and Borders Police on 0131 311 3131, or the charity Crimestoppers in confidence and complete anonymity on 0800 555 111.
Musselburgh Racecourse marches to the tune of the military on Sunday when it hosts the annual Royal Regiment of Scotland Family Day.
With more than £40,000 in prize money the penultimate Flat meeting of the season also features a host of free attractions which will appeal to families of all ages.
The Massed Bands featuring the Lowland Band and the Royal Scots Pipe Band start proceedings when they march from the Mercat Cross in the Honest Toun to the racecourse at 12.30pm where they will play in front of the grandstand.
Activities include the Royal Regiment's inflatable assault course and climbing wall, the Royal British Legion Motorcycle Display Team and a display of 6 Scots military equipment.
For younger children there will be face painters, fairground rides, a bouncy castle, trampolines and a roundabout.
For racegoers, Channel 4 presenter Derek "Tommo" Thompson will host proceedings and give his unique insight on what is going on in the parade ring and action trackside.
Feature race of the day is the £13,000 Royal Scots EBF Fillies Handicap Stakes at 3.35pm which is a Class 3 race over one mile. Gates open at noon, the first race is off at 2pm and Musselburgh child friendly policy allows all children aged 17 and under in free when accompanied by an adult.