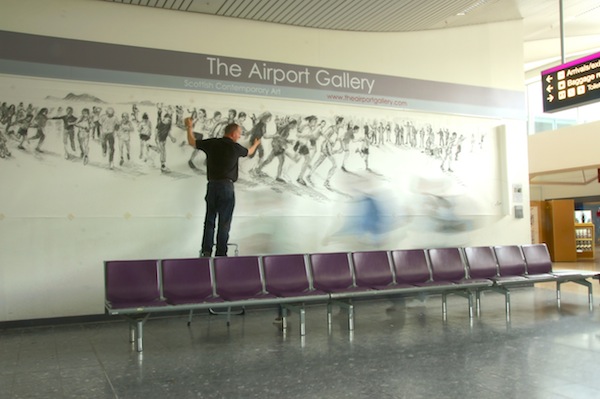 To coincide with the Edinburgh Marathon Festival this weekend, local artist Damian Callan is installing a 10-metre charcoal drawing entitled 'The Dalry Marathon'  in the airport's art gallery today and The Edinburgh Reporter met up with him to see how it was taking shape.
Damian started the mural in October last year . Then he used models in his studio as the runners and supports in the picture, but he now wants to complete it using the airport's passengers as inspiration.  Over the first 2 days 54 figures were accumulated, as well as an Edinburgh skyline.
The artwork is being installed  this week, and will be in the airport for a further 2 weeks. The idea is that it will  then be sold for charity.  Damian will be working on the drawing live in the departure lounge on Friday and next Monday using the large crowds of passengers (with hundreds of likely runners and spectators among them) as inspiration.  There should have a large number of runners and spectators travelling through the airport over the next week or so.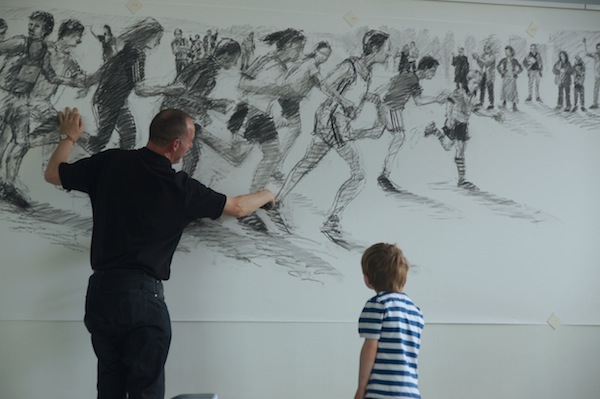 The airport's art gallery is in the departure lounge and is managed by one of the airport's Commercial Account Manager's, Jan Riley.  Jan actually ran a marathon for charity about 7 years ago and held a mini art auction to raise funds – some of Damian's artwork was featured in this and one of his pieces was the first to be sold in the airport's gallery when it opened.
Here's the website for the airport gallery: http://www.theairportgallery.com/ and here is Damian Callan\s own website. www.damiancallan.com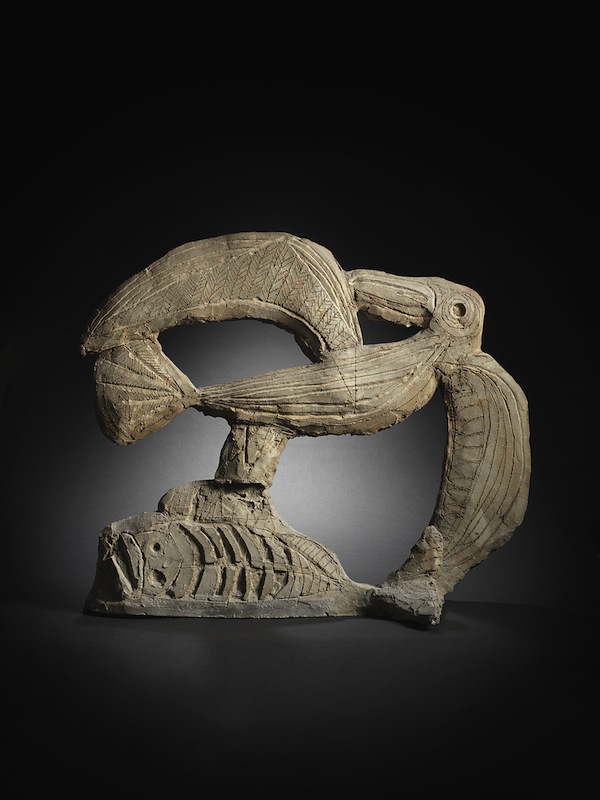 A rare sculpture titled Seagull and Fish by Eduardo Paolozzi, which featured in his first ever exhibition on Cork Street, will be auctioned as part of the Modern British & Irish sale on 29 May 2013 at Bonham's auction room in New Bond Street. The work was a gift from the artist to the British illustrator, Enid Furlonger and is estimated to fetch between £50,000 and £70,000.
Paolozzi was a precocious student of sculpture and while still at the Slade School of Art, held his first ever exhibition in London at the age of 23 at the Mayor gallery on Cork Street, now London's foremost gallery for Dada and Surrealism. Seagull and Fish was conceived when Paolozzi was just 22 years old and is one of four concrete sculptures completed by him in 1946. Allegedly, Freddy Mayor was unaware that Paolozzi was still a student when he offered him the show. Soon after the exhibition, Paolozzi left the Slade School without taking his diploma and brimming with anti-establishment sentiment.  As a sculptor he was largely self-taught.
Seagull and Fish is based on Paolozzi's observations of the natural environment in Newhaven where he grew up. The Mayor Gallery exhibition established Paolozzi's status as a professional artist, as he sold several drawings of Fishermen, fish and other seagull related subjects. The proceeds from the exhibition funded Paolozzi's pivotal trip to Paris, which put him in contact with significant French artists such as Alberto Giacometti, Constantin Brancusi, George Braques and Fernand Leger. This was a crucial point in Paolozzi's artistic career, which contributed to the blossoming of his reputation.
The sculpture was created during a time when Paolozzi was experimenting with cement. He rejected the contemporary trend in figurative cement sculpture, which was towards a more polished aesthetic pioneered in the late 1920's by Henry Moore. Paolozzi instead employed a rough and messy working approach which went on to influence a generation of other artists. His make-shift style was dictated by his impoverished circumstances, as he was forced to trawl through London with a cart, acquiring the necessary working materials from builders' workshops. Paolozzi's skill in converting rough materials into elegant sculptures is exemplified by Seagull and Fish, which transforms an ordinary subject and material into an enchanting form. Writing in 1947, the art critic Robert Melville compared Paolozzi's work to that of Pablo Picasso, especially to the 'large whorls of Picasso's 1938 series'.
Paolozzi boasts both a fascinating artistic career and a tragic personal history which contributes to his extraordinary approach to art. In 1940, when Italy declared war on Britain, the artist was interned at Saughton Prison. During this time, his father, grandfather and uncle were among the 446 Italians drowned on a ship, the Arandora Star, carrying them to Canada. Traumatised by these events, the artist returned to Edinburgh to begin his artistic career. His reputation has continued to grow considerably since the 1950's.  He was awarded a CBE in 1968 and in the 1980's was commissioned to complete the mosaic pattern which decorates Tottenham Court Road Station.
After great success in London, multi-award winning and internationally collected artist, Annette Edgar, has launched her first soloshow in Scotland for five years.  Annette's new exhibition is called "Life Times"  and is a celebration of her travels and friendships around the world through richly distinctive and semi-abstract landscape paintings.
"Life Times" will be at the Union Gallery in Broughton Street until the 3rd of June.
Trystan Davies for The Edinburgh Reporter, spoke to Annette at the gallery preview: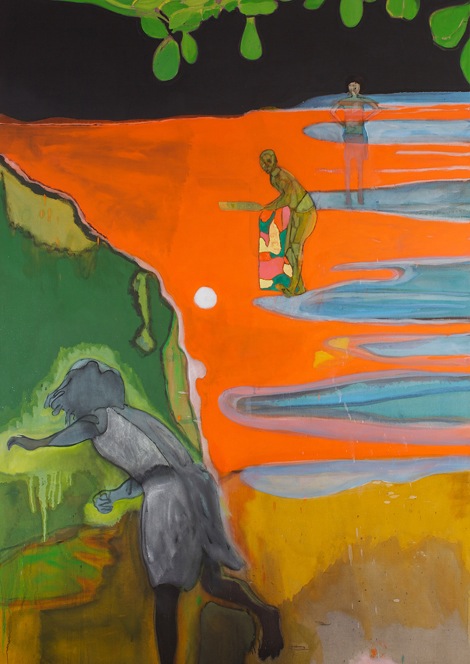 NO FOREIGN LANDS: PETER DOIG
3 August – 3 November 2013
Scottish National Gallery, The Mound, Edinburgh EH2 2EL
Admission £8/£6 | Telephone: 0131 624 6200
nationalgalleries.org
Part of the Edinburgh Art Festival, 1 August – 1 September 2013
Keith Hartley, Curator of the exhibition, explains to The Guardian his thoughts on the Edinburgh born painter who he describes as a 'free spirit'.
The National Galleries of Scotland is delighted to announce a major exhibition of the work of Peter Doig (b. Edinburgh 1959) at the Scottish National Gallery this summer. Peter Doig is one of the most highly regarded and internationally-renowned painters working today. This will be the first major exhibition of his work to be shown in the country of his birth.
Peter Doig, commented:"I left Scotland as a child as many of my generation did; however I know Edinburgh, the city where I was born, through many visits as a child and youth. To be able to exhibit my paintings in the magnificent rooms of the National Galleries is a great great honour."
This important international exhibition is a collaboration with the Museum of Fine Arts in Montréal. Surveying Doig's paintings and works on paper of the past 10 years, this exhibition places particular emphasis on the artist's approach to serial motifs and recurring imagery. Formally spare yet monumental in scale, at times approaching the exotic in their subject matter, these works show Doig working at the height of his extraordinary powers.
Simon Groom, Director of the Scottish National Gallery of Modern Art said: "Peter Doig has been one of the most consistently inventive and seductive painters working anywhere in the world today. His art is figurative and often based on photographic images, but the end effect is to take us into a completely different world of often hallucinatory power. The works reveal a transforming vision of the world, steeped in a sense of beauty and mystery, rich in their imaginative suggestion yet remaining grounded in the real."
Doig first came to prominence in the 1990s with his paintings of winter landscapes, highly atmospheric scenes of lakes (often with a lone canoe), and houses screened by trees and ski slopes. The rich and layered surfaces of his paintings showed that Doig was as much interested in abstract, formal qualities as he was in subject matter.
Over the period covered by this exhibition Doig has split his time between a house and studio in Trinidad, a studio in London and a professorship at the Düsseldorf Art Academy. His peripatetic life, memories of a childhood partly spent in Canada and his later life and studies in London have given him a particularly rich visual knowledge. Regardless of where Doig's motifs originate, his experiences cross-fertilize and enhance his works. As fellow Scot Robert Louis Stevenson wrote in The Silverado Squatters: There are no foreign lands. It is the traveller only who is foreign. Doig the traveller is not merely a foreigner seeking out the exotic; rather, he is like Baudelaire'sflâneur, whose eye uncovers and finds significance in details which transcend locale, while spanning both time and space.
Throughout a career of three decades, Doig has reinvigorated a medium considered by many to have fallen into irrelevance. His inventive style, uncommonly sensuous palette and suggestive imagery set him apart from the conceptualism dominating much of contemporary art.  Doig's willingness to take up the challenges posed by the work of Gauguin, Matisse, Bonnard, Marsden Hartley and Edward Hopper places him in an ongoing dialogue with a long line of great artists.
Following its debut in Edinburgh, No Foreign Lands: Peter Doig, travels to Canada, where it will be shown at the Museum of Fine Arts in Montréal and curated by Stéphane Aquin. The exhibition is accompanied by a comprehensive catalogue featuring essays by Keith Hartley, Chief Curator at the Scottish National Gallery of Modern Art;  Stéphane Aquin, Curator of Contemporary Art in Montréal; and an interview with the artist conducted by Hilton Als, a New York-based critic, author and regular contributor to the New Yorker magazine.
Often the strange and quirky parts of shops or buildings can be over-looked in a busy street, but Leith artist Tommy Perman has focused on these designs and is challenging you to notice them. From the iconic 'Brunswick Street Stairs' known as a treacherous path to the local post office depot, to humorous signs such as 'Bacon Rolls etc' the strong urban identity of the area is represented in abstract black and red. Tommy is also interested in using strong urban themes such as faded glories, how heavily guarded dis-used buildings might have a 'Welcome' sign, and when listed buildings become protected but lose their original beauty in the process.
Trystan Davies, for The Edinburgh Reporter, spoke to Tommy about his choice of black and red, what he thinks of the controversial Argyle House, and how becoming a father has affected his work: