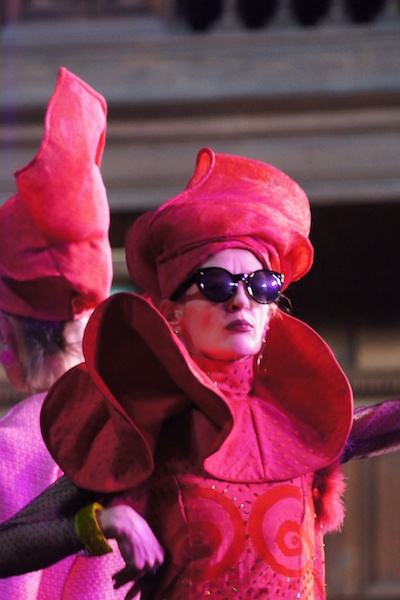 The Edinburgh College of Art Fashion Show will showcase the latest designs from some of the UK's brightest students studying fashion, performance costume, and textiles – and we have a sneak preview from the dress rehearsal this afternoon.
The good news is that there are still tickets available for Thursday afternoon. So get your skates on! Details of how to buy tickets are shown below.
Here is a whirlwind snippet of what you might see:-
Collections in this year's fashion students will feature a diverse range of designs, the inspiration for which includes lost Peruvian tribes, hip-hop jockeys, 1990s kids TV shows, and the sleek shapes of luxury yachts.
Two students are sponsored by Sophie Hallette Lace, which produced the lace for the Duchess of Cambridge's wedding dress and regularly works with the top couture houses in Paris. And for the first time at the fashion show, a student will create a collection solely featuring headwear.
What's more, outlandish performance costumes inspired by Japanese fairytales and legend, African Maasai warriors, and Mexican magical-realism
will be among the highlights from the costume students.
One student has an African version of the ancient Greek comedy, The Birds. Another student has created a macabre dress train made from fake human eyeballs.
Tickets are on sale now costing £15 each (plus £1.50p booking fee). They can be purchased via Hub Tickets (http://www.hubtickets.co.uk/).
This year the show will have its own Twitter hashtag: #ecafashow. More information on the students and their collections will be added to the official website in coming weeks: http://www.ed.ac.uk/schools-departments/edinburgh-college-art/fashion-shows/2013-fashion-show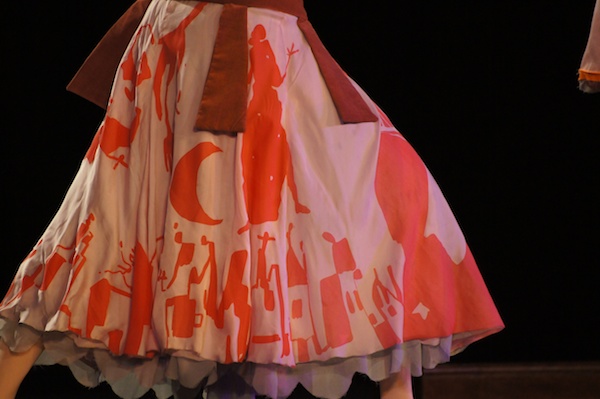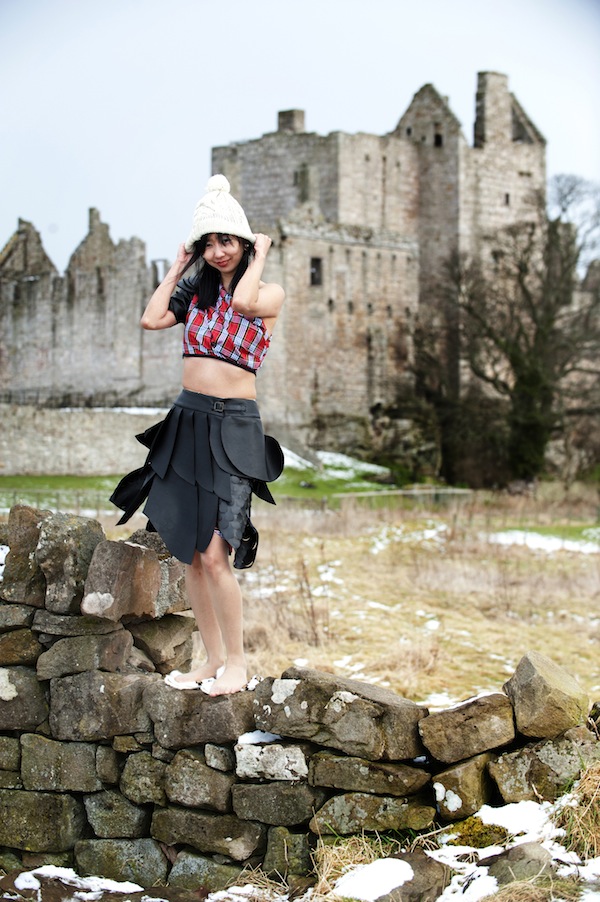 Asian Braveheart dress to storm New York catwalk
A WARRIOR outfit created by a Scottish student is set to take the New York catwalk by storm.
Inspired by the dress of ancient Highland and Chinese warriors, the ensemble, designed by Edinburgh Napier University student Charlie Jennings, will make its fashion debut at the glamorous From Scotland with Love (FSwL) fashion show on 8 April 2013.
Organised as part of Tartan Week – the Big Apple's annual celebration of all things Scottish – the event will see a host of celebrities including film-star Gerard Butler, Scotland rugby player Richie Gray and actor Mike Myers, sashaying down the catwalk.
Charlie (20), a second year Graphic Design student, designed the outfit for a competition run by the University's School of Arts & Creative Industries.
As part of his prize, he will spend a week in New York shadowing award-winning couture fashion designer, Michael Kaye, who has been dubbed "The Titan of Tartan", due to his love of the fabric.
Charlie, who is from North Berwick, said:- "I can't believe I am off to New York, I think it is still sinking in! To get the chance to work with someone like Michael Kaye is an amazing opportunity and I hope I can put my skills to good us as well as learn more about the industry."
Charlie's "Scottish lion meets Asian dragon" themed outfit mixes laser-cut leather with the Edinburgh Napier University tartan. The unique ensemble is made up of a cropped tartan bodice, scale patterned leather-look skirt and dragon tattoo sleeve.
"The dress takes on two sides of Scottish and Chinese history and reflects ancient warrior outfits of the two nations," Charlie said. "I took inspiration from Chinese armour and the traditional dress worn by Celtic warriors. The skirt is made up of different panels, with some sections given a scaly pattern in order to reflect the Chinese dragon."
Professor Dame Joan Stringer, Principal and Vice-Chancellor of Edinburgh Napier University said :-"This event is a unique opportunity for our students to get hands on work experience. Edinburgh Napier students are amongst the most employable in the UK and this is an ideal platform to showcase the University's creative talent. We are very proud to be a part of From Scotland with Love and the wider Tartan Week celebrations."
Photo Lesley Martin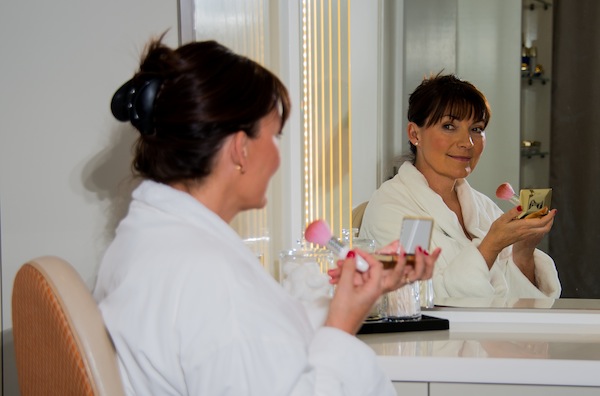 TOP-TO-TOE PAMPERING FOR TV'S LORRAINE
Lorraine Kelly took a well-earned break from her early starts in London to enjoy some luxury and pampering at the Guerlain Spa at The Caledonian, A Waldorf Astoria Hotel in Edinburgh – the first in the UK.
With bespoke treatment rooms and a team of highly trained Beauty Coaches, the Guerlain Spa introduces a cutting edge, bespoke health and beauty experience to the city. Beginning with a systematic analysis and precise skin diagnosis, each treatment is individually tailored using signature Guerlain touches.
A journey of tranquillity begins on arrival.  Each guest is invited to select their Guerlain fragrance upon arrival which will infuse their therapeutic experience.  They are then encouraged to enjoy the warmth and luxury of their (fluffy) robe as they relax and enjoy a gently soothing, fragrant footbath designed to envelop the senses; a ritual that will allow even the most time pressed guests to unwind before their choice of treatment.
Lorraine said: 'This is the ultimate in pampering and a real treat for a special occasion or just as a way of spoiling yourself.
'I love the way that the treatment begins with your own fragrance journey as soon as you enter the spa.  Not a minute is wasted and right away you feel very special.'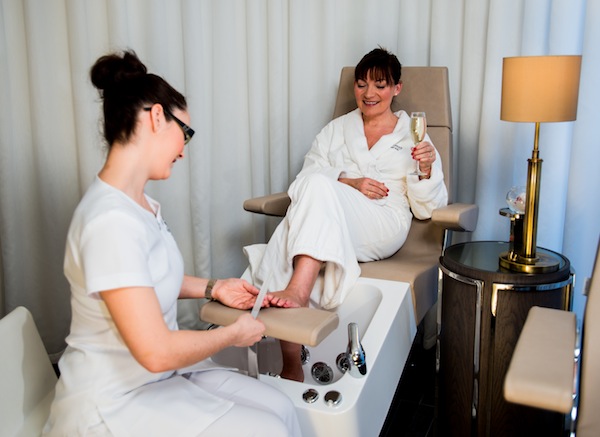 Founded in 1828, Guerlain's history runs parallel with the history of skincare making the spa a unique centre of excellence.
Of the exclusive Orchidee Imperiale Prestige Treatment Lorraine said: 'A facial that lasts two and a half hours sounds like a long time but it simply flies past.  The emphasis on fragrance and aromas help to create an experience that it tailor-made just for you.  I also like the extra touches like the fragrant footbath before your treatment and the 'touch of colour' before you leave the spa, real top-to-toe pampering!'
'It's the most relaxing morning I've had in ages and I felt totally relaxed, stress free and ready to face the rest of the day.'
The Guerlain Spa at The Caledonian, A Waldorf Astoria Hotel is the ultimate luxury hotel pampering experience.  Where cutting-edge innovation unites with customization, luxury, emotion and sensuality.  For further information or to buy gift vouchers, call 0131 222 8836, email guerlainspa.caledonian@waldorfastoria.com or visit www.theCaledonian.waldorfastoria.com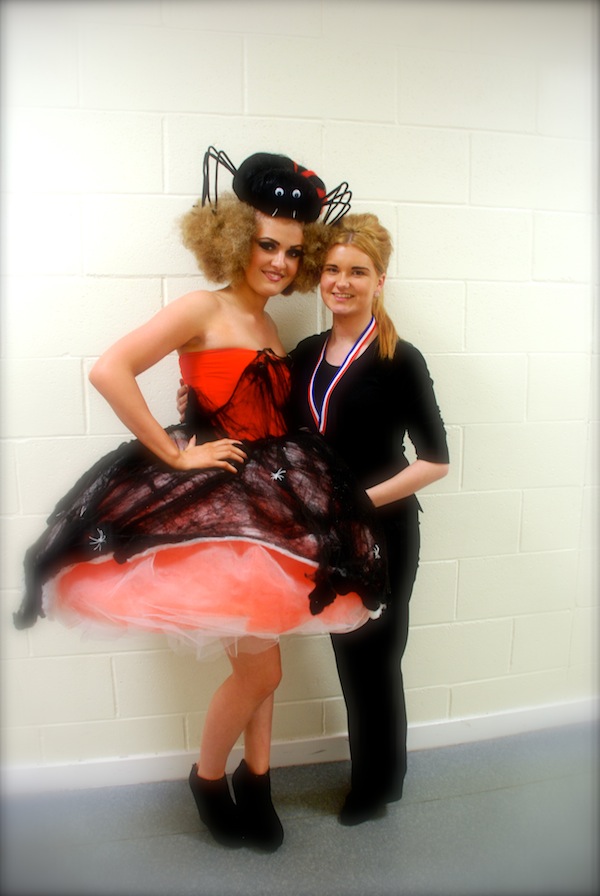 Hairdressing students face national competition finals
A group of talented hairdressing students from Edinburgh College are delighted to have made it to the final cut of the Association of Hairdressers & Therapists (AHT) UK competition.
The AHT is a highly respected national network of hairdressing professionals, which holds regional and national competitions every year for students to compete to be crowned Britain's best student hairdresser.
This year's regionals took place at Coatbridge College in Lanarkshire and saw the Edinburgh College students take on hairdressing teams from across the country. The team did exceptionally well, picking up two 1st and a 3rd place in various competition categories.
Each student was required to create and present themed hairstyles complimented by make-up and costumes to a panel of judges.
The team of Edinburgh College Level 2 Hairdressers includes Lisa Inverarity for the avant-garde category, Louise Slow for gent's hairstyling and Caroline Doney for ladies evening style.
18-year-old Level 2 Hairdressing student, Lisa Inverarity, who is from Wallyford but living in Tranent, caught the judges' attention with her hair-raising spider-inspired hairstyle in the avant-garde category.
Lisa said: "I'm so delighted to have come first-place in the regional competition. We were up against students from all over Scotland, and I'm really proud to be representing the college and competing for the British title next week."
"I went for the avant-garde category and had so many crazy ideas. In the end, I decided to create a spider-themed creation, with a massive afro and spider's legs, fangs and eyes. I think the judges liked it because it stood out and it was a technical hairstyle, no one did anything like that on the night and it was something different."
Lisa added: "In the future, I would really like to pursue my interest in high-fashion hair and perhaps even style celebrities – maybe even Lady Gaga!"
Edinburgh College Hairdressing Lecturer, Jackie Steele, who has previously won the AHT competition, said: "I am so proud of the girls. They were a credit to the college at the competition and worked incredibly hard on the night."
"I've competed in the AHT competition when I was training and I know the months of hard work, preparation and effort that goes into a competition like this and it is extremely rewarding for the excellent work of our students to be recognised at a national level."
The students have now earned their place at the UK final on March 18th at the Blackpool Winter Gardens.
Edinburgh College has an excellent track record with hair and beauty students, with a recent graduate coming first place in Sterex UK Student of the Year 2012, and our hairdressing students reaching 2nd place in the Association of Hairdressers and Therapists 2012 UK final.
Photography caption: (L – R) Model Shannen Torley and Level 2 Hairdresser student Lisa Inverarity.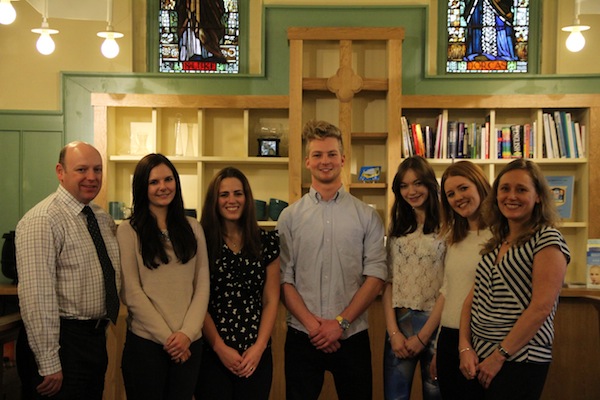 Edinburgh Charity Fashion Show will take place at The Assembly Rooms on Saturday 16 March at 7:00pm
The Edinburgh Charity Fashion Show has risen to prominence as the largest student run fashion show in the UK and one of the most successful student run events in Europe. The show is now in its twelfth year and has raised nearly half a million pounds for charity. Designers for 2013 include Diane von Furstenberg, Alice by Temperley, Judy R Clark and Pocket Jeans London. We will also feature pieces from local Edinburgh stores including Fifi Wilson and Edinburgh College of Art students Melissa Thwaites and Louise Benetts.
Edinburgh Charity Fashion Show is supporting Cancer Support Scotland as one of its chosen charities for 2013.
Cancer Support Scotland provides emotional and practical support on a one-to-one basis and through community based groups to anyone affected by cancer including family, friends and carers. With its main centre at Gartnavel Hospital, Glasgow, Cancer Support Scotland has a number of support groups across the West of Scotland and ECFS hope to raise the charity's profile in the East. Support services are free of charge and rely on donations from the public with recent fundraising efforts resulting in the Calman Cancer Support Centre which has doubled the capacity available for support.
Cancer Support Scotland provides counselling services and complementary therapies including aromatherapy, reiki, hot stone therapy, Indian head massages, reflexology, talking therapy (counselling), deep tissue massage and stress management, chiropody and hairdressing to people with cancer as well as offering support to their families and friends.
After viewing the facilities at the Calman Centre, Chairwoman Caroline said: "It is incredibly motivating to see the fantastic new facility and learn about the amazing services Cancer Support Scotland provides to patients and their families."
Adam Baxter, one of the students who will be modelling the creations, added: "The enthusiasm of the staff was heart-warming, making the Centre all the more welcoming and relaxing. It is great to know that an event that we enjoy so much being a part of is raising money for such a worthy and inspiring cause."
Colin Graham, chief executive of Cancer Support Scotland, said: "We are delighted to receive this generous support from everyone associated with the Edinburgh Charity Fashion Show.
"The students involved in the show come from all over the UK and, indeed, from many other countries and their decision to nominate Cancer Support Scotland as a beneficiary of this year's event is a reflection of how aware they are of the need to support people with cancer. They deserve immense credit.
"Although Cancer Support Scotland is headquartered in Glasgow, and most of the people we currently help are from the west of Scotland, we will shortly be piloting a scheme to extend our reach to Edinburgh and other parts of the country and the money donated by the students will help us fund that along with our other complementary therapies."
We were not on the invitation list to this event earlier this week. On the basis that you might not have been there either, here is a wee Storify of tweets and Chanel's own Youtube video where you can see Linlithgow Palace in all its haute couture glory.
And we have found a wee video which the New Zealand Herald have published…
The Culture Secretary was the only one we heard of who actually got an invite… Maybe you were invited? If you were and you have any photos or stories from the evening then do share them with us!
Edinburgh Charity Fashion Show is pleased to announce that it is returning for its ninth year to raise money for Cancer Support Scotland and The Sandpiper Trust.
Last year they were successful in raising £10,280 for Children's Hospice Association Scotland (CHAS) and hope to do even better this year.
This year's show begins with a new theme of 'duality', a concept that seems particularly pertinent in the context of Edinburgh as it is one that it not only ever-present in the realms of fashion but has been identified as an inherent characteristic of Scottish culture.
The fashion team for ECFS2013 is already sharing its ideas on their blog 'BloggEd' and will be updating with inspirations for the final catwalk show.
ECFS prides itself on being the most successful student run, charity fashion show in Europe and has been thrilled to have included designers such as Nicole Fahri, Vivienne Westwood, Mark Fast, Issa, Calvin Klein Menswear and Luella in past shows, as well as up-and-coming local student talent.
In the show's eight year history it has raised over a quarter of a million pounds for charities which have also included Breakthrough Breast Cancer, Poppyscotland and Marie Curie.
ECFS 2013 will be held at The Assembly Rooms, George Street, on 16 March 2013.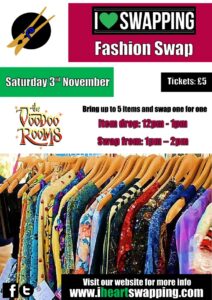 After much success in Inverness, I Heart Swapping is bringing you their very first Edinburgh Fashion Swap; an environmentally friendly way to get a new wardrobe.
Bring along up to 5 items of clothing or accessories that you no longer wear or want, but that are still in good condition and simply swap them one for one for someone else's similarly unloved items. Just imagine what you could find!
Focused on the simple idea that "one person's trash is another person's treasure" while aiming to promote affordable fashion and sustainability for the future.
All leftover items are donated to Cancer Research UK.
Join the Fashion Revolution!
Saturday 3 November 2012 at The Voodoo Rooms
Item drop: 12.00pm – 1.00pm
Swap from: 1.00pm – 2.00pm
Tickets: £5
Submitted by Jema MacGregor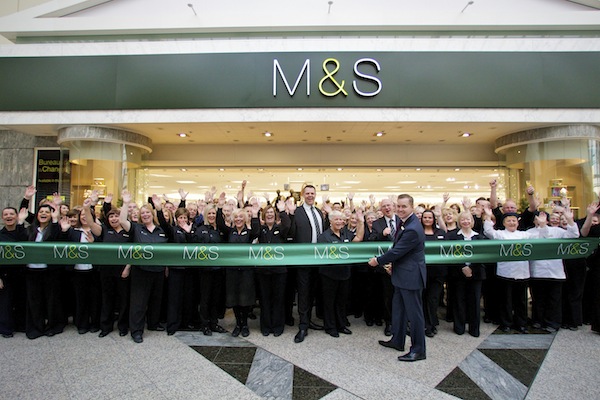 M&S THE GYLE UNVEILS NEWLY TRANSFORMED STORE FOLLOWING EXTENSIVE MAKEOVER
Marks & Spencer has just unveiled its revamped store at The Gyle following an extensive makeover.
Store manager, Aaron Spicer, cut the ribbon on Thursday last week at the newly refurbished 106,000 sq ft store in front of a crowd of eager shoppers who gathered to get a first glimpse of the new layout, features and improvements that formed the major transformation.
The store, which first opened its doors nearly 20 years ago, has benefited from a makeover during the last six months to create an inviting and inspiring shopping experience.
The store improvements include:
Food hall: The Food hall has undergone an extensive revamp with more than 400 new lines added to the store's extensive range of 4,000 food and drink products. There is also a new Deli counter featuring Scotland's first in-store pasta making machine and a range of tempting delicacies specially sourced from around the world. The Bakery has been extended and offers a range of speciality breads, cakes and pastries freshly baked every day.
M&S Café: The store's stylish M&S Café has doubled in size, with seating for 230 customers, who can choose from a selection of hot and cold refreshments, with Fairtrade tea and coffee freshly prepared by specially trained Baristas. The larger M&S Café replaces the store's two smaller Cafés.
Clothing: Changes across fashion are designed to clearly segment favourite clothing ranges to see which brands best meet their personal style preferences. Womenswear, Menswear and Kidswear have been revitalised and offer the latest fashion for all the family, including the popular per una, sophisticated Autograph and stylish Limited Collection ranges. Lingerie has also received a makeover, with a great new look to create a more inspiring shopping experience.
Beauty: The store's new Beauty department offers exclusive brands from around the world, with expertly trained consultants on hand to offer advice on the best skincare and cosmetics for the upcoming season.
Home: Cutting edge technology provides a more interactive shopping experience for customers in the transformed Home department, which is now in a great new location in store, with iPads and product browsing screens allowing shoppers to easily view and order the latest M&S Home ranges for the kitchen, bathroom and living room.
The first 100 customers who "Shwopped" on the day were given a re-useable bag in thanks for their donation. Championed by Joanna Lumley, Shwopping is the new M&S initiative inviting customers to "Shwop" by donating a piece of clothing in-store every time they buy a new piece. Through Oxfam, these will be resold, reused or recycled and the money raised will go to people living in poverty.
Aaron Spicer, store manager at M&S The Gyle, said:- "We are delighted to showcase our revamped store to shoppers and have been thrilled by their response so far, especially with the new Café and Food hall.
"We have introduced some fantastic new features across the store, including a spacious new layout in the Womenswear and Menswear departments, which our customers have given us fantastic feedback on."
M&S The Gyle is open from 8am – 8pm from Monday to Wednesday, 8am – 9pm Thursday and Friday, 8am – 7pm on Saturday and 9am – 6.30pm on Sundays.
The store continues to offer its Food Ordering service and Shop Your Way, the ordering and collection service allowing customers to pick up orders placed online, at www.marksandspencer.com