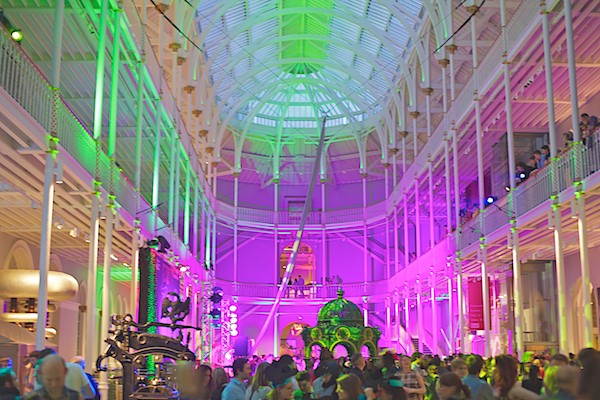 Since the refurbishment of the National Museum of Scotland, the curators have looked for innovative ways to open the doors to customers of all ages. Tonight it was the over-18s who got the run of the galleries for Dino Night, in the series of RBS Lates.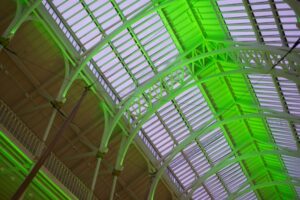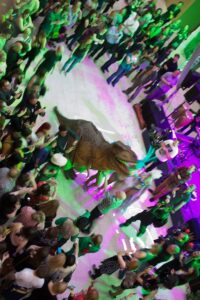 This is a taster of what is still to come this summer with Jurassic June set to educate us all about prehistoric animals.
There was a big queue to enter the building first of all, but as soon as we did get in there was plenty of room to move around, although other lengthy lines at the very elegant face painting and mask-making did put us off.
Instead we were happy to wander round having peace to look at some of the exhibits, get our photos taken in the spaceman suit without fear of some sniggering teenager creeping up on us, and taking in the sights and sounds. We were also able to be suitably silly in the silent disco, trying to guess what everyone else was listening to.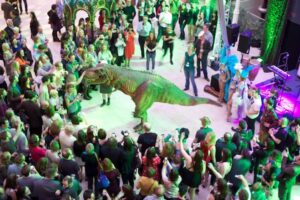 Tyrone Rex made his appearance along with what appeared to be his tamer…
The Miniature Dinosaurs were making big with the music on the stage, and the disco was otherwise giving it laldy. The light show which accompanied it made the whole place quite magical.
Disappointed with the food offering on the main floor (£5 for 2 chicken nuggets and 16 cold chips is a rip-off in anyone's opinion and certainly in mine), we opted for the Brasserie on the ground floor to the right of the entrance.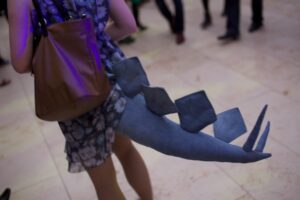 The staff there were lovely and the food divine. Suitably aged steak and burgers were on offer, and were delicious. The mini sundae was made to order with a choice of sauce and topping, and was a steal at £2.
All in all our night at the museum rocked! But as you can see from our photo some people were better prepared than others……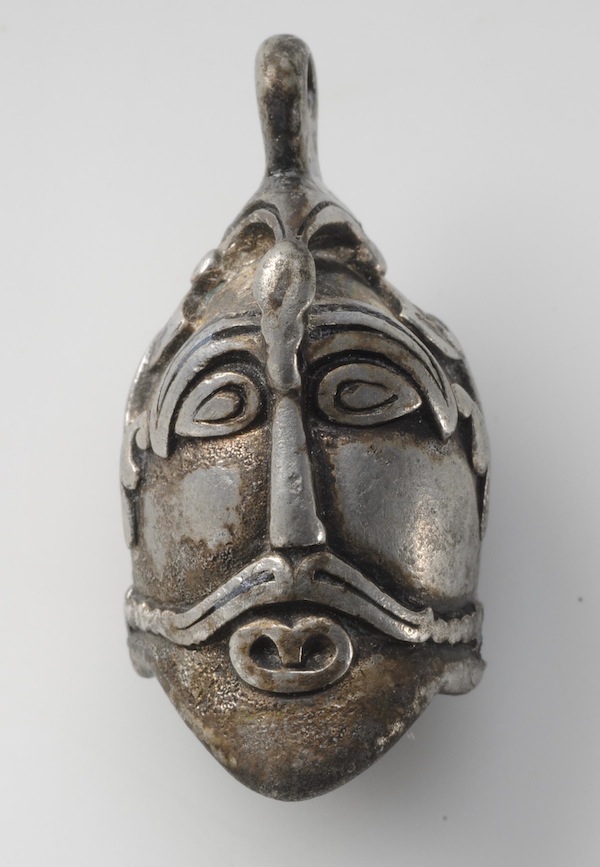 This week is your last chance to see the Vikings! exhibition at the National Museum of Scotland.
The National Museum of Scotland is the only UK venue for Vikings!, an outstanding exhibition of more than 500 objects, including jewellery, weapon fragments, carvings, precious metals and household items, from the world-renowned collections of the Swedish History Museum in Stockholm.
The exhibition brings together fascinating objects, archaeological evidence, hands-on displays and innovative interpretation. It, reveals who the Vikings really were and creates a vivid picture of how they lived more than 1,000 years ago, dispelling a number of myths in the process, not least about those famous horned helmets (which they never really wore).
The term 'Viking' is a modern invention of 19th century Scandinavian scholarship and technically should not be used to refer to a race or a people but rather to an activity. Men and perhaps even women and adolescents, would go out 'on a Viking', which could be the sort of pillaging raids that we commonly think of, but it could also refer to a more peaceful trading expedition.
Amongst the relics on display are numerous intricate pieces of jewellery including the oldest surviving Swedish crucifix, from the 9th century AD, depictions of Norse Gods such as Thor and Odin, excavations from grave sites, craftsmanship in various forms including bone, wood and metal work and a representation of a Viking burial boat made entirely of the rivets from an original burial site.
The exhibition runs until Sunday 12 May 2013, open daily from 10am to 5pm. Admission: £9 adults, £7.50 concession, children (age 12-15) £6. Entry is free to National Museums Scotland Members and children under 12. For tickets and further information visit www.nms.ac.uk/vikings.
Photo courtesy of Swedish History Museum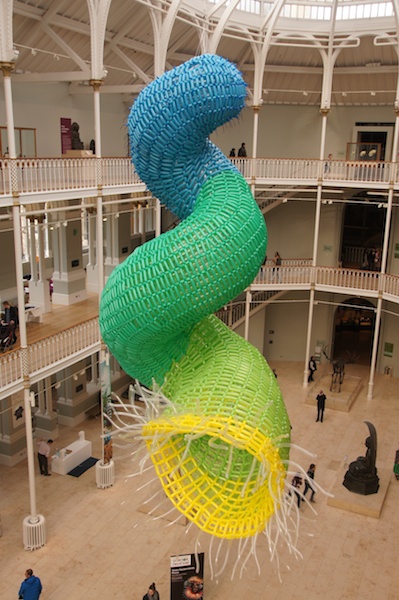 World-renowned New York artist, Jason Hackenwerth, unveiled his latest creation at the Edinburgh International Science Festival this weekend.  Pisces, a work specially commissioned by the Science Festival, has been created with more than 10,000 coloured balloons and hangs over 40 feet tall from the Grand Gallery of the National Museum of Scotland.  The installation represents the artist's interpretation of the legend of Aphrodite and Eros.
The Edinburgh Reporter went to see it yesterday and our chief photographer has made a slideshow of  images of the large balloon sculpture:-
Born in St Louis, Jason now lives and works in New York and has exhibited his work around the world at galleries and museums including the Guggenheim in New York, the Victoria and Albert Museum in London and at the 51st Venice Biennale as well as in Hong Kong and Mexico.  Pisces is the first artwork that he has created in Scotland.
Jason said:- "I am very excited to be working here at the Edinburgh International Science Festival.  We have had such a wonderful response from everyone who has come to see us this week while we have been creating Pisces, and it's a privilege to be working in such an extraordinary city.  I have always been inspired by the intricate structures in nature, and the connectivity of environments and ecosystems and it's very exciting to be able to combine art and science in this way."
Amanda Tyndall, Deputy Director of the Edinburgh International Science Festival said:- "I have wanted to bring Jason to the Science Festival for a number of years as I have always found his work inspirational.  We commissioned this piece of artwork to tie In with some of the Festival's key themes in this, our 25 year – patterns in nature, the future of life, and with the advent of synthetic biology, our ability to build life from the ground up and Jason has met this challenge admirably.  From the reaction of our audiences over the last few days, and as Pisces was revealed this morning, I know that they have been equally impressed with his work."
It has taken three members of Science Festival staff six days to blow up the 10,000 balloons which have been woven into an intricate three dimensional structure by Jason and his assistant Leah Blair.   It has not only proved to be backbreaking work, but Jason and his team have also to wear ear defenders to protect their hearing from the constant popping and squeaking of balloons, and protective tape on their fingers.
Pisces will hang in the Grand Gallery of the National Museum of Scotland until Sunday 14 April.  Jason will be creating more sea creatures, on a somewhat smaller scale, in the Science Festival's Secret Life of Coral Workshop in the Hawthornden Court of the National Museum.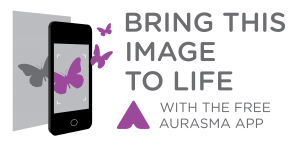 Now for something a bit more scientific. Download the Aurasma Lite App to your phone. Here for Android phones. Here for iPhones.
Open the app, go to menu and search (using the magnifier symbol) for The Edinburgh Reporter's channel or using your phone go to this address here http://auras.ma/s/QUiOz to subscriibe to the channel.
Now train the camera on this image below which is the Edinburgh International Science Festival logo:-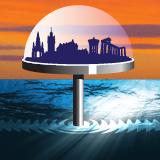 You will as if by magic be watching our video of the balloons……And you can use your phone to access the video whenever you see the logo. We have other auras too which you will be able to see from the app on your phone. Let us know what you think of them!
The Edinburgh International Science Festival continues until Sunday 7 April with events, activities, workshops and sensational science for all ages every day throughout the week.  Full details of the programme, and all tickets, can be found at www.sciencefestival.co.uk
Dino-Night at the National Museum of Scotland
RBS Museum Lates: Dino-Night National Museum of Scotland, Friday 17 May 2013, 7pm to 10.30pm.
Tickets go on sale today for the next RBS Museum Lates event, which will take place at the National Museum of Scotland on Friday 17 May 2013.
Coinciding with the nationwide Museums at Night programme, Dino-Night promises cutting edge contemporary Scottish music in partnership with Live Music Now Scotland, featuring Stirling-based band Miniature Dinosaurs. Guests will find themselves entering a Jurassic forest within the Grand Gallery, be able to explore the Museum's Natural World galleries to discover the spectacular dinosaur specimens in our collections and uncover more through a themed programme of talks, workshops and activities.
Stephen Allen, Head of Learning and Programmes at National Museums Scotland, said:- "RBS Museum Lates have really captured peoples' imagination. Demand for tickets has been huge, and there's been a tremendous response from people at the event, great feedback and lots of fun interaction over social media. The programme for the next one promises bone jarring fun with its dinosaur theme, allowing visitors to engage with our collections in new ways."
Bruce Cook, head of sponsorship at RBS, said: - "RBS Museum Lates is well established now as a hot ticket for a night out in the capital, giving people the opportunity to interact with the museum in new ways. We're very pleased to be supporting such an innovative approach to the arts and cuture which also helps nurture up-and-coming Scottish talent from a wide variety of creative arts and enterprises."
Popular features will return, with Fresh Air FM bringing silent disco to the Imagine Gallery, pop-up bars in the Grand Gallery and the rare opportunity to simply explore the galleries of the transformed Museum by night.
RBS Museum Lates: Dino-Night, takes place on Friday 17 May from 7pm to 10.30pm. Tickets are on sale now http://www.nms.ac.uk/lates or by phoning 0300 123 6789 priced £10 (£8 concessions and National Museums Scotland members).
DOROTHY PAUL OPENS COMEDY GREATS EXHIBITION AT PORTRAIT GALLERY
A fascinating new exhibition which celebrates 75 amazing years of Scotland's entertainment history will open at the Scottish National Portrait Gallery this weekend. Tickling Jock: Comedy Greats from Sir Harry Lauder to Billy Connolly shines the spotlight on Scotland's unique contribution to the world of comedy in the twentieth century. A special press preview, on Friday 22 February, will be opened by legendary actress and comedian Dorothy Paul, who will be available for interviews and photographs.
Tickling Jock: Comedy Greats from Sir Harry Lauder to Billy Connolly tells the extraordinary story of Scottish comedy between 1900 and 1975, charting the careers of performers who went on to become world-renowned superstars and national treasures. Reflecting the comic traditions of the period, the exhibition features 50 stars of music-hall, stage and gramophone, as well as the 'new' media of radio, cinema and television, including Sir Harry Lauder, Ivor Cutler, Rikki Fulton, Andy Stewart, Anne Fields, Una McLean and Stanley Baxter. The exhibition combines portraits, photographs and caricatures from the Gallery's own rich holdings with loans from private collectors, the Scottish Theatre archive and venues including The King's Theatre Glasgow and The Citizens Theatre.
Christopher Baker, Director of the Scottish National Portrait Gallery said:
"We are delighted to be opening this new exhibition with such a vibrant mix of portraits, archive footage and recordings of Scottish comedy greats. We hope that Tickling Jock will trigger many happy memories for visitors and at the same time introduce the comedy stars featured to a new generation. It's a show that should generate a lot of laughter! "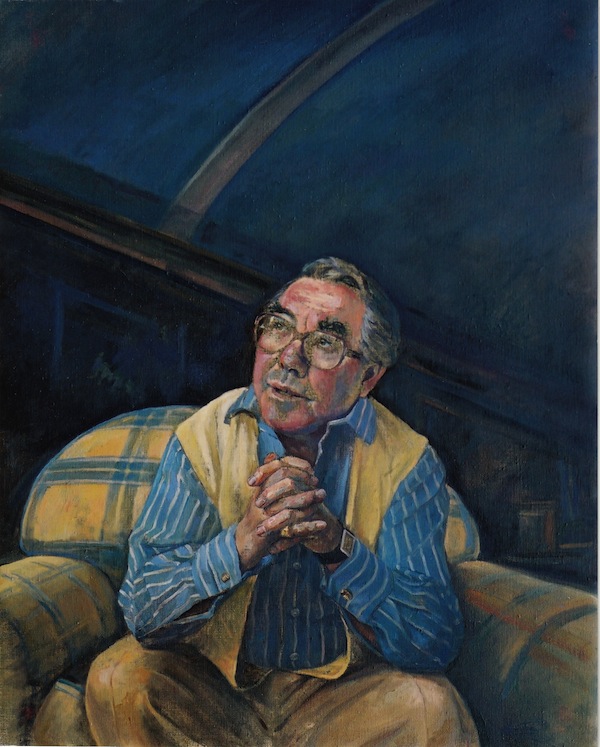 The exhibition is funded by players of People's Postcode Lottery, who have raised over £23m for charities and good causes to date. People's Postcode Lottery Head of Charities Clara Govier added:
"We are really looking forward to Tickling Jock, which we are sure will bring a smile to all its visitors – both young and old. We're delighted that players of People's Postcode Lottery are giving their support to an exhibition that is both full of fun and time-honoured community spirit."
Tickling Jock will also feature gramophone recordings and archive film and TV footage from the Scottish Theatre Archive, (University of Glasgow Library), BBC Motion Gallery, British Pathé and STV. Highlights include rare films of music-hall and variety performers such as Sir Harry Lauder and Will Fyffe; Stanley Baxter as his most enduring creation The Professor, performing Parliamo Glasgow; Renée Houston in That Was The Week That Was as the irrepressible 'Costa Clyde' landlady; Ronnie Corbett in a 1966 edition of The Frost Report performing the celebrated 'Class Sketch' with John Cleese and Ronnie Barker; rounding up with Billy Connolly's 1975 appearance on Parkinson, when he memorably remarked, before telling a joke steeped in dark Glasgow humour, 'I hope I can get away with this, it's a beauty'.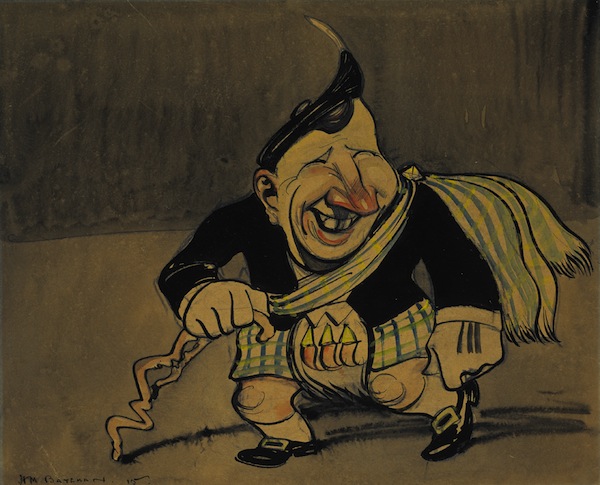 For every star who topped the bill, however, there were numerous performers whose great acts have been largely forgotten: Tickling Jock will also feature comments and memories from members of the Living Memory Association who have worked with the Gallery to paint a rounded picture where footage or recorded material has been lost, from seeing Johnny Victory live on stage in Edinburgh, to memories of Andy Stewart performing in San Francisco in the 1960s in a kilt.
Tickling Jock: Comedy Greats from Sir Harry Lauder to Billy Connolly
23 February 2013 – 25 May 2014
Scottish National Portrait Gallery
Telephone: 0131 624 6200 | Admission free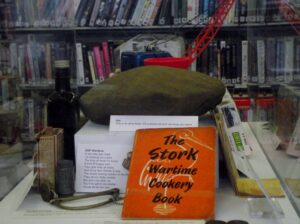 Dalmeny Primary School in conjunction with The City of Edinburgh Councils Museum's Outreach and Access department displayed a fabulous exhibition recently.
The exhibition looked at toys and games in the past and especially from World War II. The children chose museum objects (from the Museum of Childhood and the People's Story Museums) to put on display and wrote the labels for the exhibition. They also created their own artworks and a film showing the experiences of people in Dalmeny during WWII. Although the exhibition was initially open to the public at the school, a smaller version is now on display at South Queensferry Library.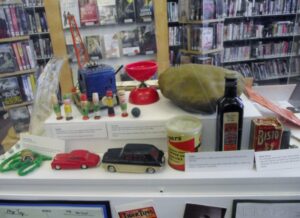 I met up with Diana Morton the Museums and Galleries Outreach and Access Manager who told me more about it.
http://www.mixcloud.com/basher1969/chat-with-diana-morton/
Diana said:- "It has been great working with the school and meeting some of the people from the local community who came by to see the exhibition.
Edinburgh Zoo Strikes Gold and Double Silver
In Giant Panda Zoo Awards 2012
Edinburgh Zoo has scooped three awards in the first ever Giant Panda Zoo Awards:
Iain Valentine, Director of Giant Pandas at the Royal Zoological Society of Scotland (RZSS) won gold for the 'Human Panda Personality'.
Yang Guang (Sunshine) picked up silver for 'Favourite Pandas Outside China'.
The PR campaign for the first ever giant panda breeding season at Edinburgh Zoo also brought in a silver award.
Panda fans and enthusiasts from all over the world have been voting across ten different panda related categories for the first ever Giant Panda Zoo Awards 2012.  Run by giant panda fan Jeroen Jacobs for panda fans all over the world, Giant Panda Zoo aims to spread the word about giant pandas in captivity and to make a difference in panda conservation.
Iain Valentine, Director of Giant Panda Project & Strategic Innovations at Edinburgh Zoo, said:-"For Edinburgh Zoo to have been nominated and shortlisted was alone a great privilege, but to have been voted for by panda fans across the world to win an award in all three categories is truly special.
"We're delighted that our male, Yang Guang, is so popular with people in the UK and also internationally. With an outgoing character that actually seems to love an audience, the fact he has received this award after only being at Edinburgh Zoo for 12 months is very special. We're also pleased that it's Yang Guang's turn for recognition now, after our female Tian Tian scooped one of the BBC's Women of the Year back in 2011.
"I was lucky enough to pick up the gold award for Human Panda Personality; a great privilege for me and the wider team that I'm part of at Edinburgh Zoo; it's very encouraging to think that our profile and work with giant pandas is hopefully raising the awareness of global giant panda conservation. The fact our PR campaign for the giant panda breeding season in spring 2012, that reached over 930 million people in 18 different countries, was also awarded a silver win also backs this up. Not only a wonderful first for Edinburgh Zoo, the Giant Panda Zoo Awards are a fun and engaging concept from Jeroen whose website and newsletters act as a great platform to pull focus to and increase awareness of the important conservation work for these iconic animals."
For the full list of results please visit www.giantpandazoo.com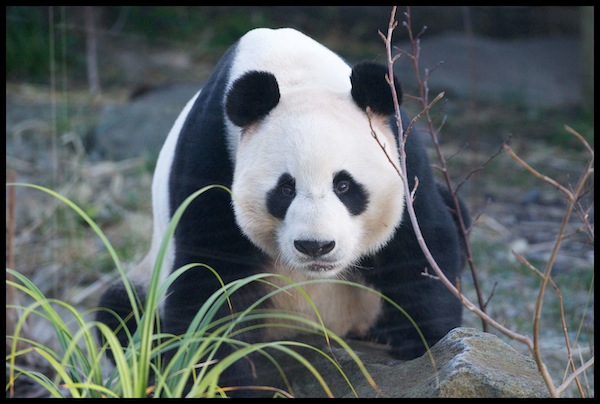 Our two pandas arrived from China amid a fanfare of tartan one year ago tomorrow. The year has passed without the pitter pattering of any baby panda paws, but the pair have become the rock star animals envisaged by the zoo. Visitor numbers have increased, and now half a million people have been to visit Tian Tian and Yang Guang at their purpose built enclosure on Corstorphine Road.
Darren McGarry, Head of Animals at Edinburgh Zoo, said:-
"I can't quite get over just how quickly this year seems to have gone by, it seems like only yesterday that all systems were go and we were getting ready to welcome Tian Tian and Yang Guang to their new home, here at Edinburgh Zoo.
"It's been altogether a year like no other, welcoming giant pandas to our animal collection, experiencing their very first breeding season and getting to know them as individual animals, has really been a unique privilege. Their first year at their new home has been wonderful in so many different ways and, as with any animal that you haven't cared for before, we have learnt so much about them. They are entirely different characters and personalities, and we've been able to adapt and tailor how we care for them as they have settled in. We now know that they each have their own preferences for particular species of bamboo, that Yang Guang doesn't like noise so much, and that Tian Tian has a preference for panda cake!
"There have been so many special moments over the last year, too many to mention, it certainly has been an unforgettable year."
Here are a few panda facts for you:-
Photos Rob McDougall
"In each of us, two natures are at war – the good and the evil. All our lives the fight goes on
between them, and one of them must conquer. But in our own hands lies the power to choose
– what we want most to be we are." Robert Louis Stevenson
To celebrate Robert Louis Stevenson's birthday The Writers' Museum in Lady Stair's Close is holding a special event this Sunday 18th November 2012 when Visitors Assistant Paul Meadows will present special readings within the Writers' Museum exploring duality in the work of Robert Louis Stevenson and will read from:
Treasure Island
Strange Case of Dr Jekyll and Mr Hyde
Kidnapped
The readings will take place at 1pm, 3pm and 4pm the event is free. For more information please contact Margaret Findlay on:0131-529-3693 or email Margaret.findlay@edinburgh.gov.uk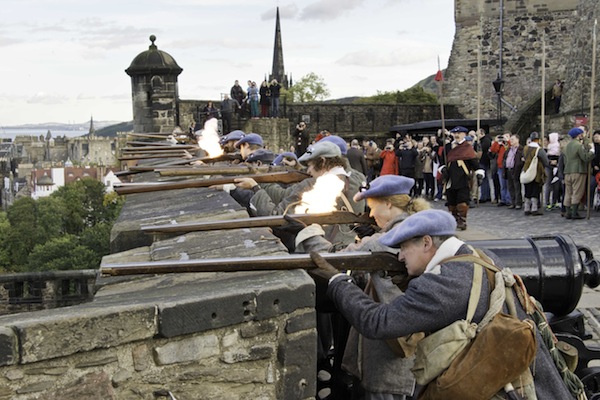 This weekend Edinburgh Castle travelled back in time to the year 1640 to the time when the Castle was besieged by the covenanters for seven months.
The garrison surrendered in September 1640 after they ran out of food and water but not before they had killed over 200 of Edinburgh's citizens during their bombardment of the city. So that might be why you thought there was an extra firing of the One o'clock Gun yesterday!