Private Detective Jackson Brodie will return to our small screens on Sunday night in a new series of acclaimed BBC One drama Case Histories which is set in the Edinburgh.
Jason Isaacs reprises his role of Brodie, a complex and compulsive private investigator who attempts to unravel disparate case histories in modern-day Edinburgh.
Victoria Wood joins the Case Histories cast for the first of three 90-minute stories, adapted from Kate Atkinson's novel 'Started Early, Took My Dog'. The comedian is delighted to be part of the cast saying: "I am a huge fan of Kate Atkinson and couldn't resist the chance to be involved in Case Histories."
Jason Isaacs added:- "I can't wait to put on the crumpled, witty, self-destructive, noble and naughty skin of Jackson Brodie again and dive into the unique flavour of Kate Atkinson's worlds. Nobody connects the past with the present and the absurd with the heart-wrenching like she does and we all feel excited and lucky to bring another bunch of stories of damage and delight to the screen."
Case Histories is the latest edition to BBC Scotland's thriving drama department which is home to Waterloo Road (BBC One), Shetland (BBC One), Field Of Blood (BBC One Scotland) and River City (BBC One Scotland). This Sunday's episode featured Brodie who is back in the capital after a child-snatching job in Munich, and struggles with guilt about whether he returned the child to the right parent or if he was duped.
A new case comes calling when Hope McMaster, a woman searching for her birth parents, approaches Jackson for help. His search takes him into the dark heart of 1979 police corruption and murder – and a secret that has remained buried for nearly 35 years. The investigation crosses paths with Tracy Waterhouse, a retired police officer turned store detective. When Tracy witnesses a little girl being physically abused by her mother, she takes a surprising course of action which stirs the past for her and former police partner Barry, and presents a moral dilemma for Jackson. He must decide whether he is brave enough to risk another mistake by doing what he feels is right, or walk away.
Motivated by his desire to help those in need and a need to atone for his recent mistake, Jackson's investigation sees the past and the present collide dramatically with the old retired cops, Len Lomax and Ray Strickland, refusing to go down without the fight of their lives.
Meanwhile, Jackson continues to avoid speaking to a newly engaged Louise after admitting his true feelings for her. And when his daughter, Marlee, makes a shock announcement, non-committal Jackson is taken aback.
Case Histories is on BBC1 at 8.30pm on Sunday 19 May 2013.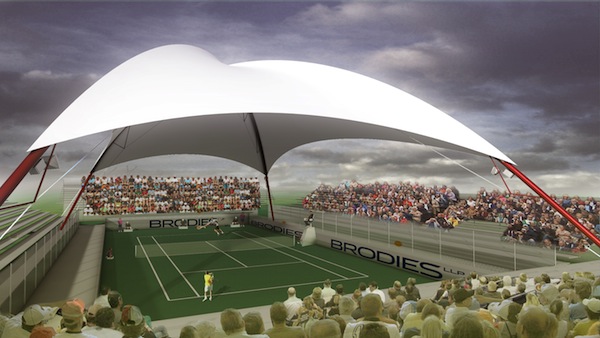 FIRST EVER TEMPORARY COVERED TENNIS COURT CREATED FOR BRODIES CHAMPIONS OF TENNIS
In any event manager manual, the first rule is plan for the worst weather and hope for the best – we do live in Scotland after all. So when the Tournament Director's first challenging question on suggesting bringing the ATP Champions Tour to Scotland for the first time was 'How do we keep the players dry?' the wheels were set in motion for a six month struggle to find an outdoor venue that could still be used for top class tennis….whatever the weather.
Damon Farrell from Airsculpt Ltd said:- 'When we were asked to provide a temporary demountable and reusable roof structure to cover an entire open air tennis court in Edinburgh, one of the UK's famously windy cities, we knew we had to come up with an innovative engineering concept,'
'The task became more challenging when we were told the structure had to comply with ATP international tennis tournament minimum height guidelines. Additionally it had to be a clear open span construction, be easy to deploy, architecturally pleasing and at the same time compliant with a myriad of cross over construction codes and safety standards.'
Viki Mendelssohn, Tournament Director, researched the options over a six month period before concluding that Airsculpt was the only company who could deliver such a temporary structure. She said:- 'When I first spoke with Damon at Airsculpt I had a clear vision of what we needed in Edinburgh, and I knew it was going to present some challenges. I'm absolutely delighted that we've been able to create our own unique court that will deliver that vision, and give weather protection to the players whilst on court. This is the first time a stadium of this nature has been built in Scotland so it is another first for the event. '
The stadium will have its first showcase on Thursday 20th June. Brodies Champions of Tennis takes place 20-23 June 2013 at Edinburgh Accies, Portgower Place, Stockbridge.
For details on players, match schedule and tickets, visit www.championsoftennis.com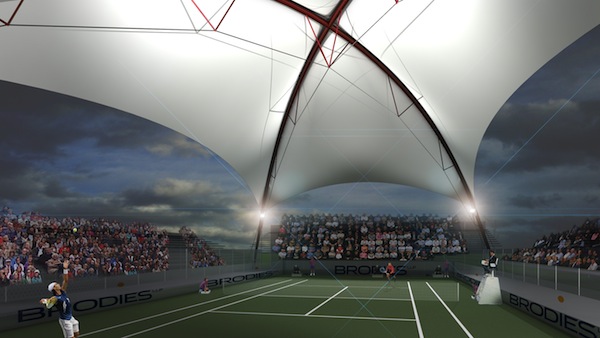 Edinburgh's under fives and their parents are being invited to join a very special charity afternoon tea to celebrate Turtle Tots first birthday on 4th June 2013 at Loopy Lorna's Tea House in Morningside.
With messy play, art activities, facepainting, a specially designed mini-afternoon tea and entry into a fabulous prize draw, small guests are promised a fun afternoon while parents relax with coffee and cake all in aid of NSPCC Scotland and Marie Curie.
Turtle Tots unique baby and toddler swimming classes started in Edinburgh a year ago and are now available in five pools around the city. Parents learn how to teach their child to swim and key potentially lifesaving safety skills while also receiving a workout themselves, all in a fun and relaxed environment.
Karina Reinhardt, Turtle Tots Edinburgh teacher and Mum of two young children said:- " All children love a party, and mums and dads love to get together, so we thought what better way to celebrate an amazing first year in Edinburgh than to have a lovely afternoon of coffee, cake, chat and children, all in aid of some fantastic charities.
"If you can't get along on 4 June you can still enter the prize draw. We have some fantastic prizes including vouchers for classes with Edinburgh Buggy Bootcamp, Rugbytots, Turtle Tots, Physiobumps, Messy Munchkins, Edinburgh Lady Massage and vouchers for local cafes and restaurants, plus a LOT more!!! So many Edinburgh businesses have been fantastically generous in supporting the afternoon and I can't thank them enough for donating prizes for the draw or offering to come along for free on the day to keep our Tots busy."
Turtle Tots 1st Birthday Tea will take place at Loopy Lornas on 4 June between 2pm and 4pm. Tickets for the tea which includes the mini-afternoon tea and entry into the prize draw cost £9 each . Prize draw tickets can also be bought separately for £1 each or six for £5. To buy tickets for the tea or draw or to find out more about baby or toddler swimming lessons contact Turtle Tots Edinburgh via Edinburgh@turtletots.com or tel 07964 840049
Submitted by Karina Reinhardt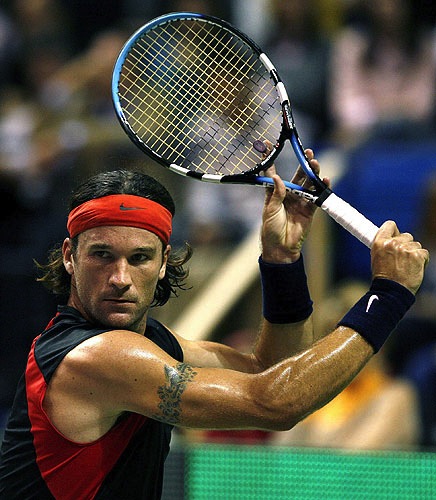 Brodies Champions of Tennis Tickets – Perfect Father's Day Gift
Struggling to think of something different for your dad this Father's Day?  Does he like tennis? Then tickets for the Brodies Champions of Tennis in Edinburgh could be the perfect gift!
Brodies Champions of Tennis, the first ever ATP Champions Tour event to be held in Scotland takes place at the home of the Edinburgh Academicals from 20 -23 June 2013.
Nine of the world's most famous players will grace the specially designed and built court.
Six – Goran Ivanisevic, Thomas Enqvist, Tim Henman, Greg Rusedski, Mark Philippoussis and Carlos Moya – will compete in a six man ATP Champions Tour competition, while the remaining three – John McEnroe, Wayne Ferreira & Mikael Pernfors – will compete in a special Legends event.
The draw for the Champions Tour competition sees Henman pitted against old foe Ivanisevic in Group A alongside Enqvist and Group B has thrown up mouth-watering encounters between Greg Rusedski, Mark Philippoussis and Moya.
The players will also compete in exhibition doubles matches throughout the week with Henman and McEnroe being partnered together to face Ferreira and Enqvist on Friday 21 June 2013.
To view the full schedule and purchase tickets, visit : www.championsoftennis.com
Date: 5th & 6th May 2013 | Time: 11am – 4:30pm | Price: included in admission price
(Adult £7.90, Child £4.80, Concession £6.40)
The picturesque Urquhart Castle, which is located in the banks of Loch Ness, will provide a spectacular background for a celebration of military skill this bank holiday weekend.
The 'Grand Tournament of Foote' event is taking place this Sunday 5th and Monday 6th May, as part of the Year of Natural Scotland, a government initiative aimed at inspiring local people and visitors to celebrate Scotland's outstanding natural beauty, landscapes and biodiversity a Scotland prepares to welcome the world in 2014 and beyond.
Apart from enjoying an exciting day out with a difference, visitors will be rewarded with splendid views of the famous loch and Great Glen from a magnificent location! Once one of Scotland's largest castles, Urquhart's one still remains an impressive stronghold despite its ruinous state.
The event will bring to life a medieval foote tournament, which involves a series of military combats fought as a contest between noble knights to demonstrate agility and expertise. The tournament will be in five parts, commencing with the knights battle and culminating in the general mêlée to leave the last man standing to be crowned champion!
According to Gillian Urquhart, Events Manager for Historic Scotland:- "This event is a great opportunity to step back in time and get a flavour of how a medieval foote tournament would have been held".
She explained:- "Fully armoured foot soldiers will once again be at the castle, putting on a spectacular show of skill in a series of colourful and lively bouts, in a bid to be crowned overall champion.
"Visitors can also see a living history camp and discover how squires would prepare their knights for battle, or test their own skills with a bow and arrow".
The event will run each day from 11:00am – 4.30pm. Tickets for the event can be bought online or on the day. Ticket prices are included in the normal admission price: Adult: £7.90, Concession: £6.40, Child: £4.80, Child under 5: free. Admission free to HS members
A free park and ride shuttle service will be running each day from the car park at Glen Urquhart High School -in Drumnadrochit- to the visitor centre at Urquhart Castle from 10 am until 5 pm.
For further details about the event, click here.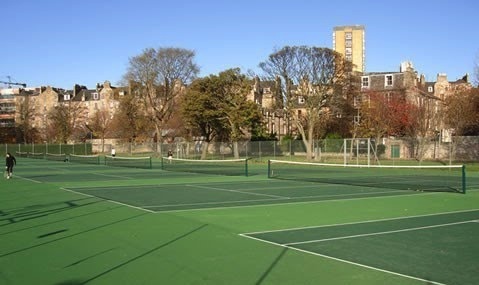 Tennis Doubles Tournament at the Meadows – Sunday 12 May 2013 from 2pm-4.30pm
This is a fun and sociable annual event in Meadows City Tennis Club's summer calendar in which you play doubles for 15 minute sessions in a rotating format (all explained on the day!) – meaning that you get to partner and meet a range of players.
It is also a chance to find out more about the club  and meet other members.
The tournament is open to non-members and there is no need to enter with a partner. The event is not really aimed at complete beginners but fine for those who can join in doubles play.
There will also be trip to a local pub afterwards – details tbc. Entry fee £4 (to cover court hire/balls etc).
Contact David for more info on info@meadowstennis.co.uk
And the Meadows City Tennis Club's website is here www.meadowstennis.co.uk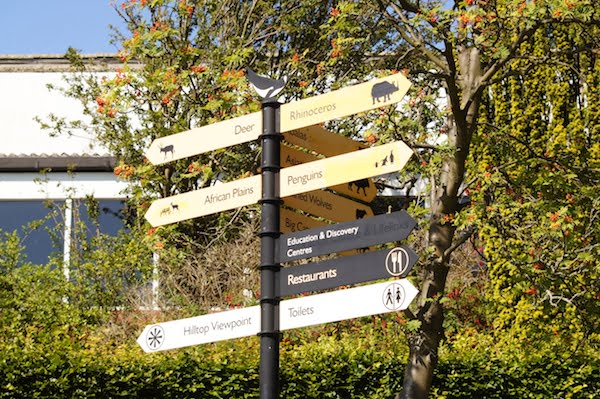 Edinburgh Zoo  is offering visitors £70-a-time tickets to feed raw meat to the lions.
The 'Carnivore Magic Moment' package gives Big Cat fans the chance to feed Asian lions Jayendra and Kamlesh by placing meat on a feeding pole and poking it through a double-mesh fence.
It is hoped the 30-minute-long experience, will prove popular with visitors looking to get up close and personal with the carnivores.
The zoo stresses that a full safety briefing will be provided.
Flying Blind is showing tonight at The Filmhouse – for one night only.
In Flying Blind, a woman who has dedicated her life to her career, as a designer of military drones, finds her carefully constructed world falling apart when she falls in love with a man who might be more than he appears.
The first thing to note about Flying Blind is something that in an ideal world would not be in the slightest bit noteworthy: here is a feature film where the central character is a single woman in her forties, who is neither depressed by her singledom nor embarrassed by her sexuality.
As Frankie, Helen McCrory is a captivating presence. She has the intelligent eyes of an aerospace engineer, the beaming smile of someone in the first flush of a new relationship, and the potty mouth of a woman in a traditionally male-dominated profession. It is absolutely no surprise that a man twenty years her junior would fall for her. That man is Kahil, a French-Algerian refugee on a student visa, whose interests in Frankie may or may not extend beyond the romantic. The exoticness of Kahil's Muslim background soon gives way to suspicion when Frankie is told that he is a person of interest to the Security Services.
This is the point where Polish director Katarzyna Klimkiewicz gives us the central questions of the film, which are whether anyone can really be trusted and, in this world of heightened security and vigilance we now inhabit, are our preconceptions of someone a help or a hindrance. As Frankie begins to question the motives and intentions of her new man, the story turns from a character piece to a detective yarn with racially-charged overtones. This third act shift could have been dangerously approaching the type of ham-fisted "is he or isn't he a terrorist" plot we have seen in a thousand oh-so-serious dramas over the last decade and a half (such as Homeland, starring McCrory's husband Damien Lewis). Luckily for Flying Blind, the classy cast combined with the director's restraint and belief in her characters manage to keep things on an even keel.
Speaking of a classy cast, our leading lady is ably supported by Kenneth Cranham as Frankie's father, and Najib Oudghiri as Kahil, with Robbie Coltrane's former Cracker nemesis Lorcan Cranitch as Morehouse, the MI6 man trying to keep tabs on all concerned.
After having its World Premiere here at last summer's Film Festival, Flying Blind returns to Edinburgh for a screening at the Filmhouse TODAY at 6:10, followed by a filmmakers' Q&A. The movie then heads out west to play at the Glasgow Film Theatre on Sunday April 28th at 5pm, with Kenneth Cranham in attendance.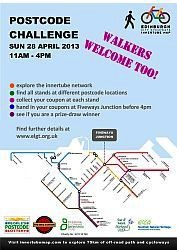 The third Postcode Challenge will take place this Sunday on the north Edinburgh cycle paths. The challenge is a fun, free event for cyclists and walkers, a 'treasure hunt on wheels' (and foot), with the chance to explore around 27km of continuous off-road routes and to enter into the prize draw at the same time.
Dotted around the network will be ten stands, run by local organisations. Find your first one (you can start anywhere on the route) and they will give you a card.  Get the card stamped at all ten locations (five if you are on foot) and bring it back to the event HQ at Fiveways Junction by 4pm to be entered into the free prize draw. As well as the main prizes, many of the stands may have freebies and presents to give away too and you'll be able to get your bike fixed and have cycling advice from Hart's Cyclery, Edinburgh Bicycle Co-op and The Bike Station stands.
The event is totally traffic free and great for all ages and everyone is welcome – you can take part on your own, as a family or as part of a team.
Look out for the following stalls on the route:
The Bike Station – for bike repairs with Dr Bike
Edinburgh & Lothians Greenspace Trust
The Edinburgh Sculpture Workshop – check out their gorgeous new building!
Pedal on Parliament
Spokes
Sustrans
Drylaw Neighbourhood Centre
Harts Cyclery  – Bike repairs and advice
My Edinburgh (MYDG)
Edinburgh Bicycle Co-op  – Bike repairs and advice
We can't tell you where each stand will be – but once you've found the first one, you're away. If in doubt, head to Fiveways Junction, where people will point you in the right direction.
And thank you to the following for donating prizes: Spokes, the Bike Station, Harts Cyclery Edinburgh Bicycle Co-op and Green Yonder Tours
This event is part of the Innertube project, funded thanks to players of People's Postcode Lottery and via the People's Postcode Trust.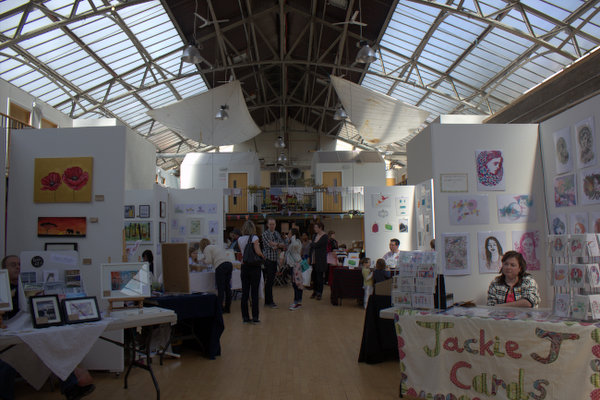 The Out of the Blue Drill Hall's quarterly Arts Market took place over the weekend. The Dalmeny  Street venue's Arts Market hosted over 50 artists who were on hand to sell their work to the public. Showcasing local talent and artists from further afield, works for sale ranged from photography and illustration to textiles and jewellery.  Many stalls were run by the artists themselves, offering buyers a unique opportunity to meet the people behind their purchases.
With the cost of entry set at only 80p, and with the Drill Hall's own cafe serving up homemade soup, snacks and cakes, there really is something to suit all tastes.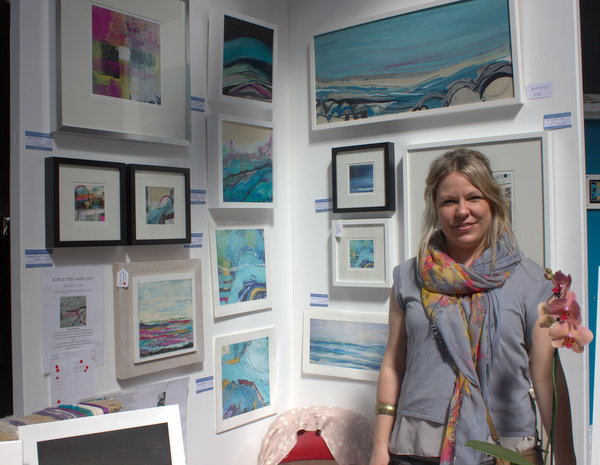 Kirsten Welsh, pictured above, is an Edinburgh-based artist who regularly hosts a stall at the Arts Market. Graduating in 1999 and inspired by land and seascapes, her abstract works use a variety of mediums. She can be contacted through her website, which also contains a gallery of her work.
www.kirstenwelsh.co.uk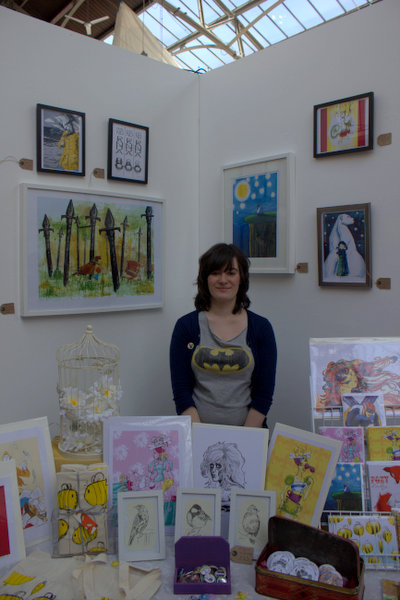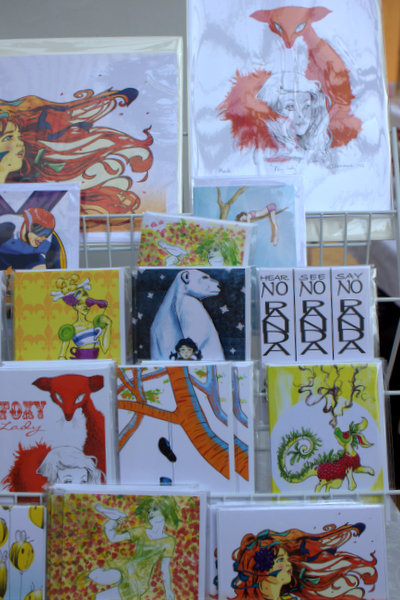 Freelance illustrator Kim Cruickshank (top) was also tending to her own stall. Her whimsical illustrations feature animals, people and in some cases scenes from the Olympics, and are available as bags, mirrors, cards and prints.
www.kimcruickshank.com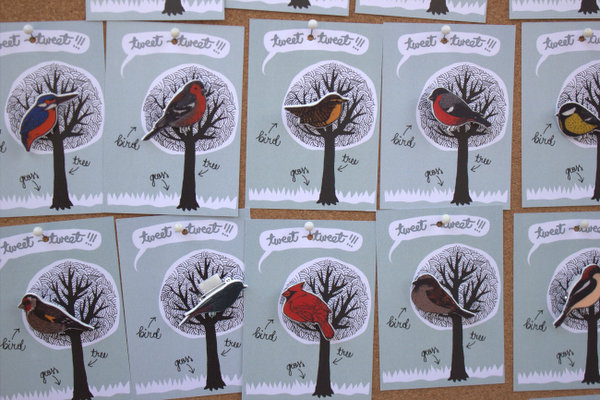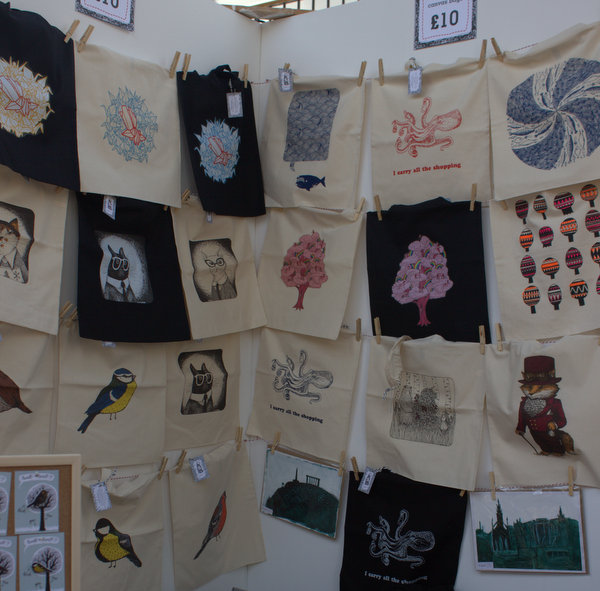 Polish illustrator and Edinburgh College of Art graduate Zuzanna Dominiak was also selling her work. Bags and brooches, cards and prints were all available and featuring quirky illustrations inspired by the natural world. These can be viewed and bought in a variety of different formats from her website, and through her Etsy shop.
http://www.zyzanna.com/
http://www.etsy.com/shop/zyzanna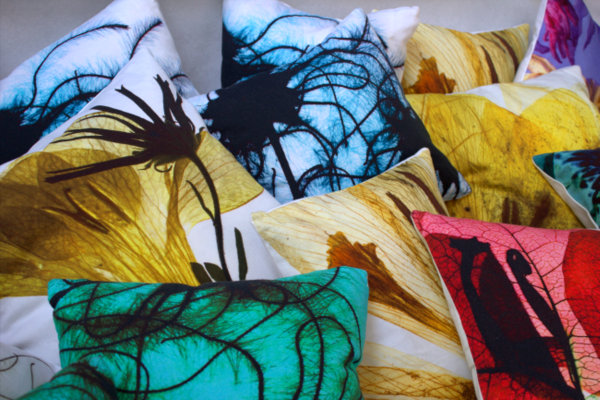 Homewares and furnishings were offered for sale by many different artists, including these cushions featuring the work of photographer Liz Tainsh.
http://lizt.redbubble.com/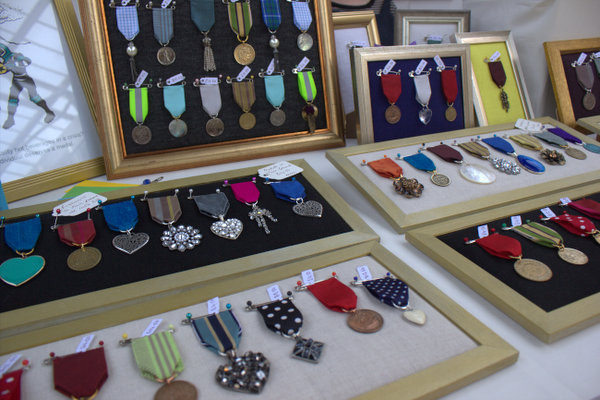 Handmade jewellery featured on several stalls. These handmade medals by Derring-Do are created by recycled vintage materials and are one-of-a-kind, to be bought for anyone who deserves it!
www.derring-do-medals.com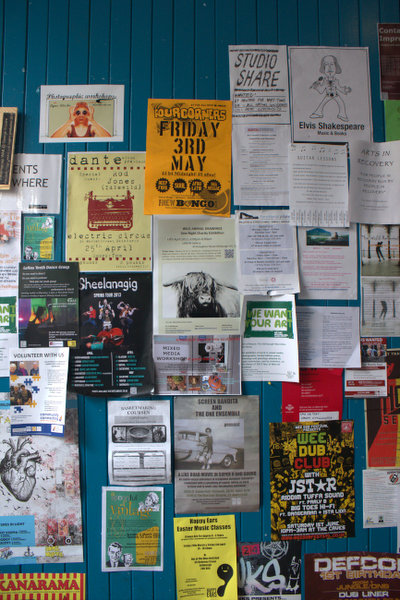 To keep up to date with what's on at the Drill Hall, including details of the next Arts Market, click here:  http://2outoftheblue.org.uk/page19.htm
And if you are interested in becoming a stallholder, there is an online Stallholder Mailing List Form which can be accessed through the link on this page:  http://2outoftheblue.org.uk/page36.htm