What's on this week? 13th December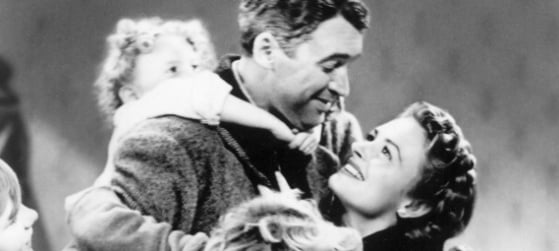 Today at 11am for one day only you can see The Muppet Christmas Carol at The Filmhouse….more details on their website.
From Friday 17 December The Filmhouse are showing what has become the definitive Christmas film It's a Wonderful Life
Tonight at 6pm:-Comedy and Dinner Christmas Specials at Beehive Inn Grassmarket. "Kings of the Free Fringe Laughing Horse bring a seasonal special to the Beehive Inn with a week of fun-filled evenings. The package includes a pre-show three-course dinner in a private dining room, followed by three headline comics (along with coffee and mince pies), access to a private bar during the intervals and queue jump entry to a nearby nightclub." More details on this website.
Pantomime season is in full swing now:-
The Secret Garden is already under way at The Festival Theatre.
Jack and the Beanstalk has started at The King's. More details on their website about the possibility of getting tickets.
From 15th December you can see the alternative pantomime at the Cruise Liner Terminal in Leith. More details and tickets by telephone 0131 555 4104
The Snow Queen is playing at The Lyceum. Contact the theatre via their website for tickets. Watch the trailer here………
As long as you are between 8 & 11 you could join the Blackwell Book Group 53-62 South Bridge Edinburgh.
They ask if you have "a love of books and biscuits? Become a member of their book group to enjoy a friendly hour of fiction and judge the 2010 Royal Mail Awards for Scottish Children's Books in your category! Come along and decide on your favourite!
Our first book is going to be:-
The Dragon Whisperer by Lucinda Hare
Quenelda has always had a magical bond with dragons, and her greatest wish is to fly one and fight alongside her father in the war against the hobgoblins. Root, on the other hand, wishes only to avoid the fearsome creatures, so the role of Quenelda's esquire is the last thing he needs.
Our second book is
The Secret of the Black Moon Moth by John Fardell
…A painfully shy old man has approached Professors Gadling, Gauntraker and Ampersand with an extraordinary archaeological find: early human remains that don't fit in with anything known to science. Soon, Sam, Zara, Ben, Marcia and Adam are joining the professors on an expedition to a remote island in South-East Asia to investigate further. But the island contains a secret more astonishing than anything they could have imagined, and a dangerous, deadly enemy is on the trail."
If you are slightly over 11 then you can still join a bookgroup at Blackwells:-
---
Blackwell Book Group
Monday 13th December, 6.00pm
Blackwell, 53-62 South Bridge Edinburgh
Who says reading is a solitary pursuit? Not us! Come and join the Blackwell Book Group for lively, friendly book chatter. No previous experience required! We will meet monthly to discuss a wide range of books; fiction and non-fiction, classic and contemporary, prizewinners and cult heroes, in short, whatever you fancy!
Our current book – The Fall by Simon Mawer.
Rob and Jamie are great friends from childhood. They have grown up together and become top climbers, but have since become estranged. Rob is nevertheless grief-stricken when he hears of Jamie's death after a fall on a relatively easy Welsh rockface. The past, though, hides the secret clues behind the tragedy.
Buy your Christmas Holly on Saturday morning from the East Gate of Queen Street Gardens East which is the gate on Abercromby Place near Dublin Street from 10am till noon – or until sold out!
Phil Jupitus is in conversation with Ian Rankin at Voodoo Rooms, 19a West Register St, EH2 2AA Comedian and former 6 Music Breakfast host, Phil Jupitus will be in conversation with Ian Rankin about his career, his love of music and his new book, Good Morning Nantwich: Adventures in Breakfast Radio.You can get more information from The Edinburgh Bookshop. Tickets are £5, which is redeemable against the book on 16th December.
Also at Voodoo Rooms on 18th December….The Vegas Christmas Party! featuring Frankie Sumatra, Bugsy Seagull, The Cat in the Red Suit, Dino Martini, Sam Jose plus Nikki Nevada, The Vegas Showgirls, The Fabulous Scott Brothers & Miss Dixiebelle's Vintage Popup Parlour
It's Christmas in Vegas, the sleigh bells are ringin' and the cats and kittens are swingin'. The Vegas gang are getting together for a festive fiesta of vivaciousness and va-va-voom at the Voodoo Rooms!
Don't miss the debut of Miss Dixiebelle's Vintage Parlour at Vegas! The hair stylists from Miss Dixiebelle will be available for hairstyling in their very own popup parlour in the Speakeasy. Specialising in vintage 'do's' from the '20s – '60s, Miss Dixiebelle's girls will be able to help finish off your fabulous Vegas look and they're offering all guests a reduced rate of £15.00 per person. This is open to guys and dolls so if it's' a 'Marilyn' or an 'Elvis' they'll be there to help!
From 10.30pm – 3am (subject to licence) at The Voodoo Rooms, 19a West Register St, Edinburgh. Advance tickets are £9 stbf from Ripping Records, Tickets Scotland, 0131 220 324 or buy online
The 8th Annual Freedom of Information conference is taking place at The Sheraton Hotel on 15th December. More details here of the programme and how to book a place.
Independent Scottish poetry publishing is going from strength to strength. Now held in The National Library's George IV Bridge Building, this festive fair is always a popular event. Come along for a glass of wine, meet the publishers, hear the poems and buy the pamphlets! A Callum Macdonald Memorial Award event, supported by the Michael Marks Charitable Trust. The event takes place onWednesday 15 December at 18.00 Book online or phone 0131 623 3918.
V for Vintage Christmas Fayre takes place on Saturday the 18th December, the debating chamber @ Teviot Row House. An array of stalls providing vintage goodies, clothing, kitsch jewellery and crafts plus a fashion show . 12 noon till 4pm. £3.00 entry. More details on their facebook page.
And on Wednesday 15th December the Edinburgh Lectures series continues at The Royal Society Edinburgh 22-26 George Street. An innovative leader in the field of urban policy, Bruce J. Katz regularly advises the US government and other leading policy makers on improving the prosperity of cities and urban areas. The Great Recession has been a wakeup call. It unveiled an economy dangerously out of whack: frenzied with consumption, wasteful in its use of energy, more adept at increasing inequity than sharing prosperity, more successful at exacerbating rather than easing divisions between Wall Street and Main Street…….Tickets available here.
On 15th December you can attend the annual Christmas Concert at the Usher Hall in aid of CLIC Sargent. Performed by Lothian Hospitals Choir, Conductor Tim Dean RSAMD. Soloists All Angels, Thistle Brass and Humbie Primary School. Tickets Grand Circle £18, Stalls £16 and Upper Circle 10 – All concessions £2 off Stalls and Grand Circle, only concessions available in the Upper Circle are for children at £5. Starts at 7.30pm.
The Bootleg Beatles are appearing at the Usher Hall on Thursday 16th December at 8.00pm. Tickets £23.50 from the box office. Enjoy all your favourite Beatles' hits from the UK's number one tribute band. The Fab Four are back to entertain with songs from the superb Beatles' back catalogue!
Friday 17th December the RSNO give their Christmas Concert at 8.00pm at the Usher Hall. You are invited to "Join us for a family celebration of your favourite Christmas carols and music. Conducted and presented by the irrepressible Christopher Bell, the concert will include the magical film The Snowman shown on the big screen and accompanied by Howard Blake's timeless music."
Saturday 18th December there is a German Christmas at Old St Pauls, Jeffrey Street, Edinburgh at 7:30pm. Frohe Weihnachten – A German Christmas in music and readings.