Rugby – Edinburgh v Racing Metro, Heineken Cup, 14 December 2012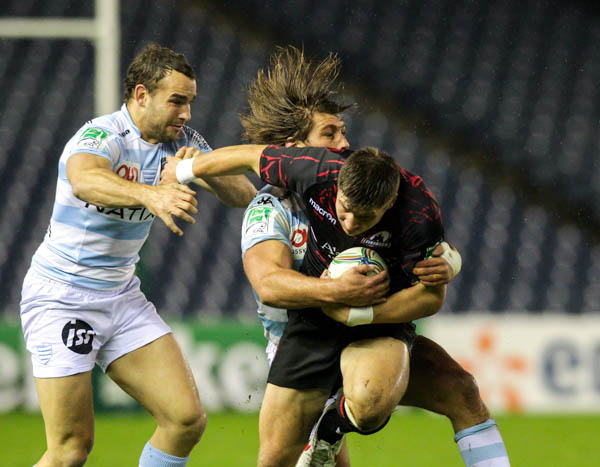 If the crowd of 4,500 were looking for a repeat of last year's 48-47 thriller at Murrayfield, the weather gods had determined that it was not to be. A thoroughly miserable, wet evening ensured that the bar of soap that passed for the ball would prevent the same type of open, running rugby that made the 2011 encounter the 'Match of the Season' – and if it wasn't, it should have been.
The first half was a dreary affair with neither team looking particularly threatening. The half was littered with handling errors and penalisable 'mistakes', Racing Metro coming out just ahead by 6-3 at half time. A penalty after four minutes slotted home by Ollie Barclay, followed up two minutes later with another from Getain Germain, gave the French side a 6-0 lead, which was pulled back to 6-3 on the half hour mark by Edinburgh new man, Peirs Francis, with his only successful kick in the half.
Even the, what passes for, half time 'entertainment' fell flat as one of the two Zorb balls developed a puncture!
The second half wasn't much better. More or less a repeat of the first in terms of 'skills' on display, Racing Metro made the most of their opportunities by kicking another three penalties from the selection on offer, while Francis continued to spray the ball all over the place for Edinburgh.
It took until the 89th minute for things to brighten up. Racing hammered their way down the field to encamp themselves on the Edinburgh goal line. They ranged back and forth across the pitch, only being held out by a fine display of defence from Edinburgh. It all nearly ended well, when replacement scrum half, Richie Rees, intercepted a loose pass and broke away. He passed the ball out to Netani Talei who charged up to the 22, gave the ball to Sep Visser who made another few yards. His pass however drifted forwards and the game stuttered to a, welcome, halt on the referee's whistle, 15-3 to Racing Metro.
So, that's Edinburgh out of Europe for this season. Four losses from four games, no points and some questionable performances have left them with not even a chance of Challenge Cup rugby this season. A bit grim, but there is still the RaboDirect league to play for, but the Murrayfield side will have to up their game if they want to stand a chance of getting into the top four in that competition. By a lot!
Report and Photo – John Preece