Fines for Garage Protestors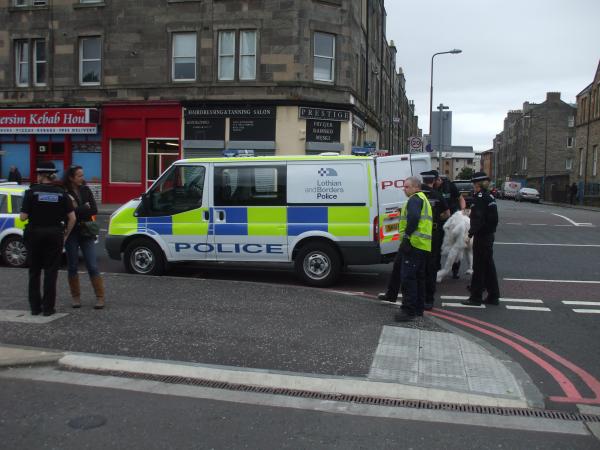 Seven Greenpeace protestors who closed the Dalry Road Shell garage in July by chaining themselves to petrol pumps, switching off fuel supplies and climbing onto the roof to display banners, were fined a total of £1500 at Edinburgh Sheriff Court on Friday.
The demonstration was part of a larger 'day of action' which shut down 74 Shell petrol stations  throughout the UK resulting in a total of 24 arrests and saw police cars parked cars outside all Shell stations across the capital
The protesters; Simon Hackin, 47, Niddry Street Edinburgh, John Wright, 57, of Belfast, Paul Hutchinson, 63, of York, Amy Rutland, 22, of Liverpool, Dominic Joyce, 22, of Southwell, Steven Smith, 39, of London, and Rowan Burrough, 43, of Abergwyngregyn, Wales, were each fined £200 after pleading guilty to charges of malicious mischief. Sheriff Isabella McColl also ordered Hackin to pay Shell £300 compensation. In addition, polar bear outfits worn during the 12 hour occupation were confiscated.
The court heard that the protest, which began at 6.45am on 16 July 2012, was one of three Scottish garages targeted by Greenpeace alongside 50 across the greater London area. A member of staff working in the garage shop noticed that there was a man within the shop who was wearing a Greenpeace jacket, who stated that they were here to close the petrol station down.
Members of a Greenpeace group then prevented motorists from entering the forecourt. Some of the group used ladders to climb up on to the top of the garage roof. Once they reached the top of the roof, they engaged the fireman's switch and turned off the petrol supply. They then erected a small tent.  Protesters wearing polar bear costumes used bicycle locks to attach themselves to petrol pumps. The forecourt was then cordoned off by means of a banner which read 'Save the Arctic'. Another banner read 'Greenpeace'."
Defence solicitor Jim Brady said that the protesters wanted to highlight Shell's plans to the general public, and said:-  "It is quite an effective means of bringing the matter to the public's attention. It is their view that the public need to know more about these plans. There is a real danger that Shell's scheme could cause an environmental disaster.
"If there was a spill in the region during winter, Shell would be unable to do anything for at least six months. During that time, the oil could travel thousands of miles and create unprecedented problems for our environment.
Sheriff McColl stated: "I recognise that this was a political protest, but you broke the law and caused a great deal of inconvenience to people."
During the protest, Climate Campaigner Richard George from Greenpeace London Headquarters told The Edinburgh Reporter:- "Greenpeace declared a day of action against Shell, targeting one hundred petrol stations in London and Edinburgh, in protest against them drilling for oil in the Arctic. This is not like drilling for oil in the North Sea. The Arctic is deeper, colder and more hazardous with the risks of an oil spill far greater and the impact more severe. There would be no way to clean up any oil spill there."