Whitesnake UK Arena Tour: Nostalgia Metal Heads Prepare to Go Mental!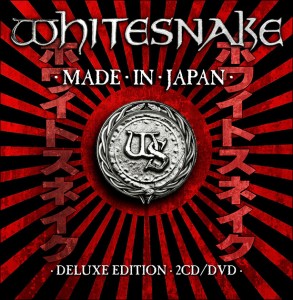 Frontiers Records has announced that Whitesnake's highly anticipated live concert "Made In Japan" will be released on Deluxe 2CD/DVD Edition,Blu-ray and DVD in the UK on Monday April 22 2013. "Made In Japan" captures the multi-platinum rock band's co-headline performance at the "Loud Park" festival, which took place in Japan's Saitama Super Arena on 15 October 2011.
Filmed on the Japanese leg of Whitesnake's momentous Forevermore World Tour, in support of their 2011 album of the same name, "Made In Japan" is packed full of the songs that continue to keep the band at the very forefront of rock'n'roll. The "Forevermore" songs alone are said by fans to be worth the price of admission, and that's before factoring in the hits such as Is This Love, Still Of The Night and Here I Go Again. It's all here. This is whatWhitesnake fans, new and old, have been clamouring for.
In addition to the concert recording from Loud Park Festival, "Made In Japan" features a bonus disc containing never-before-heard versions of tracks recorded during soundcheck at a variety of Japanese venues on the tour.  Led by front man and founding member David Coverdale, "Made In Japan"features the Whitesnake line-up of Doug Aldrich and Reb Beach on guitar, bassist Michael Devin, drummer Briian Tichy and special-guest keyboardist Brian Ruedy.
"Made In Japan" coincides with Whitesnake's UK Arena tour alongside Journey, with special guests Thunder.
The tour starts at the Glasgow SECC on Saturday 18 May 2013 and runs nationwide.