Edinburgh Festival Fringe – The Oxford Gargoyles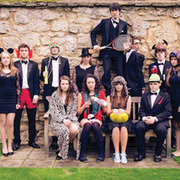 C venues on Chambers St, Edinburgh from 31 July – 17 August. Duration 50 minutes.
Let us present an eclectic mix of jazz, soul, pop and Disney, delivered in up to 12-part harmony. The Gargoyles excel in bringing precise and intricate vocal arrangements to a broader audience by injecting into them their signature blend of charm and energy. This show is a synthesis of reworked Gargoyles classics and newly written arrangements. Our musical influences are far-reaching, ranging from the legends of Jazz, like Ella Fitzgerald, to cutting edge vocal jazz ensembles, such as The Real Group.
The Oxford Gargoyles are Oxford's premier jazz A Cappella group. In 2012 they were crowned Open Category Choir of the Year, and featured on BBC radio and television a number of times. In 2010 they won the Voice Festival UK competition, and performed with A Cappella superstars, The Real Group, the following year. 2013 is their 15th year as a group, and brings with it their 8th Edinburgh run! The group regularly tour to the East Coast of the US, where they have performed in world famous venues, ranging from the Lincoln centre to the Russian Tea Rooms in New York. At home, The Gargoyles have performed to audiences at the Royal Festival Hall, London, and the Bridgewater Hall, Manchester. The group have recently finished recording their eleventh album, 'Musical Statues'.
Ticketing info: £9.50-11.50, concessions £7.50-9.50, children: £5.50 – £7.50.