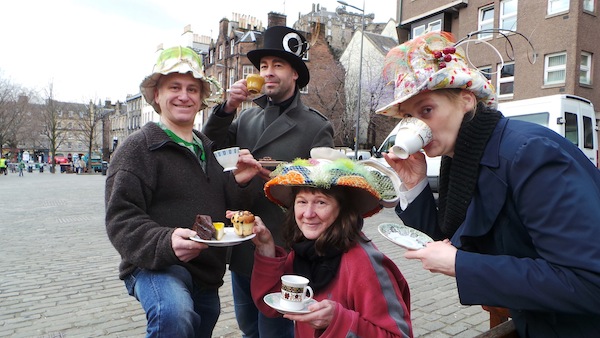 Edinburgh's newest weekly market – the Greater Grassmarket Saturday Market – is holding a Mad Hatter's Tea Party on Saturday 1 March 2014.
Greater Grassmarket stalwart, Fabhatrix Hat Shop, will be kitting out stallholders with a spectacular selection of headgear on the day. What's more, the first 50 market visitors wearing an exceptionally quirky hat will be greeted with a speciality tea, courtesy of artisanal blenders Leith Tea, a salted caramel macaron from Mademoiselle Macaron and the chance to win a Fabhatrix Hat Shop £50 voucher.
Fabhatrix Hat Shop proprietor and milliner Fawns Reid said: "Whether it's warm or cold outside, everyone's head deserves a good hat – bowler, beret, topper or tri-corn – take your pick! The Grassmarket stallholders are so diverse, I can't wait to lend them a distinct and brilliant bonnet to keep them snug as they sell their wares.
"More excitingly, I'm looking forward to seeing what visitors to the market will be sporting on their heads. I'm expecting feathers, sequins, flowers and ribbons galore."
Greater Grassmarket BID project manager Georgia Artus said: "By the start of March, spring will be in the air, but the weather could still be a little chilly. Sensible shoppers who wear a stylish or silly hat will be rewarded with a cosy head, a warming cup of tea and a heart-warming tasty treat."
The Grassmarket's Saturday markets are held each Saturday from 10am to 5pm.
For more information please visit www.greatergrassmarket.co.uk.