And the winner of the Edinburgh Award is… Ken Buchanan!

After a few thinly veiled hints at the council meeting last month it has been announced today that boxer Ken Buchanan will receive the 2016 Edinburgh Award.
His handprints will be immortalised in stone outside the City Chambers and he will receive an engraved Loving Cup from the Lord Provost at a ceremony to be held early next year.
Previous recipients include Sir Tom Farmer last year and Sir Chris Hoy.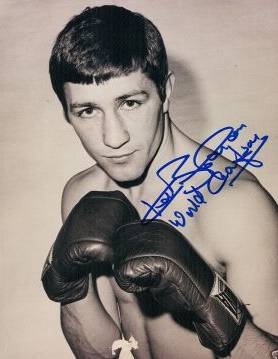 The Leith-born 71 year-old joined the Sparta club aged eight and turned professional in 1965. He famously fought on the same bill as Muhammad Ali in Madison Square Garden twice and was voted 'Greatest Ever British Boxer' in a 1978 poll organised by the sport's British trade newspaper, Boxing News.
Edinburgh's Lord Provost Donald Wilson, said: "It's no secret that I am a great supporter of Ken and the recognition that he so richly deserves. In many ways, a lasting tribute for him in his home city is long overdue, and it seems right to me that his name will go on the wall of the City Chambers and those famous fighting hands will be immortalised in stone.
"It is with great pride that we announce Ken Buchanan as the 10th person to be presented with the Edinburgh Award. He really has made an outstanding contribution to sport, and this award is the city's way of recognising all that he has achieved in his career."
Ken Buchanan said: "I am absolutely overwhelmed that this prestigious honour will be presented to me. The fact that I'll have everlasting handprints cast in stone at the Royal mile is just amazing and I would like to thank everyone who voted for me."
Earlier in the year the Lord Provost held a civic reception for the boxer to honour his achievements.
While the Lord Provost chairs the Edinburgh Award panel the nominations come from the public.
Some of Ken Buchanan's accolades include:
* Winning his first 33 professional fights
* Becoming WBA World Lightweight Champion in 1970, defeating Ismael Laguna in Puerto Rico
*Being named the American Boxing Writers' Association's 'Fighter of the Year', ahead of boxers like Ali and Frazier, also in 1970
* Defeating Ruben Navarro in Los Angeles to become the only British 'Boxer of the Year' at the American Edward & Neil Award in 1971
*Becoming the 'Undisputed World Lightweight Champion', 'Undefeated European Champion' and 'Undefeated British Champion' and, being awarded an M.B.E, all in 1971
* Famously suffering a controversial low punch in round 13 of his 1972 fight against Roberto Duran at Madison Square Gardens