Edinburgh International Festival 2017 – a full and varied anniversary programme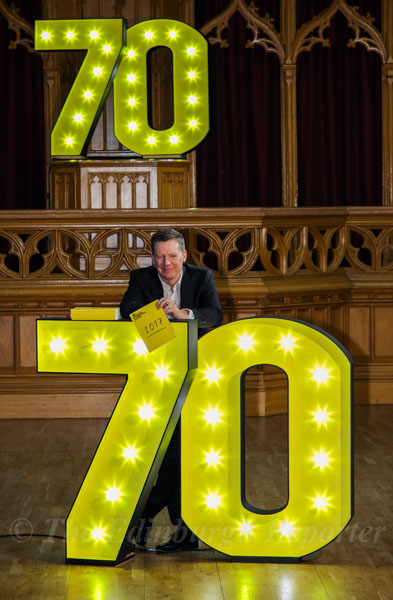 Fergus Linehan, Director of the Edinburgh International Festival announced the 2017 festival programme this morning at the Assembly Hall on The Mound. He had just come off the stage at a new look launch with Festival friends invited along with staff from some of the festival venues, as well as press when we spoke to him.
It was a high tech affair with no bits of paper flapping around, and his speech was surtitled on the massive screen behind him.
We asked him if the programme for the big 70th anniversary was spectacular enough : "Oh well others will have to be the judge of that. There is certainly enough breadth to it. I hope that people of all different persuasions are going to find something in it for them. I think it certainly does reflect a lot of the origins of the festival, both in terms of the individual artists and repertoire, and also thematically. So I hope people find it a fitting anniversary festival.
Putting it to him that with nine operas we might not all be opera buffs, he was quick to suggest that we could be : " Well if you're not an opera buff I would suggest you come to the opera! One of the reasons we have a more extensive opera programme this year is to be able to offer people a chance to maybe experience a form they never will before. To be honest the thing about opera is no matter what area you are interested in, if you're interested in writing, if you're interested in art, if you're interested in music it's all in there.
"Everything from Greek which is a short very punchy version of a Steven Berkoff play in an opera by Mark-Anthony Turnage through to La Bohème which is just the greatest love story of all time. I think there is something in that for everyone.
"However, if there's no way we can drag you across the threshold of the opera house there's an enormous amount of contemporary music in there.There's artists like PJ Harvey, Jarvis Cocker, Stephin Merritt.
"If you are interested in the folk revival either in the 70s or in the more recent revival it will be fascinating to see the celebration of the Edinburgh band, The Incredible String Band.
If you're interested in dance, we have two of the greatest dance companies in the world, Nederlands Dance Theatre and Rosas. So I hope that there will be something for all tastes in there.
"And in case you don't want to go to any of that then just come along to our opening free event which is called Bloom, a sort of a light and sound explosion of colour and beauty which you will walk through, throughout a precinct of the city. Or indeed just come along to the Virgin Money Fireworks concert at the end which is pretty irresistible!"
He remained tight-lipped about the exact location of the Opening event, disclosing only that it requires permissions from multiple venues. "So it's not like the Castle or The Usher Hall and we have to work through and be respectful of a whole lot of people to make sure that we have full permissions from everyone, and we've had the chance to ask everyone who it will affect. That is going very well and we will hopefully have that done sooner rather than later when we will be delighted to tell people."
The Festival Chorus are practising hard to ensure that their music is of the highest quality as always. We met Christopher Bell with his daring shoes…but more of them later!
The 2017 Edinburgh International Festival from Phyllis Stephen on Vimeo.