Lifestyle – here is the one thing you need to pack

Recently on my American travels I forgot to take the one thing with me which would have made all the difference.
And that was? A hairbrush.
But not just any hairbrush!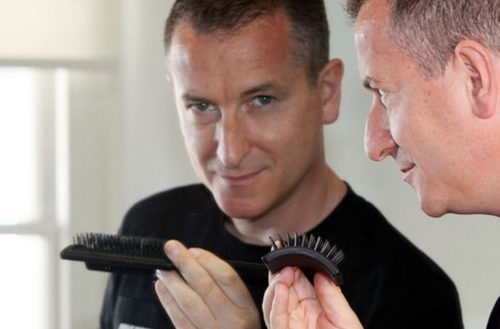 This is the Arconic hairbrush designed by Perth hairdresser John Gillespie which has revolutionised blow drying my hair at home over recent months.
It has cut down the time it takes to tend my tresses in the mornings, and for me that is a very good thing!
ARCONIC Brand Ambassador and Hairdressing legend John Gillespie launched the new hairbrush earlier in the year and then presented us all with one to try out at home.
He explained that his design introduces a curved back to what might otherwise look like any old paddle brush. And the brush is made of a material which heats as you use your hairdryer, so it straightens your hair more easily.
And use it I have – every day since I got it. So you can see that omitting it from my packing was a bit of a disaster!  Thankfully the local drug store had something that did the job – but not just as well as the Arconic does!
John is a hairdresser who is a bit of an entrepreneur and now you might also see him on TV demonstrating his design.
Here he is talking about the new brush he created :
You can buy these magic brushes from this website here. So don't just take my word for it if you need to have straight hair!
They retail for around £19.99.
John Gillespie Hairdressing
26 St John Street, Perth, PH1 5SP
We travelled to New York recently courtesy of Delta Airlines from Edinburgh Airport to New York JFK direct on a Boeing 757-200ER. The flight cuts down the time it takes to get to the US and offers many destinations onward from there. There is in flight wifi and you can stream the movies and TV shows to your own tablet or device to watch them more easily.
The direct flight started again at the end of last month, but was officially launched last year with the help of the actor and Broadway star, Alan Cumming.