Tickets on sale for world's largest festival of public science talks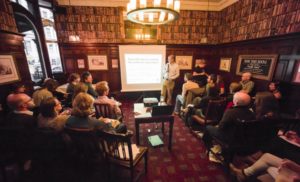 Tickets are launched today for the world's largest festival of public science talks, which will see over 38 scientists take to the stage in pubs across Edinburgh.
The international, three-day Pint of Science festival will take place from 15th – 17th May and will see thousands of scientists simultaneously standing up and telling the public about their research in over 100 cities across 12 countries. Founded five years ago by two UK researchers, the festival brings a unique line up of talks, demonstrations and live experiments to the nation's favourite locals.
Researchers from the University of Edinburgh and Heriot Watt University can be caught speaking at various pubs across the city, including Daylight Robbery, Monkey Barrel Comedy, and Moriarty Bar. Tickets are available from the Pint of Science website  with each evening costing only £4. Attendees in Edinburgh will enjoy a variety of exciting talks including:
'Programmed for Sex' by Professor Richard Sharpe,
'Who are you?' by Dame Sue Black,
'Welcoming our robotic assistants' by Dr Subramanian Ramamoorthy
Alongside the main talks, each evening will also include a range of fun, science-related activities including live experiments, science comedy, fun quizzes, geeky puzzles, Virtual Reality and other interactive activities.
Pint of Science was established five years ago by a group of UK-based postgraduate and postdoctoral researchers. Festival founders Dr Praveen Paul and Dr Michael Motskin wanted to bring back the personal touch to science, giving everyone the chance to meet the real people behind the incredible research taking place in universities across the country. The duo are amazed by the growth of their idea into a global festival, which has spread to 12 countries around the world.
"Science can often get lost in translation, leading to the spread of pseudo-science and myths. The best way to overcome this is for people to be able to talk to scientists directly in a familiar environment, such as in a pub over a pint", says Festival co-founder Dr Motskin. "We are in awe of how big the festival has become over the years, demonstrating the thirst there is to hear science from the source – the scientists. The festival gives everyone the chance to pick the brains of some of the UK's most brilliant academics, breaking down barriers and giving unrivalled access to the people behind the science."