Wolves look to bounce back with a win over the Wolverines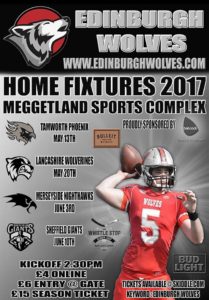 Just one week on from a grueling loss Edinburgh Wolves host Lancashire Wolverines tomorrow, Saturday 20th May, at Meggetland.
After a tough 27-20 defeat the Wolves will take pride from the effort they put in and the result they very nearly achieved.
This week they will be up against a side seeking their first win of the season and know that there are no easy games in British American Football.
The Wolves looked like a team pushed to their limits last week with men lain on the sidelines after giving everything they could for the team, and another performance like that could well have them reach the midway point of their season in a comfortable position.
The Wolves currently have one win, two losses and a tie to their name but in a short ten game season, a second win here could be crucial.
The knowledge that the team they have beaten this season, Sheffield Giants, still have to travel north means that they know that a victory will all but guarantee another season of BAFA Premiership status.
The Wolverines come to Scotland on the back of two disappointing defeats, one resounding to Tamworth the other a closer affair with local rivals Merseyside. With the added desire of knowing that a win here would but a much-needed boost to their season, they will travel north knowing that anything short of a victory would be disastrous to their playoff aspirations.
Last week the Wolves defense put a solid showing together, and the offense did very well against one of the best defences in the country.
Head Coach Don Edmonston will be reminding the team that should they pick up a win this week, they can have a well-deserved rest before hosting Merseyside Nighthawks on the 3rd of June.
Kick-off is at 2:30 pm and gates open an hour before. Tickets on the day are £6 and can be bought online for £4 at Skiddel.com.