Defibrillators now installed on all 27 trams

Edinburgh has 27 trams in total and now all of them have a defibrillator on board thanks to the efforts of St John Scotland.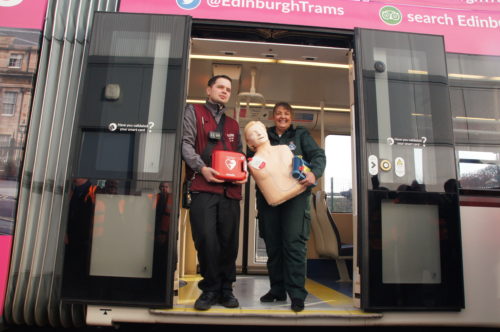 This follows the donation last year of some 17 life-saving devices for part of the tram fleet, which became the first in the UK to carry defibrillators. At first it was only the core fleet used regularly that had a machine installed but now every single tram will have one.
A special ceremony takes place this morning when St John Scotland will hand over the remainder of the devices to Edinburgh Trams. At the event cardiac arrest survivors Paul Burns and Michael Pinkerton, Past Lord Provost Donald Wilson who was instrumental in forging the relationship with St John Scotland, and representatives from the Viewforth Trust, St James's Place Partnership, Edinburgh Airport, Siemens, Riada Trust, Lyon & Turnbull and the Royal Scots Club will all take part in the ceremony.
The equipment that can significantly improve survival rates amongst people suffering cardiac arrest. Equipping the rest of the fleet will mean any additional services introduced in the future will also carry the lifesaving equipment.
The initiative is part of the wider St John and the City Public Access Defibrillator (PAD) project that's continuing to roll out life-saving devices at key locations across Edinburgh and surrounding areas.
The £1,200 cost of each defibrillator has been met through generous support from local businesses and voluntary organisations, as well as the fundraising efforts of individuals whose lives have been saved thanks to easy access to a defibrillator.
Known as 'donors', they joined members of the St John Scotland's Edinburgh Committee in celebrations to mark the completion of the project.
Lea Harrison, Edinburgh Trams Managing Director, commented: "We're delighted to be involved in this project, which has the potential to save many lives."
He continued : "The defibrillators on board our trams will not only be deployed if a customer becomes unwell, but can be used if a member of the public suffers a cardiac arrest nearby.
"As the tramway serves many residential areas, employment centres and key destinations for visitors, tens of thousands of people are only minutes away from the arrival of equipment that can make all the difference in an emergency."
Lynn Cleal Fundraising Manager for St John commented : 'We at St. John Scotland (Edinburgh Area) are delighted to have teamed up with The Edinburgh Trams giving a Life Line from East to West across the city. Our partnership has made Edinburgh the country's front runner in providing and promoting public access defibrillators on public transport. Future plans are to keep this initiative moving throughout the city, rolling out more and more public access defibrillators, training people in CPR and also in the use of this potential aid to help save lives'.