Sister Act Live Choir Heading to Edinburgh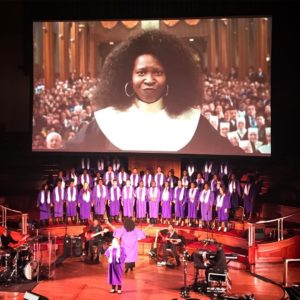 Sister Act, the classic 1992 musical comedy starring Whoopi Goldberg, is the latest film to receive the 'live cinema' treatment with the 'Sister Act Live Choir', UK Tour presented by Amacoast Cinema.
Film fans have been clamouring for pop-ups and live cinema experiences in recent years, as audiences look for new, innovative ways to enjoy the films they know and films that will turn into instant classics. Sister Act fans in Edinburgh and the Lothians will be immersed in a fresh new cinematic, musical experience, 25 years on after the film was first released.
Sister Act Live Choir will boast a choir made up of 35 gospel singers and full band, as they accompany the onscreen nuns with live performances of songs from the film soundtrack.
"We are delighted to be touring this powerful and uplifting live cinema experience" says founder, Dele Aro. "We were delighted to see the shows connect such a large diverse group of people together, to share a unique experience and create new memories around a much-loved film".
The show comes to Edinburgh's Usher Hall next May and is sure to be popular the capital city's film lovers.
Sister Act tells the hilarious story of Vegas lounge singer Deloris van Cartier (played by Whoopi Goldberg), who after witnessing a murder at the hands of her boyfriend must enter witness protection to avoid a similar fate. She turns to the one place that she hopes he will never look – a convent. Disguised as a nun, Deloris woefully tries to adopt her new lifestyle and after several false starts, she finally finds her voice at the heart of the church choir.
Sister Act Live Choir will feature the Uplifted Voices choir for the show, who have featured on BBC Gospel Proms, and provided backing choirs for the live shows on ITV's The Voice, Britain's Got Talent and The X Factor. There will also be a special guest performance from Britain's Got Talent Semi-finalist's 'Gospel Singers Incognito'
Sister Act Live Choir is at the Usher Hall on 19th May 2018. Tickets are available here.