The Royal Lyceum Theatre Edinburgh presents: The Arabian Nights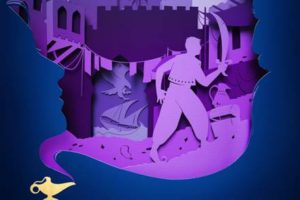 Adapted by Suhayla El-Bushra
,
Directed by Joe Douglas, 
25 November 2017 – 7 January 2018
The Royal Lyceum Theatre Edinburgh announces that this year's festive production will be a world premiere of the resplendent, musical, and very magical The Arabian Nights, written by Suhayla El-Bushra and directed by award-winning Scottish director Joe Douglas, Associate Artistic Director of Dundee Rep.
Starring Natalie Arle Toyne, Nebli Basani, Taryam Boyd, Neshla Caplan, Nick Karimi, Tim Licata, Rehanna Macdonald, Brian James O'Sullivan, Patricia Panther, and Humera Syed. The production will feature the collection's most famous, magical, and exciting stories, featuring the familiar faces of Sinbad and Ali Baba, along with mysterious genies, a chess-playing monkey, scruffy dogs, and a whole host of heroes and villains.
The market square of old Baghdad is a place of wonders. Treasures from all over the world find their way to the ancient city, as do the people. Charming pickpockets and penniless writers, carpet makers, coffee vendors, and fortune tellers all vie for business in this cosmopolitan whirl.
In the middle of it all find a young girl with a big imagination – a girl called Scheherezade. She spends her days weaving stories from the world and characters around her, and getting herself into scrapes with her tall tales!
But when the wicked Sultan announces a terrible plan that threatens the very essence of this wondrous world, it might just be Scheherezade's imagination that saves the day…if only she can catch the Sultan in her web of stories!
Rich with suspense, enchantment, romance, and hilarity, the ancient tales of The Arabian Nights are irresistible for all ages, and a great opportunity to bring families together, transporting them to the glittering heat of a faraway magical and musical world, this Christmas.
The Lyceum's first Relaxed Performance will take place during The Arabian Night's run, on Thursday 4 January at 7pm. This Relaxed Performance, specifically adapted for individuals with Autistic Spectrum Conditions, sensory and communication disorder, or learning disabilities, or for those who would benefit from a more relaxed environment, has been created and organised with support from The National Autistic Society Scotland.
Recommended for ages 5+
The Royal Lyceum Theatre Edinburgh, Grindlay Street, Edinburgh, EH3 9AX
Box Office: 0131 248 4848
Accessible Performances
BSL Interpreted: Wednesday 13 December, 7pm
Captioned: Saturday 9 December, 2pm
Audio Described: Thursday 14 December, 7pm (touch tour: 5:45pm) and Saturday 16 December, 2pm (touch tour: 12:45pm)
Relaxed Performance: Thursday 4 January, 7pm