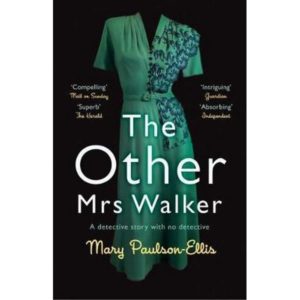 Booksellers Waterstones have announced their Scottish Book of the Year for 2017. The Other Mrs Walker, is a compelling novel of intrigue and deception written by Edinburgh author Mary Paulson-Ellis.
Angie Crawford, Waterstones Scottish Buying Manager, says:
"When considering the contenders for Waterstones Scottish Book of the Year, we aim to champion the book that we have loved reading and talking about most over the course of the year. In 2017, The Other Mrs Walker really struck a chord with our booksellers and customers. A beguiling, glittering novel of many layers, we adore this book and are proud to have it as Waterstones Scottish Book of the Year."
Published in March, the tale of family secrets, thievery and betrayal has been a favourite with readers and has enjoyed unprecedented sales for a debut novel at Waterstones outlets in Scotland.
Ms Paulson-Ellis was, naturally, delighted.
"I am beyond thrilled that my novel has been chosen as Waterstones Scottish Book of the Year. I owe a great debt to Waterstones very special booksellers, whose passion and commitment placed my tale of a mystery dead body and long held family secrets into readers' hands. This is a debut writer's dream."
The novel tells the story of Margaret Penny who is employed by the Office for Lost People, tasked with finding the families of the dead, those who in life were neglected, abandoned or lost. Her instructions are to uncover paperwork, yet the only thing Mrs Walker, the old woman in her current case, has left behind is a series of peculiar objects. But in the end, it is these objects that unravel Mrs Walker's real story and in uncovering the astonishing tale of an old woman who died alone, Margaret finally discovers her own story too.
To celebrate the success of this year's winner, publishers Mantle have produced a gift edition of The Other Mrs Walker bound with a golden foil snowflake design and available exclusively from Waterstones bookshops in Scotland.