Children's Hospital Asks 'Santa to Stop Here One Last Time'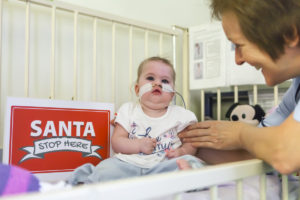 The Edinburgh Children's Hospital Charity (ECHC) is giving children spending Christmas in hospital this year a special experience – to see snow falling on the hospital no matter what the weather is like!
The Royal Hospital for Sick Children (RHSC) will be having its final Christmas at its site in the middle of Edinburgh as it is due to move to its new home in Little France next year.
ECHC is appealing for support for their vital work to ensure children and young people in hospital will have as happy a Christmas as possible. On Friday 1st December, the charity made snow fall on the hospital's famous front exterior by projection.
Seven-year-old Ruby Smith, who spent last Christmas in RHSC, turned on the magical projection. Ruby had fallen ill at school and when she was admitted to RHSC in 2016 it was discovered she had a paediatric stroke. She lost her ability to walk, lost movement down her right side and she also lost her speech.
Ruby spent six weeks in hospital over last Christmas. Her mother, Jane Smith said:
"On December 2, it is exactly one year since Ruby had a stroke and she is so excited to be asked to turn on the projection at the hospital.
"Thinking about then and now, her progress is simply amazing, and we can't thank the staff at RHSC, NHS Fife and ECHC enough for their amazing work and support.
It is a privilege for Ruby to do the honours and maybe even a sign of hope to all children (and parents) currently in hospital to try and stay positive and never give up hope as children are so incredibly resilient."
With Christmas Day just over four weeks ago, ECHC is calling upon communities to help support it in its campaign to make its last Christmas extra special and asking Santa to stop at the hospital one last time.
Roslyn Neely, CEO of Edinburgh Children's Hospital Charity, said: "Christmas is such an exciting time of year for children and we believe that being in hospital shouldn't compromise its magic.
"Spending time in our homes, in the company of our families on Christmas morning is something that can often be taken for granted. But, children who need to spend Christmas in hospital shouldn't have to feel like they're missing out on anything.
"Many people don't realise that a lot of the fun, distractions, games and décor that can help a child feel much less frightened when they come into the hospital, particularly during special occasions such as Christmas, are funded by us.
"We're campaigning to make sure that children at the hospital get to spend December eagerly anticipating the arrival of Santa, presents and their loved ones. The work of the hospital doesn't stop at Christmas, but we hope that Santa will remember to stop here one last time."
People have been asked to donate whatever they can afford. A donation of £15, for example, could help provide fun, creativity and a distraction from treatment by delivering a wide variety of arts activities for children and young people. Gifting £30 could help fund parents' accommodation meaning parents and carers can stay close to their child in hospital. A donation of £75 could help put on a Christmas film night.
Roslyn continued: "This is a fantastic campaign and we really hope that people around the country get behind us and show their support. In 2018 we are set to move to a brand new, state-of-the art home which is why I'm hoping you'll help make this Christmas a truly memorable one.
"We exist to ensure that children and young people's lives aren't put on hold by illness and it is the generosity of those who get involved in campaigns like this one that allows us to continue our valuable work."
If you would like more information on how to support the Edinburgh Children's Hospital Charity's Christmas appeal, visit the website here