The Last Ship will sail at the Festival Theatre next summer

The Last Ship will sail at Edinburgh's Festival Theatre on 12 June 2018, but there was a decidedly low key launch in Edinburgh at Leith Dockers' Club yesterday afternoon.
Although the queue of invited guests outside the front door was a bit of a giveaway, life in Leith went on as normal and few would have guessed that a megastar was lunching nearby and about to take to the very small stage. When the audience assembled in the room, there were intermittent periods of expectant hush, and when Sting walked in through the back door and down the central aisle, saying "Hi, everybody!" it took a moment or two for them to realise it was really him.
A burst of applause broke out as Sting sat on the chair on stage (which had been changed three times since his short sound check to find one of optimum height).
He opened by saying : "It's been a lot of years since I've been in a social club. I did serve my apprenticeship at working mens' clubs in the north east so I'm not totally unfamiliar. What time's the bingo?!"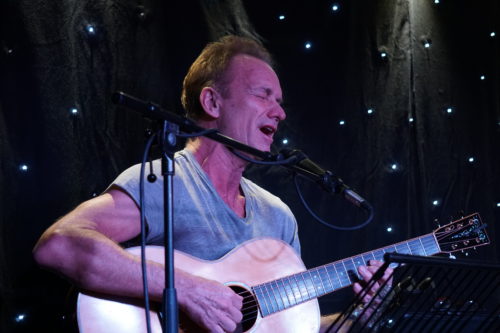 There was a bit of casual banter with the audience, and Sting proved to be as much at ease in this setting as he might have been on a massive stage.
He was accompanied to Edinburgh by Producer Karl Sydow, who explained we might know him for his Dirty Dancing stage show which is one of his most successful productions. He said he is no stranger to Edinburgh, and his American accent belies the strong links he has to the UK, as a former Oxford man. The Last Ship is produced by Northern Stage in association with Karl Sydow and Kathryn Schenker. 
There followed half an hour of some unrealness. I was standing as close as I dared to the megastar who only once looked directly at me, so I can only think I didn't annoy him too much!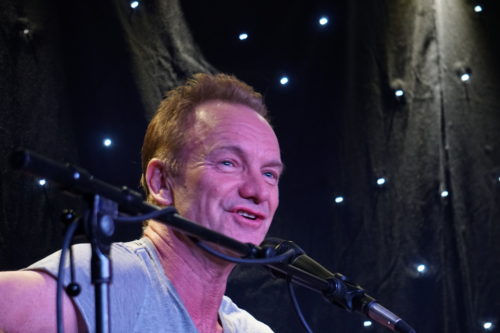 The music we heard from the show is truly Sting. It is melodic, lyrical and interspersed with some scraps of Newcastle accent which he appears not to have lost.
One audience member who asked if he would sign his guitar got a 'Why-Aye man!' in reply.
He took a little time to explain that the inspiration for the play is in his own past, although the story is not wholly biographical.
With a grandfather as a shipwright and a father who built turbines it appeared that his own future was already mapped out. Sting explained :"That was the last place I wanted to go. The shipyard was noisy, it was dirty, it was dangerous and had one of the worst health and safety records in Western Europe. I had other dreams. I dreamt I would become a musician and would become famous.
"I never forgot where I came from, or the people I was brought up with, and about seven years ago I started to write a series of songs inspired by those early days in the shipyard, writing about people I knew. I cobbled together a story and I was influenced by two real events. One was reading about some shipyard workers in Gdansk in Poland where Lech Walesa worked, the start of the Solidarity trade union which brought down the Soviet Union actually. But like the shipyard in Wallsend there was a downturn, the yard closed and the men were all made redundant and all of the problems attendant with redundancy happened. Things like alcoholism, domestic violence, social problems. So a priest raised some money and got the men to build their own ship, a boat, in the car park of a men's home that he was running. and it got these men back to work and got them back on a level playing field.
"The other inspiration was what happened in Govan on Clydeside in the seventies with Jimmy Reid, the union leader who decided when the government stopped subsidising the shipbuilding industry that they would not go on strike, they would occupy the shipyard and carry on building and hopefully get new orders. That as you well know was successful for about a year, but an amazing inspirational story. Largely the engine for that was Jimmy Reid's eloquence. He was an honourable man and he was a hero of mine in the seventies. So I have used some of these elements in this play. It's a musical, it's not all doom and gloom. There are some happy moments and joyful moments and funny moments. There's a love story. There is also a father and son relationship.
"This story is not biographical, it's not about my life, but there are elements of my own life which have seeped into it just by accident. My relationship with my dad was pretty tense. He wanted me to have a technical education. He wanted me to learn technical drawing, something that he understood. Instead I passed the 11+ to go to a grammar school and he couldn't figure out why I wanted to learn Latin. He wasn't wrong! I went off to grammar school and learned Latin and Greek and all that stuff and he never really understood what I ended up doing either. This song is how sometimes sons' ambitions can seem pie in the sky fantasy and the father's love can be misconstrue as being controlling or oppressive. The song is called Dead Man's Boots, and it is in the show…."
Here you can share with us his explanation of the inspiration for the show :
With some of the great musicals in his childhood memories like Oklahoma and Carousel, perhaps this was something that Sting was always waiting to turn his attention to.  He explained too that staging a show is a bit like building a ship, as there are all sorts of different 'trades' who contribute to the making of the show and they have to be steered in the right direction. He concluded : "It has been a seven year voyage and it is ongoing. I am so happy to bring it to Scotland both Edinburgh and Glasgow. I think there will be a resonance here, an understanding of what that industry was.  It makes me very emotional to see any ship in a dock. There are universal themes here with manufacturing and the dignity that work gives you, which is an important element of the play."
And then almost as unobtrusively as he had arrived he walked off with a final '"Bye everybody!" and the surreal afternoon ended.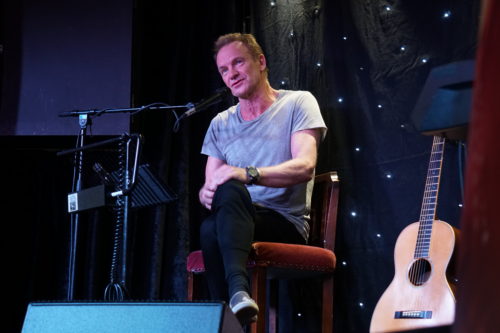 Written by Sting the musical will star Jimmy Nail, and this will form part of a UK & Ireland tour. It premiered in 2014 in Chicago and had a four month run at the Neil Simon Theatre on Broadway where its closure was met with some critics suggesting that a run in the UK would be a more natural fit for the show.
Whether Sting will join the cast is not yet known, but we rather hope he does!
This play is the culmination of several years' work and was initially inspired by Sting's 1991 album The Soul Cages and his own childhood experiences, tells the story of a community amid the demise of the shipbuilding industry in Wallsend, Tyne and Wear, with the closure of the town's Swan Hunter shipyard.
When Gideon Fletcher returns home after seventeen years at sea, tensions between past and future flare in both his family and his town. The local shipyard, around which Wallsend has always revolved, is closing and no-one knows what will come next, only that a half-built ship towers over the terraces.
The show is directed by Lorne Campbell, the artistic director of Northern Stage, with set design by the Tony Award-winning 59 Productions.
One of the country's most exciting and acclaimed theatre directors, Edinburgh-born Lorne Campbell had his first professional job as an assistant director at Northern Stage, before returning as artistic director in 2013. A graduate of Channel 4's Young Theatre Director scheme, he has previously worked with the Liverpool Everyman Playhouse, Bath Theatre Royal, Traverse Theatre and Greyscale theatre company, which he co-founded. Productions for Northern Stage include Get Carter, Dr Frankenstein and A Song For Ella Grey.
This personal, political and passionate new musical from multiple Grammy Award winner Sting, is an epic account of a family, a community and a great act of defiance. With original music and lyrics by Sting, The Last Ship also features a few of his best-loved songs Island of Souls, All This Time and When We Dance.
This is the proud story of when the last ship sails.