To mark their half century the Edinburgh charity are going to raise half a million pounds from businesses so that they can continue their work with the capital's homeless.
The campaign is already supported by Essential Edinburgh which is the Business Improvement District for the City Centre along with their 550 members.
Now the campaign has been started with a really meaningful donation from Standard Life Aberdeen who have handed over the sum of  £50,000.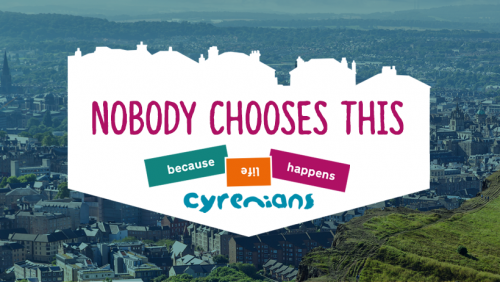 Sandy MacDonald, Head of Sustainability at Standard Life Aberdeen said: "We have a long-standing relationship with Cyrenians, who do fantastic, life-changing work in our community for people who are homeless or vulnerable. On their 50th Anniversary, our people wanted to show their appreciation for our friends at Cyrenians. Our contribution will help young and old people with complex needs to break down barriers to work, and support the innovative Housing First model for rough sleepers in Edinburgh. 
"We'd be delighted if our donation becomes one of many from the business community, bringing us together to mark their 50th anniversary with a lasting and transformational legacy for the city."  
Cyrenians began in 1968 working with the homeless and vulnerable and in 2017 the charity worked with almost 4000 people who did not have homes or who were about to lose theirs.
The Cyrenians Outreach Team, funded by Essential Edinburgh and Comic Relief, works on a one-to-one basis with rough sleepers. They try to create a relationship with the client and help find out what is important to them.
The charity does not ever give up on people. There are no penalties, no three strike rules, only patience, respect and compassion.
Great start to the @Cyrenians1968 new campaign #NobodyChoosesThis with £50k donation from @SLA_plc We spoke to Ewan Aitken about the campaign and @roddycsmith1 pic.twitter.com/tiN4YnnhDm

— Edinburgh Reporter (@EdinReporter) May 24, 2018
Nick is a Peer Navigator who works in the city centre. He explained : ""The Community Police Team through the BID Policeman recently contacted me. They had come across a young man, Tom, who was rough sleeping and was not receiving support with any agencies or services who he had been signposted to. 
"I went to meet Tom where he was sleeping near Princes Street, introduced myself and chatted. Over a few meetings Tom opened up and I came to understand that this young man had escaped from an extremely violent situation which he couldn't return to, and hadn't managed to find a way to access housing or support due to his illiteracy. Tom's past experience of ineffective engagement with authorities had understandably made him ambivalent to any offer of support. 
"After building trust and providing consistent contact, I supported Tom to find accommodation which was agreed ahead of benefit payments being available, based on respect and trust in Tom's connection to Cyrenians.  He discussed looking for work with our work and skills team and accessed vital healthcare through our community link worker. Six weeks on from their first meeting, Tom was settled in accommodation. The Cyrenians Outreach team will continue to support him to sustain that and move towards a future with more than just a roof over his head."
Commenting on the campaign Cyrenians Chief Executive Ewan Aitken said: "For half a century, Cyrenians have been working with people across Scotland to tackle the root causes of homelessness.  For 50 years Cyrenians have journeyed with thousands of people in tough realities, helping them transform their own lives for themselves, but there is still much to do. 
"In truth we hope over the next 50 years we can do what it takes to create a Scotland where Cyrenians are no longer needed; where the main causes of homelessness such as poverty, addiction, violence, stigma, mental health challenges, no longer exist.   We believe that homelessness needs to be addressed by a range of services, designed by the needs of those whom we support.  Our partnership with Essential Edinburgh, providing an innovative, assertive Outreach service is one example of how Cyrenians works; making a real difference to those living a tough reality on the streets of our Capital." 
Roddy Smith, Chief Executive of Essential Edinburgh said: "Our role on behalf of the city centre businesses is to support the fantastic third sector organisations in the city who are doing an excellent job in supporting the homeless community. We are delighted to be in partnership with Cyrenians' Homeless Navigator Project which was established to address the visible problem of rough sleeping in Edinburgh. 
"We are delighted to support this campaign and to help fund this important work. I would encourage other businesses to get actively involved in this campaign and join us in helping Cyrenians raise half a million pounds as they mark their half century."