There are 80 bars in the city taking part in Edinburgh Cocktail Week which runs from 15-21 October. You can book your wristbands now to have a chance of sampling some of the concoctions!
There will be a brand new Cocktail Village at Festival Square which is free to get into as long as you have your wristband. The bars are all over the city centre with Harvey Nichols, Usquabae, The Voodoo Rooms, The Grand Café and The Voyage of Buck all taking part as well as a range of bars on George Street.
The expanded offering this year gives you lots of time to sample a cocktail for just £4 with a wristband (these cost £6 for a weekday band and £8 for a weekend band).
There will be live music, DJs and masterclasses and tastings to keep you entertained.
Between sipping, sampling and socialising around the bars and Cocktail Village, there is also a programme of events, masterclasses and parties for wristband-holders to attend throughout the week, kicking off with a Pornstar Martini Party hosted by Absolut Vodka at 4042, Edinburgh's newest late-night venue. Partying continues throughout the week as Altos Tequila host a sleepover themed party at Tonic with a menu of £4 'Agave Dream' inspired cocktails to choose from. Entry to both events are free on a first-come basis and tables can be booked in advance by contacting each venue directly.
Organiser Gary Anderson said : "We wanted to give the event more of a festival feel this year, so we have introduced a much larger programme.
"There will be things happening all around the city for wristband-holders to experience on their cocktail adventure, as well as extending the event to seven days and increasing the number of bars taking part to spread footfall.
"As a city of event-goers we all love a pop-up space to hangout in, so the Cocktail Village is an exciting new development for the event and the city. It has been designed with an outdoor festival theme to make you feel like you are in an autumnal garden while being in the comfort of an enclosed marquee. With this year's expansion also came a lot of work with brands and distribution to ensure supply meets demand; a challenge some bars faced last year. New partnerships with brands and local distributors will ensure sufficient stock levels are in place with backup stock from local warehouses just a phone call away."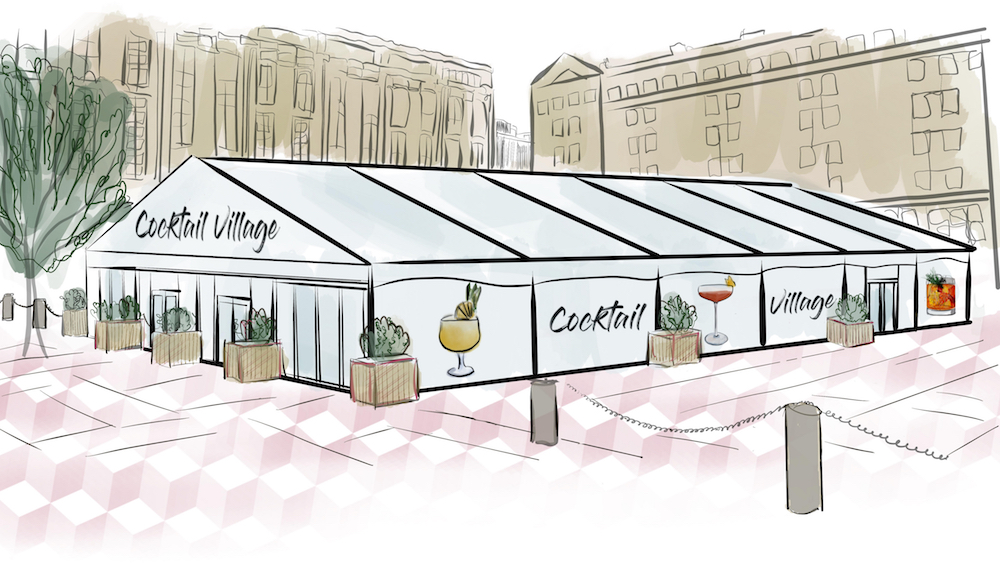 There's an Escape Room at Nightcap courtesy of Chivas Regal which has a whisky theme, where you must use your senses to guide yourself out of the maze. You will collect whisky along the way, and unlock your own personalised blend at the end of the challenge. Then you will enjoy a complimentary cocktail in the Nightcap Lounge.
The Secret Spirits Study pop up on Queen Street will offer you a masterclass during the day and an underground bar at night. This is hosted by Wemyss Malts and Darnley's Gin and you can learn about cocktails past and present through sampling and hands on cocktail making.
The Empress of Broughton Street will offer you a beer and whiskey pairing with Jameson Whiskey and Barney's Beer the local craft brewers.  Or take a tour of the Sweetdram distillery as it opens for the first time. Tour tickets cost £4 each and include samples of Sweetdram's Escubac (described specifically as not a gin) and their Smoked Spiced Rum.
Local gin makers Pickering's Gin will join in at Brewhemia where there will be food and gin pairings. 'How to at Home' cocktail classes will of course feature Pickering's new Pink Grapefruit & Lemongrass Liqueur, with tastings and competitions hosted by co-founders Marcus Pickering and Matthew Gammell in the Brewhemia Boudoir.
And the fun and benefits of an
ECW
wristband don't end there: wristband-holders can also enjoy a complimentary cocktail with beauty treatments at NOW by One Spa; promotions at the Official ECW Bottle Shops, Royal Mile Whiskies and Drink Monger; 50% off a ride with mytaxi; and free entry before midnight to Edinburgh's top late-night venues Lulu, 4042 and Shanghai.