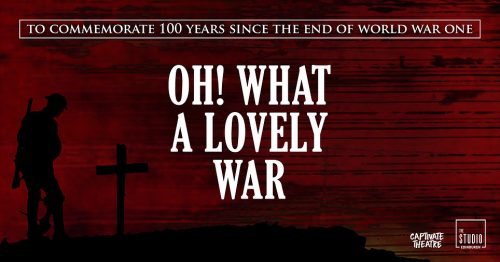 'There was a front but damned if we knew where'
2018 – this centenary year marks the end of a cataclysmic carnage known as The Great War – and fifty-five years since the 1963 staging of Joan Littlewood's Theatre Workshop radical, coruscating fin de siècle vaudeville satire. Captivate Theatre needs must look up to their name taking heed of Littlewood's introduction notes from her revised script published in 2000.
'Play in the present tense. Avoid declaiming. Cut emotion. Find the action in the speech. Throw out your ad libs after one usage…Don't slow down.'
That's telling them and a prescient reminder that OTT was no glib exaggeration to nations of shrapnel-shattered soldiers. Time enough later for civilians to be euphemised as 'collateral-damage'. Odd to think now that Britain was prepared to honour its European word and commit to the defence of vulnerable, plucky Belgium. And then again with Poland. Imported food for thought there.
8 – 11 November 2018
Evenings 7.30pm, Matinees 2.30pm
The Studio – Potterrow
https://www.capitaltheatres.com/whats-on/lovelywar