On Friday 15th March the opening event of this year's Edinburgh's Festival of Ireland takes place.
​Cór Geal, a 40-strong adult choir from Co Cork, will perform a mix of sacred and secular songs at St Patrick's Church in the Cowgate from 8.00pm.
Irish Choir CÓR GEAL is from Cork and is celebrating its 10th anniversary by travelling to Scotland to participate in the St Patrick's festivities here. 
This award winning choir has had success in competition and concert performances alike and will perform its "Cór Geal's Celtic Celebration" concert in both Edinburgh and Glasgow to coincide with the St Patrick's festivals.
The concert programme will have a mix of Irish favourites such as 'Danny Boy', 'Rocky Road to Dublin' alongside favourites such as 'Nella Fantasia', Toto's 'Africa', Coldplay's 'Fix You' and many more, including a version of 'Auld Lang Syne' specially for this tour! ​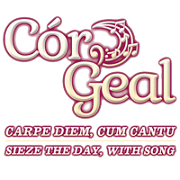 This is going to be a unique concert in a unique venue.
For more on Cór Geal, see https://www.facebook.com/cor.geal/