We spoke to Robert McDowell the owner of Summerhall this morning at the press launch of their 2019 Festival programme, but he was really more interested in talking about Brexit and the Talbot Rice lecture which he is delivering there next week.
You can listen to our chat with him here :
He left it very much to the new General Manager of Summerhall, Rowan Campbell, to tell everyone assembled in the Royal Dick Bar some of what they might expect to see and hear this year.
This is the 8th programme, although the venue is rather amazingly ten years old in 2020. There is a huge selection of events, too many to write about here. This is but a smattering of mentions and you should head to the Summerhall website to find out more about the events and exhibitions taking place throughout the summer and August in particular.
This year there is work from Belgium, Ireland, Egypt, Australia, Taiwan, Finland, New Zealand, the Czech Republic, Switzerland, Canada and the US as well as from Scotland and the other UK nations. Verity Leigh, Festival Programme Manager, explained : "We don't look for themes when programming the festival. We just pick the good stuff. To expand a little bit more this is work which meets our criteria that it's got something to say and is saying it in an interesting way."
As a mark of how different Summerhall is she said : "You can sit down in the theatre space and watch a show – and we hope you will. But we also have work in a shipping container, a 1970s caravan and an after hours dance party in our café."
Tickets are now on sale for shows at @Summerhallery in August. Too many to mention but here is a flavour from the curators at this morning's programme launch. pic.twitter.com/Cv8Rw0OrjT

— Edinburgh Reporter (@EdinReporter) May 16, 2019
Visual Arts
Kasia Jackowska the Exhibitions Manager welcomed everyone to Summerhall, explaining that while the Fringe programme is being launched today and tickets go on sale, the visual arts offering continues all year round. She said : "As you might know we work during the year. Our Visual Arts department curates programmes that welcome artists from all over the world and we try to provide the platform from which we engage with contemporary Scottish practice in progressive open dialogue." She reminded everyone that Summerhall has collaborated with many other festivals in the city such as the Mental Health festival and Edinburgh Science Festival.
The programme will run from 25 July to the end of October 2019 to allow everyone time to see it.
But in August the focus will be on Extinction Rebellion with artists casting an eye over current political shifts. ER will take over two spaces in the basement at Summerhall curating a month of performance, visual art, films and documentaries. The overall aim is to meet XR's three demands : to tell the truth about climate change, to call on governments to reduce carbon emissions and to create a Citizens Assembly. Kasia concluded : "I hope that you will join us on this journey of imagination."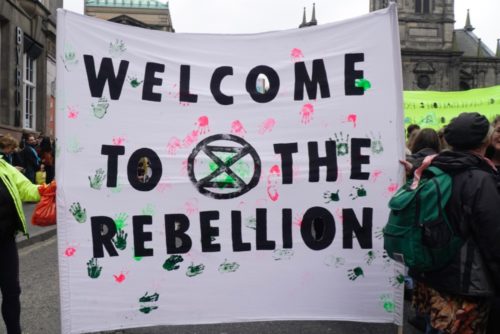 Music
Nothing Ever Happens Here is the name of the live music programme throughout the year. There will be club nights, gigs and theatre collaborations in the Dissection Room. There is a whole variety of different bands making little distinction between what happens all year and what happens in August.
Emma Pollock comes back to Summerhall with a welcome indie rock fix and folk favourite Rachel Sermanni returns with her sounds. Peter Broderick the renowned composer and songwriter brings his unique take on the work of Arthur Russell.
Winner of the Melbourne Fringe Summerhall Award
With one of the best titles perhaps My Best Dead Friend by Zanetti Productions is heading for Edinburgh after winning the 2018 Melbourne award. This is Anya Tate-Manning and Isobel MacKinnon's comedy about well, death. It also features a possum and unfulfilled love. And of course it is set in Dunedin, the Edinburgh of New Zealand, making it a perfect production to bring to Edinburgh, the Athens of the North.
The Eclipse Award
Rachel Young is an artist from Nottingham. She was on hand for photos this morning as the first winner of the Summerhall Eclipse Award. This tries to deal with barriers that black artists at the Fringe face. They remove the venue rental cost and also offer money to assist with the staging of a show as well as accommodation costs.
The award is presented by Eclipse Theatre and Summerhall and is open to black artists who make 'boundary-pushing performance work'.
Young makes theatre, installations and socially engaged projects.
Dawn Walton, artistic director at Eclipse Theatre comments, "The panel was unanimous in its choice of Rachael Young as the inaugural recipient of the Eclipse Award. Her work is brave and bold, specific and personal, yet universal and above all – original. I am delighted that through our incredible partnership with Summerhall The Eclipse Award is able to support Rachael's shows in Edinburgh with a £10k cash bursary and amongst other things a vital care package of support from The Sick of The Fringe. Thank you also to the Patrons for their generous support. Thinking about a world where Rachael Young's amazing shows were not presented at the international platform of the Edinburgh Fringe is unbearable, yet this is the reality for many other talented Black Artists/Companies – even those who are specifically invited to showcases. I hope that the Eclipse Award will highlight this problem and start the conversation around this issue."
Sheffield-based Eclipse has established The Eclipse Award in order to break down the barriers that Black artists face at the world-famous Edinburgh Fringe. The Eclipse Award, which is the first award of its kind, aims to tackle these barriers by removing the upfront venue rental cost and offering a contribution to technical hires, access, marketing and networking costs, accommodation and travel, allowing the artist to perform their work at the highest possible standard.
Alongside a significant £10k cash bursary, Rachael will receive a bespoke package of marketing support as well as technical support and production guidance. Rachael will also benefit from The Sick of the Fringe, a strategy which aims to make the world safer for challenging art and challenging realities. As part of their 2019 Care and Destruction programme, The Sick of The Fringe are supporting Rachael's Eclipse Award presentations through the development of a bespoke care plan, enabling the rare opportunity to centralise care and wellbeing during her time at the Edinburgh Fringe.
Rachael Young said, "I'm thrilled to be a recipient of this new award. As a Black artist from a working-class background, the Eclipse Award unlocks a unique opportunity for me to access the Festival. It is great to be part of a platform that celebrates marginalised voices and I hope that my work will help to stimulate powerful, positive discussion. It's invigorating to be part of the change, working alongside organisations that are actively lobbying for fairer representation at the Fringe. I look forward to immersing myself in the experience, connecting with audiences and artists, and tapping into that famous Fringe energy!"
Rachael will perform a full run of NIGHTCLUBBING and OUTat Old Lab, Summerhall on the following dates:
NIGHTCLUBBING
Fri 2 – Sun 11 Aug (previews: Wed 31 July & Thur 1 Aug)
OUT
Tues 13 – Sun 25 Aug (no show on 19 Aug)
Tickets are on sale from Thur 16 May at www.summerhall.co.uk