FROM THE FINAL TABLE TO CHEF'S TABLE
– Graham Campbell comes home to head up Italian Grill
Fresh from taking part in Netflix "The Final Table", one of the world's highest rated and most prestigious culinary shows, Graham Campbell, who is Scotland's youngest ever Michelin starred chef, has returned home to Dundee to embrace his next challenge.
As new Head Chef of one of the most popular restaurants in Dundee, Italian Grill, just next to The Caird Hall in City Square, he joins husband and wife restauranteurs, Jonathan and Martine Horne, in developing the bar and grill, which offers Italian cuisine with a strong Scottish twist, to a new level of excellence.  
The couple developed what was an old council tax office into the 150 cover Italian Grill five years ago, becoming the first restaurant & bar in the City to have a contemporary open galley kitchen where diners could watch the chefs go about their work.
Making the very most of Graham's calibre as one of the country's top chefs, and his new celebrity status, having been the only Scottish, and one of only two British chefs, to appear on "The Final Table", a two seater Chef's Table has just been installed at the bar & grill, just in front of the open kitchen. Diners can now join Graham and his brigade for a unique food and drink experience, as he chats to them, and cooks whatever they would like from his new menu, leaving them able to observe the bustling kitchen.
Along with revamping the menu to include new signature dishes such as Highland Venison with butternut squash, Pave of Cod, Pork Cheek, and Wild Halibut with Parsley Broth, Graham has introduced an exemplary seven course taster menu with matched wines. His 2019 Festive menu has also been launched, and Italian Grill continues to offer its popular and informative Cocktail Masterclasses, which make an ideal group activity, and include a choice of snacks and meals to enhance the experience.
Although many of the dishes at Italian Grill have the contemporary Scottish twist, with Graham's expert eye for detail and flavour combinations, traditionalists of Italian fare will not be disappointed with a wide selection of fresh egg pasta dishes appearing on the menu, such as squid ink spaghetti, rigatoni arrabbiata, salmon conchiglie and rigatoni bolognese. Pizzas, with a huge variety of toppings, are prepared fresh in the traditional wood stone oven, and fantastic steaks are another popular menu staple.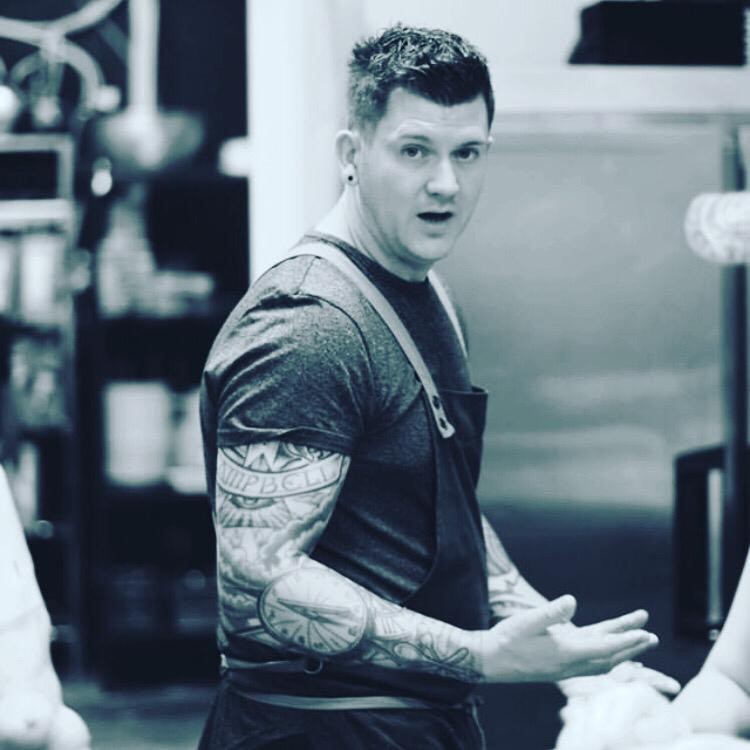 Chef Graham Campbell said: "I am delighted to be on board here at this fantastic Dundee restaurant where I am confident I can enhance the superb reputation it has earned over the past five years.
"Although I am actually from Oban – Scotland's seafood capital – Dundee is my culinary home and I am well known here, having been Head Chef and then part owner of Castlehill Restaurant in Exchange Street for four years.
"Taking part in The Final Table was a phenomenal experience for me, and I am still honoured to have been the only Scottish chef selected to take part. I am now more than happy to return to Dundee, which holds many happy food memories, to continue my career here at Italian Grill.
"The continuing explosion of TV programmes about chefs has certainly fuelled the desire the dining public has to engage with us wherever possible. Not only that, but diners want to be able to observe us in our natural environment that is the busy kitchen during a frantic service!
"With this in mind, my new Chef's Table will see me in my element!
"I think it will definitely attract people to come in who want to learn about what they are eating, and wish to be part of what is really a type of interactive performance, as my chefs and I bring the menu alive for them.
"We can chat about ingredients and food provenance – I am a great mushroom forager and have introduced a new cep gnocchi to the menu. They can watch us plate up dishes, and discuss presentation. Food is certainly theatre nowadays, and this is our stage."
On the subject of "The Final Table", Graham said it was likely that the popular show would be a constant topic of conversation with Chef's Table diners. "The show has many fans all over the world, and so I'm expecting a fair few questions about what it was like to take part."
Together with Jonathan and Martine, Graham has lots of additional fresh ideas about the business still to bring to the pass at Italian Grill, as the Dundee dining scene continues to be at its most vibrant for many years, fuelled by the opening of the V&A.
"They are an experienced and ambitious couple who have done a great job with the restaurant so far, with both the food and drink offering," he said. "I think that together we make a formidable team, and this is only the beginning of our plans."
Jonathan Horne said: "Graham joining us is a huge asset to our business at this time, as we gear up for the traditionally busy autumn period, which seems to lead into the festive season earlier and earlier each year! This is certainly no bad thing, and already we are experiencing a boost in bookings."
"Dundee has certainly become something of a dining hotspot," finished Jonathan, "We are very well placed to capitalise on this, with our superb new Head Chef, new menu, and Chef's Table all raring to go."
Further details on Italian Grill at https://italiangrill.net.
Information on The Final Table is at https://www.netflix.com/gb/title/80201866. 
Graham Campbell's profile can be viewed on Instagram at https://www.instagram.com/chefgraham1/