Thousands of protesters marched down the Royal Mile to Holyrood today demanding action on climate change.
Some unions and political parties were also represented in a file of people which took an hour to pass us by.
Dylan Hamilton, a member of Scottish Youth Climate Strike that organised today's global strike (centre of our photo below wearing a high vis vest) commented : "We are making history by standing up for our future."
"The people have protested, we marched and then we rallied. We have made our position clear; the government needs to act for the future of humanity. Politicians have spent decades sitting around talking, but if your house is burning down you wouldn't stop to talk about money, you would act. All those protesting today have shown that action has an impact."
"There has never been a more important issue facing humanity than the climate crisis. With the week of action to come we will show that we won't go away, today's protest will show the world that the people want action that responds to what climate science demands."

The Edinburgh march passed us by for almost an hour on The Royal Mile #GlobalClimateStrikes pic.twitter.com/w7wDzn2Ufa

— Edinburgh Reporter (@EdinReporter) September 20, 2019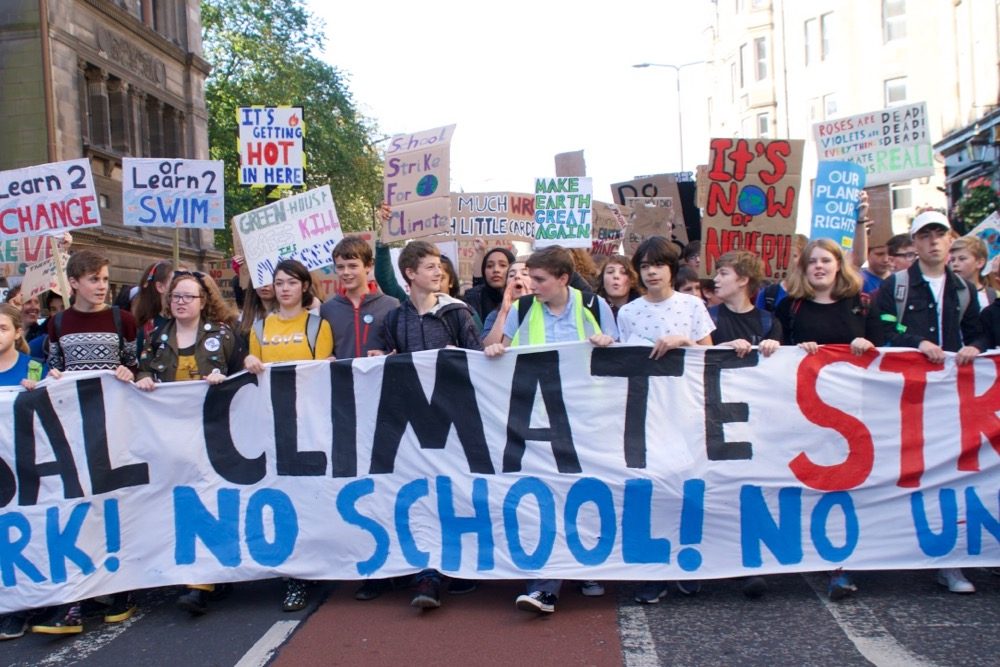 Scottish Youth Climate Strike's demands are:
1) The Government commit to achieve net zero greenhouse gas emissions by 2030.
2) The national curriculum be reformed to address the climate crisis as an educational priority.
3) The Government communicate the severity of the climate crisis and the necessity to act now to the public.
The Youth Strikers said that today's overwhelming public support has reinforced their message, the demands are straightforward and are key to stopping climate breakdown.
A week of action linked to climate change will follow today's strike, starting with the 'Day of Death' tomorrow, where SYCS will host die-ins across Scotland to symbolise what the future looks like. Other events will focus on appreciation of the planet, education on scale of the problem and people's assemblies to discuss key issues.